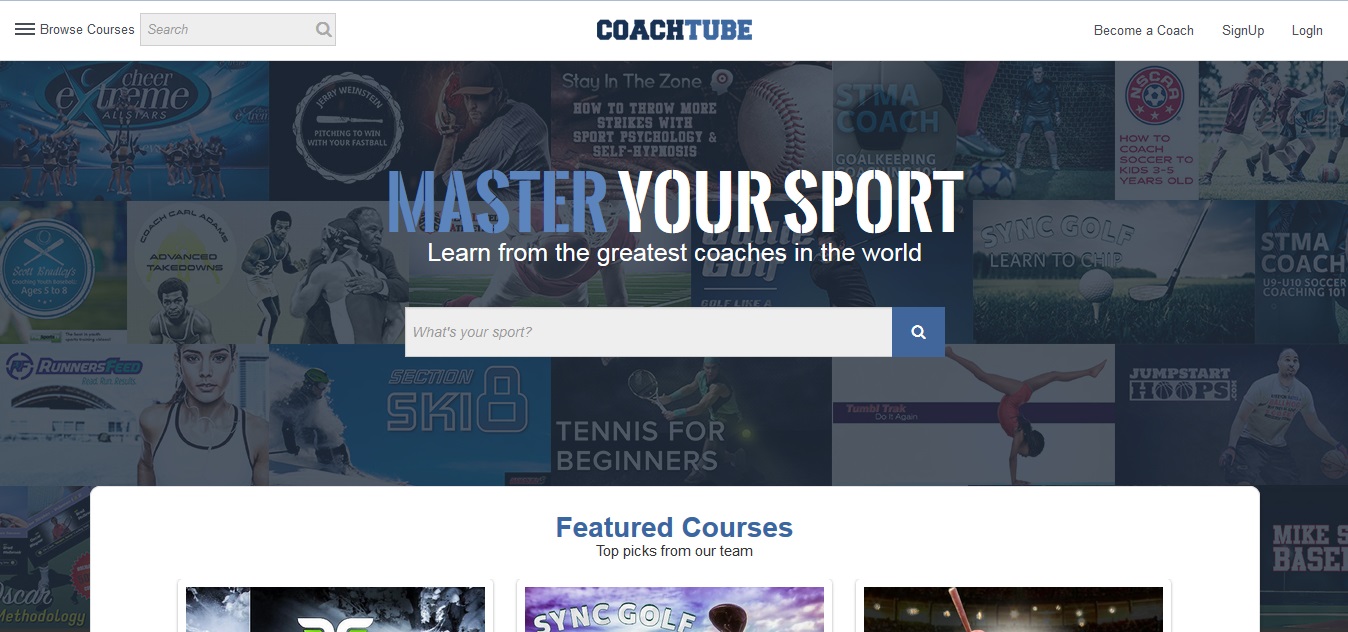 ---
CoachTube Offers Athletes Unique Access to World-Class Coaches
On Demand Courses Provide Opportunities for Athletes to Improve their Game
AUSTIN, Texas (February 12, 2015) — CoachTube.com, the first and only two-sided marketplace for aspiring athletes and parent coaches, announced its official launch today with over 200 courses already available. CoachTube.com founder Wade Floyd, along with his team of industry experts, created this sports-focused video course platform with both athletes and coaches in mind. The rapidly growing site enables athletes to learn skills and techniques on-demand from some of the world's leading coaches in their respected sports.
"I created CoachTube.com for the kid in me that wished I could have learned from the best growing up. The expensive sports camps were not in my parent's budget, so it just made sense to create an affordable option for aspiring athletes of all ages. After talking to hundreds of coaches, from pros to parent volunteers, I realized the impact CoachTube could have in today's online-learning atmosphere, especially because there isn't an online marketplace for coaching and learning sports skills like there is in academic and technology learning," Floyd, said. "Growing up, I often wondered why there wasn't a place online where the best coaches from each sport could showcase their talents. What I've learned in the process of building this site, is that my curiosity was shared by other coaches who not only wanted to share their knowledge of the game, but also to help other athletes reach their goals."
CoachTube.com empowers athletes by giving them unique access to talented coaches who can help them improve their specific skill set. Parents can make world-class training available to their children at an affordable price, choosing from hundreds of experienced coaches, each committed to helping athletes reach their full potential. The platform simultaneously empowers coaches to take their brand to the next level and impact a vastly larger audience. Coaches can set course prices, with demand driving the optimal price point, choose to donate all proceeds to their foundation or simply make their videos available for free. CoachTube.com covers the technical operations, distribution, and even marketing, allowing coaches to simply do what they do best—coach.
"I have spent the past 30 years coaching tennis and influencing the best players in the world, from Venus and Serena Williams to former top-ranked Brazilian, Gustavo Kerten," comments Oscar Wegner, famed tennis coach and founder of The Modern Tennis Methodology. "Now, CoachTube.com is helping me deliver my revolutionary tennis techniques to a whole new generation of future pros."
CoachTube.com enables coaches to disseminate useful content, without having to worry about technology, distribution costs or marketing, all while providing the opportunity to supplement their income or to donate funds to their favorite charity. CoachTube.com makes it easy to create and share premium content with audiences anywhere in the world at an affordable rate, allowing anyone to access CoachTube from their desktop, laptop or even a smart phone.
Currently, CoachTube.com features the following sports: baseball, basketball, cheerleading, cricket, fitness, football, golf, hockey, lacrosse, martial arts, running, skiing, snowboarding, soccer, softball, sports performance, swimming, tennis, track & field, volleyball, wrestling and yoga. Courses in additional sports will be added as the site's network of expert coaches continues to grow.
Featured coaches on CoachTube.com include: Matt Nokes (baseball), Koran Godwin (basketball), Oscar Wegner (tennis), Dr. Hal Wissel (basketball), Mike Hollis (football), Scott Newman (soccer), Carl Adams (wrestler), Jerry Weinstein (baseball). For more information about CoachTube, visit www.coachtube.com.
*MEDIA NOTE*
To schedule an interview with Wade Floyd, please contact Jennie Whitaker at 512-215-8977 or by email, jennie@seedling-communications.com.
About CoachTube.com
CoachTube.com, created in 2014 and founded by Austin-based entrepreneur Wade Floyd, provides an online opportunity for coaches to give every athlete in the world access to the instruction, knowledge, and motivation they need to grow and progress as athletes. CoachTube.com provides access to training from some of the world's best coaches in the form of on-demand video courses that can be taken anywhere, at any time.
---