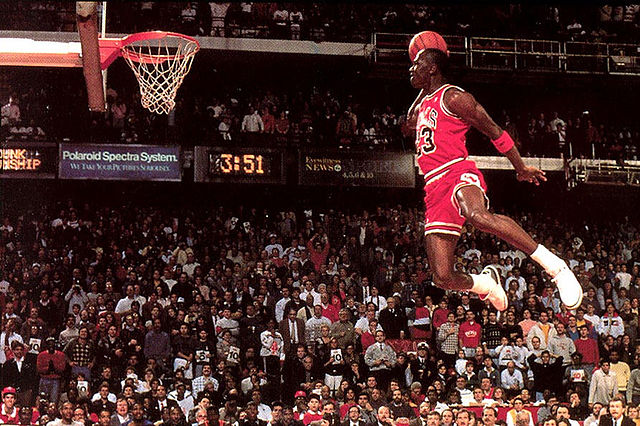 ---
Michael Jordan wanted to sign with Adidas instead of Nike when he first entered the NBA. Can you guess why?
We'll tell you exactly why (and promise that it's super interesting!).
A big mistake on Adidas's part
Michael Jordan becoming a Nike athlete, rather than an Adidas athlete, happened in 1984 with what is now a potentially legendary misstep by Adidas.
Jordan, the University of North Carolina basketball star, wanted a sponsorship deal with Adidas (badly!) when he become a professional basketball player.
Adidas distributors also wanted Michael Jordan to be part of the Adidas brand and advocated for this signing. Unfortunately for Michael and distributors, the German Adidas executives felt that Jordan had one flaw; he was too short.
The German Adidas executives felt that taller players were better for selling shoes. They believed that by signing taller players, they would appear to be the choice of the biggest and best professional players.
However, this notion was perhaps very incorrect. The decision from the executives to only sponsor the tallest players potentially made the brand feel unrelatable to the average consumer.
Not very make people can associate themselves with a seven-foot-tall basketball player.
Michael Jordan REALLY wanted to wear Adidas in the NBA
Michael Jordan badly wanted to wear Adidas in the NBA.
In fact, even after his first meeting with Nike, he tried to convince Adidas to sign him. But Adidas wouldn't make an offer.
Jordan was immensely disappointed.
He was so disappointed that in 1988, Michael and his agent met with Adidas again about jumping ship from Nike to them. Ultimately, that never happened and Jordan stayed with Nike because he eventually saw them as being a more innovative company.
The Jordan brand is bigger than ever now
Michael Jordan retired from the NBA over a decade ago, but the Jordan brand, which operates as a subsidiary of Nike, is doing better than ever.
"Forbes has an incredible list of stats on the matter: The Jordan Brand's U.S. sales rose 17% last year to reach $2.6 billion in revenue, which gave it a 58% market share of the U.S. basketball shoe market. It currently outsells Nike's Lebron James-branded line eight to one."
It's pretty obvious that Adidas made the wrong choice by not signing Jordan. He became one of the most recognizable sports figures of all time (if not THE most recognizable).
It's important to note though that Adidas's previous history with other athletes hasn't really panned out. A great example of this is their Kareem Abdul-Jabbar brand. The shoes under that brand are practically unchanged after all of this time or they simply put Jabbar's name on other athletes' signature shoes.
"… The Jordan brand has a long-tail design language, much like any automobile you know. Aside from the iconic Jumpman logo that appears on every item, Air Jordans have traditionally featured distinctive high quarters—the part of the shoe that's on the left and right side of your foot, leading to the laces. Its other aesthetics have shifted vastly over time, but the result is that when you see a Jordan, it feels like a Jordan, even when it's sewn like an Italian suit label, or you're looking at two decades of results that pop up in a Google Image search."
Jordan explains what almost happened
Michael Jordan shared in an interview exactly what almost happened:
It's interesting to think about how the Jordan brand would have been if it were under Adidas and not Nike. Do you think that the brand would have become a global force under Adidas?
Want to get better at basketball? Click here to see some amazing basketball videos.
---