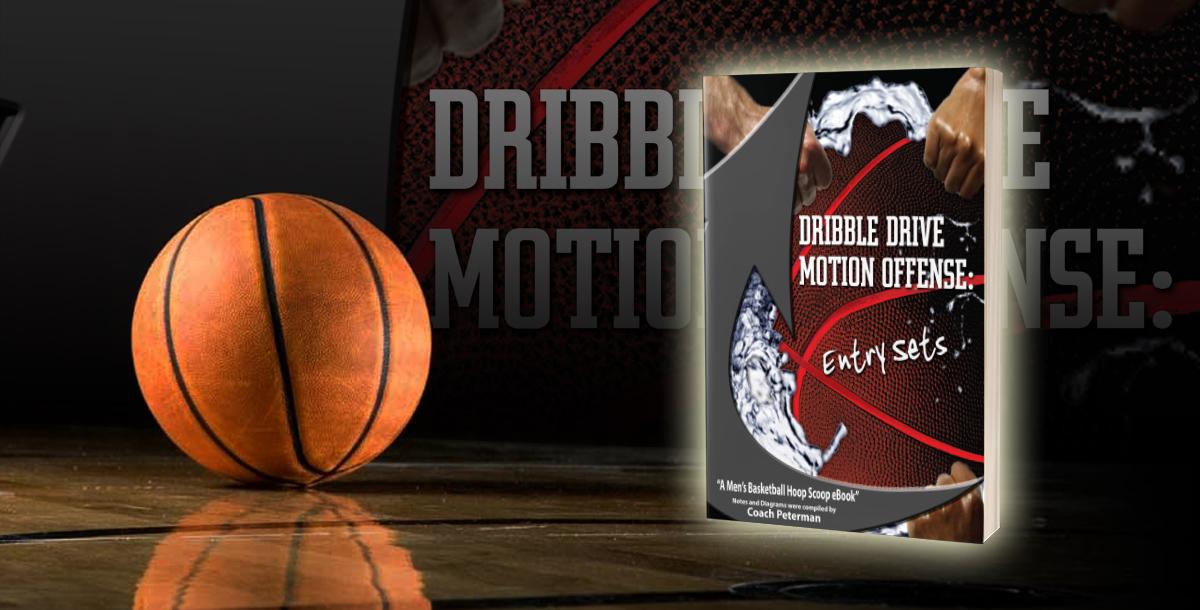 Description
This package of four essential eBooks about Dribble Drive Motion Offense will tell you everything that you need to know about running DDM on your team.
"Entry Sets" Playbook
I bet that you are saying… "What do you mean 'Entry Sets'?" About three years ago, when DDM broke on the national scene thanks to the Memphis Tigers, I noticed something. I noticed that the really good teams were running sets into DDM. I started to ask around and got all the video and went to basketball clinics like you. Pepperdine, Memphis, Western Michigan, VMI, and UMASS this year were mainly running sets into DDM. I did notice a little bit of this trend at Fresno City College, but not as much as now.
I have all the Dribble Drive Motion Offense DVDs that are on the market. I have heard people tell me that you have to teach the penetration positions (drop, drag, and rack zone) before you can teach defensive reads, that it is like running regular motion, you need to know the screens before you can teach the cuts off the screens. They said that you need to know what to do on the drag zone drive, before you can worry about where the defender is. Of course, you have to buy these two DVDs to teach the spots, while you buy these two DVDs to teach the reads. Most coaches tell me that it is just too complex to learn.
Last year, I put out a Dribble Drive Motion Offense eBook and most coaches could piece everything together. Things that I always heard were: "I love the offense but just wish that it wasn't so much free lance from the beginning. I wish that I could have some 'structure' to it." Some of the more successful high school teams across the country started to run some sets with it. I really think that it helps pull the offense together.
I have compiled a little bit of my research from dozens of high school, AAU, Small College, NCAA Division 1, and NBA teams into these entry sets. I think that it will make things so less complicated and will help to advance your team's learning curve of Dribble Drive Motion Offense.
"How to Attack Sagging Man and Zone Defenses with DDM" Playbook
I spent the last month and a half breaking down 75 basketball games from Memphis Tigers led by Coach John Calipari, UMASS led by Derek Kellogg / Vance Walberg, and Marist College led by Chucky Martin (Former John Calipari Assistant Coach at Memphis).
I get a lot of requests on how do you use DDM to attack sagging man defense and versus zone defenses that I decided to do a lot of research. I noticed that all the teams used what I call "entry sets" to get their team into Dribble Drive Motion Offense and to create triple gaps. UMASS ran alot of open post dribble drive motion offense, because of their personnel and it was the first year in the system. These are just some ideas on how to attack sagging man defense and zone defenses using a DDM set.
I think that if you run Dribble Drive Motion Offense or have someone in your league that runs it, you will be able to gain more insight into ways to incorporate DDM concepts into your offense. Your Dribble Drive Motion Offense will run smooth against sagging man defense and zone defenses with these set plays to get you into DDM.
"The Book on DDM and the Little Things to It" Playbook
I get asked questions all the time about Dribble Drive Motion Offense especially since it has only been around for the general coaching community about three years. DDM has increased in its popularity since John Calipari started using it at Memphis and now Kentucky. I have just tried to answer some of the questions about DDM that I get. It is basically an eBook that covers all the little things that will make DDM run a lot better. I have tried to cover most of the problems that people have. It is basically "DDM for Dummies," but with tons of details. It should clear up alot of confusion about the "little things" that make dribble drive motion offense tick.
Kentucky Dribble Drive Motion Offense 2010 Playbook
Take a inside look on how Kentucky ran their Dribble Drive Motion Offense in the 2009-2010 season. You get to see the X's and O's of how the Kentucky Basketball Coach turned this team into a DDM team. How did he effecitively use Patrick Patterson (post player turned perimeter guard) and what options did they use when he needed a score in the post?
What do you do when your Dribble Drive Motion Offense team gets a little stagnant? Here are some wrinkles that will allow you different looks into DDM and still use all of the DDM concepts. The first part of this eBook has 50 plays / 57 plays of basketball X's and O's information. I give you half-court set plays to get into DDM, zone offense that keep DDM concepts alive and some zone blob plays. The second part of this eBook has 32 plays / 40 plays of DDM Clinic information never available anywhere in the United States. The diagramed notes detail: Dribble Drive Motion Offense, drills for DDM, more zone offense sets, pick and roll offense for DDM, and three point plays that employ DDM concepts.
Lessons
The Coach
Men's Basketball Coach Scott Peterman has coached at the NCAA Division 2 (Southwestern Oklahoma State University), NAIA (USAO), and JUCO Levels (Blinn College and Carl Albert State College) as well as high school. Coach Peterman just felt that fellow coaches, especially young coaches, need to constantly work on their "game," just like the basketball players that we coach. We as coaches need to improve ourselves.
This Course Includes
---
Full lifetime access
Certificate of completion
100% money back guarantee
Course Info
---
| | |
| --- | --- |
| Rating: | (0) |
| Caterory: | Basketball/Offense |