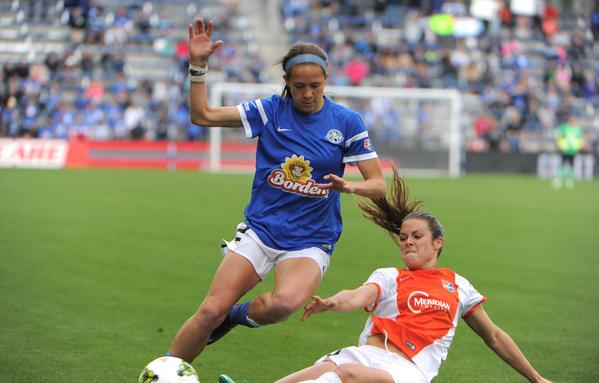 ---
For a sports fan in Kansas City, the landscape has never looked brighter. Fresh off coming a win away from taking the World Series crown, the Royals look primed for another postseason run. At the trade deadline, they acquired ace Johnny Cueto and super-utility man Ben Zobrist, thus looking like they're all in. Meanwhile, currently in the midst of preseason, the Chiefs look to have plenty of potential as they head into the season. With Eric Berry recovered from Hodgkin's lymphoma, there is plenty to be excited about as we await their week one matchup with the Houston Texans. As for soccer, Sporting Kansas City is starting to turn it on, as they sit in 3rd place of the Western Conference at the moment. Many players, including potential MVP Benny Feilhaber and Dom Dwyer, have stepped up as they prepare for the postseason. Defending NWSL Champions, FC Kansas City, are proving to be elite as well, while they sit in 3rd place. With the recent return of the four members off the World Cup Championship team, there is plenty of buzz at Swope Soccer Village.
Stars Making Their Mark The commonality amongst all of these successful teams is the presence of stars. Players that put their mark on the sport they cherish. The Royals have plenty of household names. From Eric Hosmer to Alex Gordon, these are players youngsters in KC can look up to.
With the Chiefs, it's hard not to admire the toughness of Eric Berry to the unique skillset of Jamaal Charles to the jaw-dropping sack totals from Justin Houston. Despite not having the history of the Royals or Chiefs, Sporting KC has quickly turned Kansas City into the soccer capital of the world behind homegrown star Matt Besler and fellow U.S. national teamer Graham Zusi. As for FC Kansas City, they are led by four members of the 2015 U.S. World Cup champion's team, including Lauren Holiday, who has excelled at all levels.
The New Star
With each team, you look for the players that are still young, but the potential for greatness is clearly there. These are the players that will take the reign from their predecessors. One of these stars waiting in the wing is FC Kansas City's Shea Groom. The former Texas A&M product has been a force on the pitch as just a rookie, racking up 4 goals in only 12 games. Over her college career with the Aggies, Groom put up 41 goals and 25 assists in 84 games. The 12th overall pick in the 2015 draft is originally from Liberty, Missouri and has made the transition from the college game to professional look seamless. Playing for your hometown team can be a difficult one for some players, but with the way Groom plays on the pitch, it almost looks like it's re-energized her.
The Interview Recently, I had a chance to catch up with Shea and talk about her transition from college to the pros, as well as the development of soccer within the United States.
Brandon Ogle: Soccer is quickly gaining steam throughout the United States, especially in cities like Kansas City and Chicago, but there hasn't always been this much interest. What sparked your interest in the game? Has there been an inspirational figure in your life that helped guide this journey and your love for the game?
Shea Groom: I started playing soccer at an extremely young age, along with many other sports. Growing up in a household where my dad coached high school football & refereed Division 1 basketball, there was very little knowledge of the game of soccer. But over time, through some amazing experiences, I grew to love the game I continue to play today. It was amazing to grow up playing soccer in the generation I did. I have watched it develop and have experienced, first hand, the opportunities that women now have through this sport. It was players like Mia Hamm, Lauren Holiday, Amy Rodriguez, and Kristine Lilly who only increased my love for the game. But from the start my dad, Kelly Groom, is the person I credit my appreciation and love for any sport. He taught me how to be a passionate competitor and a great teammate. I wouldn't be the athlete that I am without him.
BO: Often times in today's age, we see kids choosing to focus all of their time on one sport. Whereas, you also participated in basketball and track in high school. Could you discuss how this helped you in soccer and essentially become a more all-around athlete?
SG: Even in the end, it was tough for me to give up playing other sports. But aside from my love for those sports, they were extremely helpful in my development as an athlete. I think it is essential to play other sports growing up because each sport requires different movements and skills that can be tough to learn at an older age. I think I gained an athletic edge by playing other sports. I also believe it humbled me at times and taught me how to be a good teammate and leader. I'm not sure I would be a professional soccer player today if I hadn't played all those other sports growing up.
BO: You're currently rehabbing a foot injury. Can you breakdown what the rehab process is like and tell us about any experiences you've had with teammates rehabbing significant injuries in the past?
SG: This is one topic that really hits home for me. Over my soccer career, I have experienced a lot of injuries. The major ones coming in college, 3 foot surgeries, 1 knee surgery and now a broken foot during my rookie season as a professional. But while those may seem like major disappointments and setbacks, those injuries have shaped my soccer career and I would not be where I am today without those moments when I got to really assess myself as a player. The recovery process really differs upon injury. My current foot injury has sidelined me for about 5 weeks now and I am finally starting to see some progress. But in general the most important part of the recovery process is being smart and giving your body the proper amount of time to heal. Now that my bone is almost fully healed, I am able to start jogging again and slowly returning to full play. But for me the physical part is not the hardest part of an injury. It is mentally exhausting and you often find yourself worrying about the things you cannot control. That being said, I feel that each of my injuries has pushed me to get to where I am at today. I was able to evaluate myself as a soccer player and take a moment to see my career in a bigger picture. I realized that I had to value every single moment I get on the soccer field. Whether that is at practice, during a game or on a deserted field at 6am and I'm doing extra work. Because in an instant it can all be taken away. I realized my goals and where I want to be. It brought out a drive and passion I did not know that I had. Each lit a fire in me to want more and to work harder. It has always been a challenge, but I have yet to be defeated.
BO: Offseason work is critical for all athletes, could you give our readers a look at your offseason training program?
SG: Offseason training is extremely important to an athlete's development. Personally, I don't usually stick to the same program each off season. I like to pick a few things that I really want to work on and figure out ways to train those things. It will always be important to get stronger by being in the weight room and staying in good shape by doing both long and short distance cardio, but I think the most important thing for soccer players is PLAYING! In the offseason, I just try to find any opportunity to play and get touches on the ball because at the end of the day, that is what distinguishes the greatest players in the world. Not your athleticism, your quickness, or your strength, but your ability to play the game.
BO: Over the years, it seems like every sport goes through various trends. In football, we're seeing more up-tempo action with the spread offense and the Golden State Warriors proved small ball can be successful in the NBA. Having competed internationally with the U-23 team and in club competition with FC Kansas City, have you noticed any trends in the game or ways the game has changed?
SG: I definitely believe the game is becoming more possession oriented. Years ago, the US was so good because we had the best athletes in the world, but today the sport demands so much more than just good athletes. I think through all levels, coaches are training players to value possession and have emphasized technique and skill over the physical attributes that once held primary importance.
BO: In soccer, we see a variety of strikers have success on all levels. For instance in the women's game, Abby Wambach possesses elite aerial ability and dominates defenders in the air, while fellow American Sydney Leroux uses her speed to her advantage. How much have you learned from watching other strikers in terms of improving your own ability at the striker position?
SG: I think you have to have that ONE thing that sets you apart from the rest. You can learn all you want from watching the US WNT, but you have to have something that makes you special and unique. Morgan and Leroux For me, I think I have a passion that is unmatched by any opponent. The kind of passion that finds the net in the last few seconds of the game, the kind of passion that reveals itself even during the friendliest of competition and a passion that, most importantly, cannot be coached. I watch players like Abby, Sid, Lauren, Alex, Amy (the list goes on) and I have learned so many things just from watching these players play at such a high level. They have taught me things such as having vision of the whole field, making extremely quick decisions in crowded spaces and scoring in a variety of ways. The greatest players in the world got to where they were by finding what sets them apart and developing that craft until they are the best at it. I could tell you each player's niche on the National Team and I would bet that they worked every single day to improve that skill. Whether it be shooting, heading, crossing, technical training or passion, those players did it to the point of exhaustion every single day. And that's why they are where they are and that's where I one day hope to be.
BO: How has playing with veterans like Lauren Holiday, Becky Sauerbrunn, Heather O'Reilly, and Amy Rodriguez helped you grow as a player on and off the field in your rookie season?
SG: There is absolutely nothing like it. Not only are they amazing soccer players, they are amazing people. They have encouraged me and pushed me to make an impact even as a rookie. They are the best kind of teammates and I am sure there is no better practice environment in the world than with these 4. It's always a competition and it is always a great time. I look up to each of them in so many different ways and it has been such a blessing to learn from some of the greatest players in the world.
BO: Some athletes like suiting up for their hometown team, while others like experiencing a new town to play professionally. How has your experience been playing for your hometown team, FC Kansas City? What has been the biggest difference between playing at Texas A&M and now in the NWSL?
SG: There is no greater feeling than getting to represent the city where you grew up. It's just a different feeling. An overwhelming sense of pride that washes over me every time I put on the jersey. There are so many opportunities that come with playing for your hometown. Not only do I experience an overwhelming amount of support, but I get to be a role model to young athletes that aspire to chase the same dreams that I once dreamed. Honestly, there is no greater feeling that reaching the highest level and getting to come back home and share it with the city that raised you.
I loved playing at A&M. The biggest difference is probably just the game. Everyone is good at this level and the competition to play is extremely steep. Not only is there competition between teams, but within them as well. Even getting a chance to play on a professional field is an accomplishment in itself and even then you have to work every single day to keep that spot. The league is also still developing and in many cases the conditions and playing surfaces aren't always so glamourous. I was spoiled at A&M and it was amazing to experience the opportunities that women receive at the college level. I have no doubt that the league will continue to develop more opportunities and incentives for its players over time.
BO: With soccer being the international game it is, have you ever considered looking to play in Europe or another country overseas? If so, what would intrigue you about the opportunity? If not, what would you hold you back from making the move?
SG: I think I would definitely consider playing overseas. It is a much different style of soccer in some places and it would definitely be an adjustment, but I think it could only help my development as a player. That being said, I would love to continue playing here because I love the competition within the NWSL. The greatest players in the world are in this league and I want to be around that every day, learning and taking in all the information I can.
BO: Having most recently competed on the U-23 U.S. team, would you say your ultimate goal in this sport would be to make the National Team?
SG: Yes. There isn't much else I can say than YES. After wearing the jersey and touching the crest for the first time, I have wanted to reach that level. It's an exclusive club, but I want in. I know how difficult it can be to break through, but I am hungry for the opportunity and I will do everything in my control to put myself in a position to achieve that goal. There would be no greater feeling than playing for the United States of America.
BO: Since CoachTube focuses on helping out young athletes, what's one piece of advice you could provide to young female soccer players?
SG: Believe in yourself. I hope that doesn't sound too cheesy, because if there is anything that I have learned over the years, it's that the most important thing is believing in yourself. If you plan on winning championships and writing history in this sport, you can never allow ANYONE to steal the belief you have in yourself to achieve those goals. There will be PLENTY of people that will tell you "you can't", but it just takes one person to prove them wrong. So believe in yourself and never stop chasing that dream that you have for yourself. Do extra, give everything and always dream big.
BO: Lastly, I don't think the women's soccer stage has ever been bigger on a national scale coming off the national team's success at the World Cup. How do you expect this to affect the NWSL and the national view of women's soccer in general?
SG: It's incredible. The games are sold out, the fans are learning more about the game and people are taking notice! I think it's on the map and more people are recognizing our sport. I can only hope that it continues to catch fire and the league receives more support so that it gets better for everyone. These women are amazing athletes and should be recognized at the same level as other professional sports. I think winning the World Cup has begun to make that dream possible for this sport.
—————————————————————————————————————————————-
Key Takeaways
Overcoming Injury Pele, a true legend in the history of soccer, once said, "Success is no accident. It is hard work, perseverance, learning, studying, sacrifice and most of all, love of what you are doing or learning to do." While this quote could apply to many areas of life, I find it particularly important in the world of sports. Upon hearing Shea talk about her soccer career, it became clear the passion she has for the game. Anyone that has sustained a significant injury understands the pain from the rehab process. Just the thought of not being able to be on the field with your teammates can be a painful one. Over the course of Shea's collegiate and professional career, she's sustained major injuries. Her response: attacking the rehab process just as if it were a game.
Student of the Game Even one of the greatest athletes in the world, LeBron James, has admitted he's truly a student of the game. He carefully observes how his peers and those before him play, before finding out ways to implement these moves into his own game. For a rising soccer player in the United States, who better to study from than the U.S. women's national team? By both playing with and against these players in the NWSL, she's learned to make her game more dynamic as a forward. While she's learned plenty from stars like Alex Morgan and Abby Wambach, she also understands she possesses one trait that has the ability to set her apart: her pure passion for the game.
Bigger Stage Soccer, in general, has had a difficult rise to gain popularity within the United States. Particularly, in the women's game, where previous leagues have failed to remain active for multiple years at a time, it's been difficult to match the powerhouses of football, basketball and baseball. However, it appears things might finally be changing. Shea mentioned two things that I think stand out: sold out games and fans becoming more knowledgeable. First off, a key barometer of a successful sports league is increased attendance numbers. Since the World Cup triumph and throughout this season, NWSL ticket sales have slowly increased. An example of this increase comes from a recent Portland Thorns match where they sold 21,144 tickets. If that number is of any indication, it's clear the NWSL is on the right track! For the second concept she mentioned, in order for a sport to achieve sustained success, you need fans in place that understand how the game should be played. Otherwise, you'll see people that just watch one or two games a year. The goal is to amass fans that follow the team from start to finish.
Staying Humble When the average person thinks of a professional athlete, it's easy to see that some of these players have egos. No matter the sport, you're going to have players that are very good at their respective sport and aren't afraid to let others know. I've met athletes before that have been on both sides of this trait. However, it appears Shea has managed to stay humble, despite her immediate success in the NWSL where she's already won a Player of the Week award. Her answers to the above questions back this up as well. She gives plenty of credit to the veteran leaders and isn't hesitant to recognize the impact of fans. At the same time, she understands how her current position can serve as a role model to many youngsters in Kansas City and around the United States.
I'd like to thank Shea for participating in this interview and continue to wish her the best as she continues her career in the NWSL and wherever else it may take her!
Follow Shea on Twitter @sheabayy2
Feel free to follow me on twitter @_BrandonOgle and let me know what you think about the future of the NWSL.
---