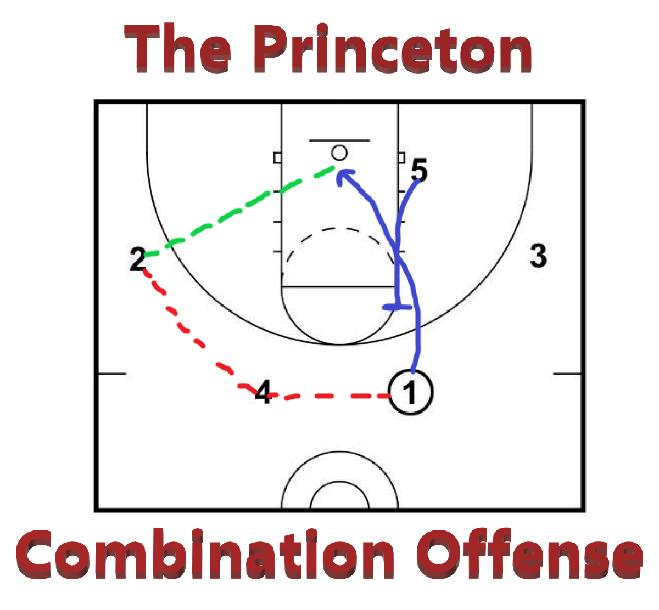 Description
The Princeton offense has done something most other basketball offenses have failed to do: withstand the test of time. While other offenses like the 4 Corners or Weave have relatively come and gone, the Princeton offense continues to be a popular and successful offense at levels of basketball all around the world. The reason for this? It was founded on the core basketball principles of spacing, cutting, and ball movement. But what has made this offense so successful is that it was designed to punish a defense for being exactly where they were supposed to be. Overplaying the wing? The point dribbles at the wing who cuts backdoor for a layup. Playing helpside on a guard? The post sets a backscreen for another layup. Get caught watching the ball and antipating helping? The center sets a flare screen for an open three point shot.
The Combination Princeton Offense is a 90-page detailed guide to teach coaches how the Princeton offense works and also how to implement it. In addition to the basic Princeton offense, there is also a section on how to flow from the Princeton offense into a ballscreen offense, as this style may fit a team's personnel better. But that goes to illustrate the versatility of this offense: whether you have 2 posts, 1 posts, or even no posts, this offense has parts for you.
In the first section of the playbook, learn about the basic Princeton offense that Pete Carril made famous at Princeton University. The three main series of the offense are shown in detail: Chin, Low Post, and Point. In addition, counters and quickhitters are shown for each of these series. Lastly, multiple drills for each part of the offense are detailed so that you can pick this playbook up and begin teaching your team how to run it right away.
The second part of this playbook is Princeton with a twist. Having coached different teams with different strengths, I modified the offense at different times to be able to flow into actions that would best fit our personnel. This playbook details the way Princeton is able to flow into multiple ballscreen offenses seamlessly. It also goes through the different ballscreen coverages that a defense may show and the proper reads out of them. Lastly, the playbook goes through numerous 5 out entries that flow into the ballscreen offenses as well.
I have helped to teach and implement the Princeton offense at every level I've coached at, and I am a huge believer in how it works, but also how it teaches players to play the game. It has made my teams become more unselfish and obtain higher basketball IQs. If those sound like some qualities you would like to see exhibited by your team, download your own instant copy of the playbook today and begin implementing it with your team immediately.
Lessons
The Coach
Women's basketball coach Matt Bolger has coached at numerous levels over the years, from junior high AAU all the way up to Division 1, with high school and NAIA also sprinkled in. He recently took a two-year sabbatical to read, research, and refine his basketball ideas, and now he's looking to share some of what he's learned with other basketball coaches who are also eager to learn more about the game.
This Course Includes
---
Lifetime access
Certificate of completion
100% money back guarantee
Course Info
---
| | |
| --- | --- |
| Rating: | (1) |
| Caterory: | Basketball/Playbooks |
| Bookings: | 21 |