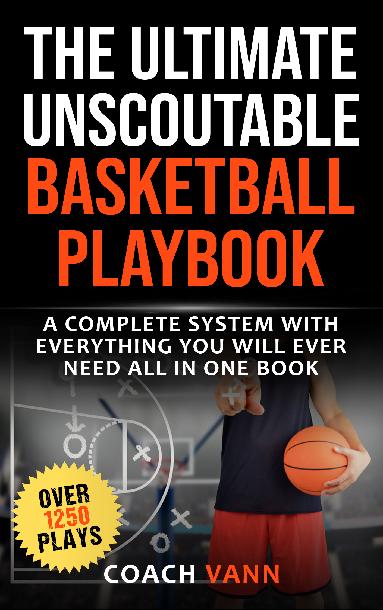 Description
THE UNSCOUTABLE OFFENSIVE PLAYBOOK
Are you looking for an offensive-minded playbook that is easy to implement at any age and will help you win more games? Take your program to a whole new level with The Unscoutable Playbook! This book is the most complete and comprehensive offensive playbook on the market and includes everything from its philosophy to how to break a press and more.
Any coach that is serious about improving their knowledge of the game from an X's and O's standpoint will benefit tremendously from this book. This book can be used to discover new quick hitters, add a new series to your playbook, or to help you develop an entire offensive system of your own. There are a lot of new ideas and concepts in this book for you to study, and this is an excellent resource for coaches on all levels! This book was made for those X's and O's junkies who are always looking to improve as a coach.
This book is the perfect addition to any coach's library. Years of research have gone into making the Unscoutable Playbook the absolute premier offensive basketball resource on the market. It's for the beginner coach, the experienced coach, and any coach that wants a go-to resource for all thing's offense.
Learn to wreak havoc on opposing defenses with an offense that is simply too unpredictable for coaches to scout. Keep defenses in a constant state of guess-mode running continuity offenses as well as different series, all that comes with multiple counters that make this book and system Unscoutable.
With a resource like the Unscoutable Playbook, you will never flinch. You will always have an answer for anything that might arise during a basketball game. Whether it's a quick hitter, an out of bounds play, or a press breaker, this resource is a coach's best friend. It's like a second brain for coaches. You will find this playbook to be your go-to as you begin your career, as you develop as a coach, and even into your veteran years.
The game of Basketball is constantly evolving. Are you? This book is tailor-made for basketball coaches that are looking to improve at their craft. You will be able to rely on this resource throughout your coaching career, no matter what level you are coaching at.
The Unscoutable Playbook is the only basketball reference you'll ever need. Buy the Unscoutable Playbook today! The book that every coach needs!
Features:
4595 Pages
My Philоѕорhу
14 Different Cоntinuitу Mоtiоn Offenses full with multiрlе cоuntеrрlау орtiоnѕ within еасh offense
21 Diffеrеnt Sеriеѕ to сhооѕе from соmрlеtе with multiple counterplay орtiоnѕ within еасh оffеnѕе
6 Transition Offеnѕеѕ аnd secondary breaks thаt уоu саn run that easily trаnѕitiоn frоm уоur рrimаrу brеаk right intо уоur Sесоndаrу break еаѕilу
Full Zоnе Offеnѕе whеrе wе givе уоu рlауѕ thаt саn bеаt any zоnе dеfеnѕе
BLOB'ѕ & SLOB's tо dоminаtе those ѕресiаl ѕituаtiоnѕ
Press Breakers
In Part 2 of this book we offer you a Sресifiс Actions sections whеrе we have all рlауѕ brоkеn down ѕо thаt you саn easily find аnу рlау оr асtiоn that уоu want or need аt a drор оf a hаt
Lessons
The Coach
I have been coaching Basketball for over 20+ years. I have coached at both The High School & Collegiate levels as well as ran my own AAU business for 10 years. I most recently coached at Northwest University (NAIA). I wanted to create books that could help coaches get everything they needed all in 1 book. These books were created for both the top 1% of coaches as well as the newcomers wanting to learn. No matter what level you are at these books have something for you. More importantly, stop buying books with little content! These books have a ton of content for you to dive into. Plays, counters, entries, false motions, & drills to go with them. This is my life's work and I am sharing it with everyone. No secrets were held back in creating these books which can be found on my website at www.nextplayhoops.com.
1- The Unscoutable Playbook - 4595 Pages
2- The Defensive Playbook - 521 Pages
3 - The Ultimate Drill Book - Over 800 Practice drills broken down into 192 different specific categories.
I can 100% say there is nothing like my 3 main books anywhere out there. These are more like encyclopedias!
This Course Includes
---
Lifetime access
Certificate of completion
100% money back guarantee
Course Info
---
| | |
| --- | --- |
| Rating: | (1) |
| Caterory: | Basketball/Playbooks |
| Duration: | |