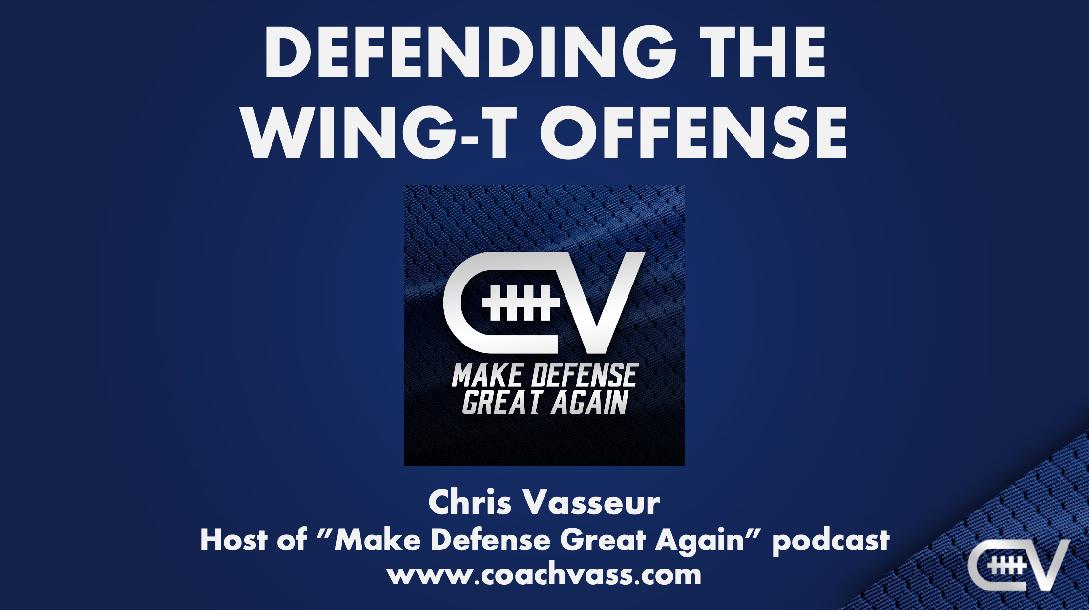 Description
"Defending the Wing-T" by Chris Vasseur (aka Coach Vass) gives coaches a detailed, step-by-step plan to implement when facing the Wing-T offense. Coach Vasseur focuses on the base Wing formation, as well as Slot variations, Red/Blue hybrid formations, the unbalanced versions of the previous three formations, and other sets commonly seen when facing the offense such as 2x2 Snug and 3-Back sets. His 7+ hour course leaves no stone unturned – he shows detailed drawings and diagrams, coupled with over 140 clips of film with voiceovers to walk you through each and every play the Wing-T offense runs (including some double and triple-option plays) with specific instructions for each player on every play.
After taking you through the philosophy of the offense, and his general guidelines for defending it, Coach Vass lays out his base plan to stop the offense in its tracks. Primarily using even fronts and different slant variations to get your players where the offense wants to run, Coach Vasseur installs his Robber coverage to help outnumber the offense at the point of attack, and spill techniques to force the ball where the offense doesn't want to run, by triggering different fits based on Wing and/or Slot blocks. He lays out a position-by-position guide gives alternative fronts, coverages, and pressure concepts, giving you an array of tools to defend one of the classic offenses in the history of football. From there, Coach Vass goes through each and every play in the entire Wing-T playbook, detailing every defender's responsibility, with accompanying film to show you clips of success, and sometimes even the ugly!
The course covers in great detail how to defend the main plays of the offense: Bucksweep, Power, Sweep, Down, Down Option, Belly (XB), Belly Option, FB Trap, FB Dive, FB Gut, and even Triple Option plays from Wing-T sets. He reviews the counter plays in the offense, including Wing Counter (Counter Criss-Cross [XX]), Tackle Trap, Wing Tackle Trap, and the playaction passing game including Waggle, Belly Keep Pass, and Power Pass, as well as the Waggle Throwback Screen. Lastly, Coach Vasseur gives some insight on specific periods for practice, as well as his thoughts on a progression throughout the week, to effectively rep your defense and prepare them for the offense.
Coach Vasseur uses his trademark breadth and depth you find on his podcast, "Make Defense Great Again" to teach the concepts. You will not find a more detailed single course or clinic on any topic related to football, period. Coach goes the extra mile, even adding his presentation in its entirety so you can watch each video clip at your own pace, without interruption.
Lessons
The Coach
Chris Vasseur (AKA Coach Vass) is the host of the podcast, "Make Defense Great Again," talking to some of the best coaches in football including Wade Phillips, Dean Pees, Bud Foster, Don Brown, Ron Roberts, and Joe Moorhead. Coach Vass also works with Hudl, hosting clinics and producing content for coaching education, as well as a defensive consultant for some of the top teams in the country. Vasseur also runs a Patreon (www.patreon.com/coachvass) for the advancement of all things defense!
Coach Vass' last stop was as the Defensive Coordinator/Corners coach for Clovis High School, in Clovis, California. In his first year with Clovis, the 2018 team saw its overall CalPreps ranking improve by 100 spots. Before working at Clovis, Vasseur was the Defensive Coordinator/Corners coach for five seasons at Junipero Serra High School (San Mateo) from 2013-2017. In 2017, the Padres won the 2AA CIF State Championship in California, picking up a league title, section title, and regional title in the process. Vasseur led a stingy defense that gave up only 8.5 points per game in the league, and held the #1 offense in the entire country to 14 points in the state game, 7 of those coming on a Hail Mary. The Padres also won a league, section, and regional title in 2016, falling short in the state championship game. In 2014, Serra won a league title and in 2013, they won the one and only CCS Open Division championship for football in school history, as well as a league championship. In total, Vasseur helped the Padres hang 10 banners in 5 years: 4 league championships, 3 section titles, 2 regional titles, and 1 state championship, with his defenses averaging around 14 points a game given up, in the most competitive league in Northern California.
In 2012, Coach Vass was the Defensive Coordinator/Secondary coach for St. Francis High School in Mountain View, California. Coach Vasseur helped the Lancers win their first section title in ten years, helping the defense shave 8 points a game off of their average points given up.
During the 2011 season, Vasseur was the Corners coach at Millsaps College in Jackson, Mississippi, coaching with current UIW Safeties coach Brandon Lechtenberg and LSU assistant Ronnie Wheat. In 2010, he was the Secondary Coach and Asst. Defensive Coordinator at Hartnell College in Salinas, California.
Before his second stint in the college game, Vasseur served as the Defensive Coordinator/Corners coach in 2008 and 2009 at Gilroy High School, in Gilroy, CA. In 2008, he helped Gilroy shave 9 points a game off their points per game average, and a league championship. During the off-seasons of the 2008-2010 high school/junior college seasons, Vasseur served as a coach for the semi-professional team, the Central Coast Barnstormers in Gilroy, CA. He served as the Defensive Backs coach in 2009, the Defensive Coordinator/Assistant Head Coach in 2010, and the Head Coach for the 2011 season.
Vasseur's first high school coaching job was at Los Altos High School in Los Altos, CA, serving as the Defensive Coordinator/Secondary Coach, working with former SJSU and Utah Offensive Coordinator and Eastern Michigan head coach, Rick Rasnick.
Before coaching high school football, Vasseur served as a Graduate Assistant/Assistant Video Coordinator for football at San Jose State University in the fall of 2006. Chris would later receive his Masters in Arts from SJSU in Kinesiology with a focus in Sport Psychology. In his first football job, Vasseur served as a student assistant in the video department for football at the University of Miami, during the final semester of his senior year. Vasseur graduated from "The U" in the Fall of 2006, majoring in Political Science, with a minor in Music Business and the Entertainment Industry.
A native of Orlando, Florida, Vasseur attended Bishop Moore High School. Chris has a unique background, writing a book and making a record before the age of 25. On said record, Coach Vass played drums on all tracks, bass on 6 tracks, backup vocals, noise guitar, as well as a mouth trumpet solo on the song, "Never (Always) Been About You."
HIGH SCHOOL/COLLEGE COACHING EXPERIENCE
2018-19: Clovis HS (Defensive Coordinator/Defensive Backs)
2013-17: Junipero Serra HS (Defensive Coordinator/Corners – Asst. HC from 2013-15)
2012: St. Francis HS (Defensive Coordinator/Secondary)
2011: Millsaps College (Corners)
2010: Hartnell College (Secondary/Asst. Defensive Coordinator)
2008-09: Gilroy HS (Defensive Coordinator/Corners)
2007: Los Altos HS (Defensive Coordinator/Secondary)
2006: San Jose State (Asst Video Coordinator – Graduate Assistant)
2006: University of Miami (Video – Student Assistant)
SEMI-PRO COACHING EXPERIENCE
2011: Central Coast Barnstormers (Head Coach/Defensive Coordinator)
2010: Central Coast Barnstormers (Defensive Coordinator/Asst. Head Coach)
2009: Central Coast Barnstormers (Secondary/Asst. Defensive Coordinator)
This Course Includes
---
24 hours on-demand video
Streaming from mobile and TV
Lifetime access
Certificate of completion
100% money back guarantee
Course Info
---
| | |
| --- | --- |
| Rating: | (6) |
| Caterory: | Football/Defend this Offense |
| Bookings: | 398 |
| Duration: | |
| Videos: | 18 |