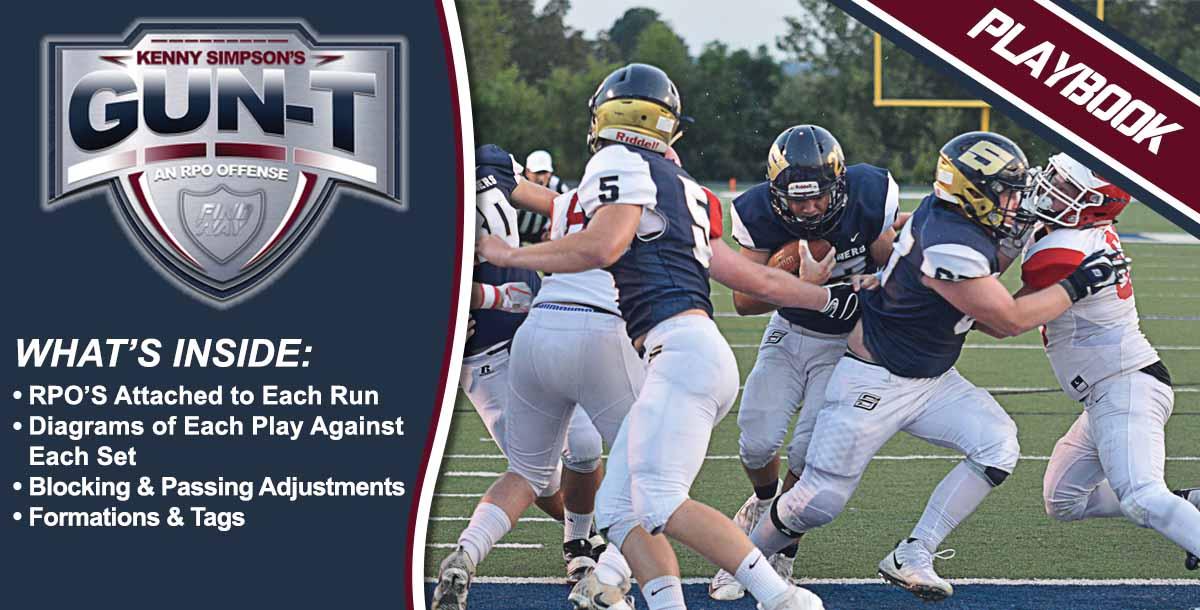 Description
This is the digital playbook for the Gun T RPO offensive system. This is not downloadable, it must be read on coachtube. If you would like a printable copy you will need to order from here:
https://www.fbcoachsimpson.com/downloads/gun-t-book
This book will cover -
Formations and how to use tags to get into as many formations as you can imagine using simple tags
Shifts and motions - Dress up your offense with very easy to learn motions/shifts.
All base runs vs. any front - Each play is drawn up against multiple fronts.
Blocking adjustment tags - Major blocking adjustments are shown for each play.
RPO game tags - RPO's and each read.
Screen game and tags - Running screens to any player on the field with simple terms. Clear and easy to attach to any run.
Jet motion run and pass game - Use the SAME BLOCKING SCHEME FOR 3 RUN PLAYS. Use Jet motion to dress up the passing game as well.
Heavy package - Using this package in the Gun T RPO System has been a 90% success rate on 3rd/4th and short the past 3+ systems and has accounted for over 30 Touchdowns.
150-pages going in depth on the Gun T RPO System
Quotes from Coaches that have bought courses from the Gun T RPO System:
"Coach Simpson's Gun T Offensive Overview is an excellent offensive resource. This course provides the foundation of Coach Simpson's offensive philosophy. Coach believes in the monikers that "Less is More" and the "Rule of 3", which both were evident in the explanation of the offense. His explanations were clear and concise, and the presentations were easy to follow." - Todd Knipp

"This is absolutely amazing. Coach Simpson does an excellent job of explaining his system. Whether you're a young coach or an experienced coach this is must see. You can easily see why he is a successful coach. His detailed organization is on point and I cannot wait to learn more from Coach Simpson." - Mike Kloes

"I've been following coach Simpson for a while now and it's very clear to me that even though I may not be a HC, we have similar philosophies. If you are a Wing T guy looking for ways to "Modernize" your offense, or a Spread guy looking for an effective and efficient run game this is the offense you should be looking at!" - Coach Sheffer

"The course by Coach Simpson was quite helpful. As the new Head Coach of a small school - the Gun T system is going to help us be successful right away. Being a spread coach for the last 8-9 years, this system easily blends the best of both worlds of spread and wing-." -Mike Wilson

"Coach Simpson's Gun-T Offense is dynamic and efficient. This course gets into the foundation of building blocks of the Gun-T offense and what you are trying to do offensively to be as successful as possible." - Austin Pink

"Amazing detail on numerous variations of attaching RPO's to your Bucksweep. Keeps it simple yet extremely informative. Great Job Coach Simpson, you made me a believer! Highly recommended!" - Mike Turso

"Coach Simpson does an awesome job explaining his system, and he does it a way that people like myself who are not familiar with RPOs can understand!" - Coach Coleman
Lessons
The Coach
Coach Simpson is currently the Head Football Coach at Southside High School, a 4A school in Arkansas. Taking over a program that had won eight games in five seasons and had been on a 20+ game losing streak, Simpson has led Southside to the playoffs for four-consecutive seasons and won two conference titles in the past three seasons. For his efforts, he was named 4A-2 Conference Coach of the Year (2017), named to the as a finalist for Hooten's Coach of the Year (2017) and has been the All-Star Nominee for the 4A-2 (2016 and 2019). He was also selected to coach in the inaugural FCA Texas-Arkansas All-Star Showdown (2020).
Simpson's first book, "Find A Way: What I Wish I'd Known When I Became A Head Football Coach", has already been a best seller on Amazon in several categories.. Another book is already in the works and will be available in November 2020.
Simpson has also raised over $1.5 million for Southside and has overseen several major facility projects including: New Field Turf, Expansion to Fieldhouse, Expansion to the school's home bleachers, and the addition of a press box and a new video-board.
Prior to coming to Southside, Simpson took over as Head Coach at Alabama Christian Academy in Montgomery, Alabama. During his tenure there, Simpson took over a team that had been 4-18 and led them to their first home playoff game in over 20-years. For his efforts he was named Montgomery Advertiser's All-Metro Coach of the Year as well as being voted 4A Region 2 Coach of the Year (2010). Simpson also served as the head track coach at ACA and led the girl's and boy's teams to multiple top 10 finishes in 4A.
Simpson began his coaching career at Madison Academy, in Huntsville, Alabama. He served as a junior high basketball and football coach, before working into a varsity coaching role in football. He graduated from Harding University in 2003. He is married to Jamey and has three children: Avery, Braden and Bennett. The couple was married in 2001 after meeting at Harding University.
@FBCoachSimpson - Twitter
FBCoachsimpson - Facebook
FBCoachSimpson.com - Website
This Course Includes
---
Lifetime access
Certificate of completion
100% money back guarantee
Course Info
---
| | |
| --- | --- |
| Rating: | (1) |
| Caterory: | Football/Wing-T |
| Bookings: | 133 |