Basketball Playbook-Advanced Fundamentals 篮球手册—高难度动作要领
by Tom Kelsey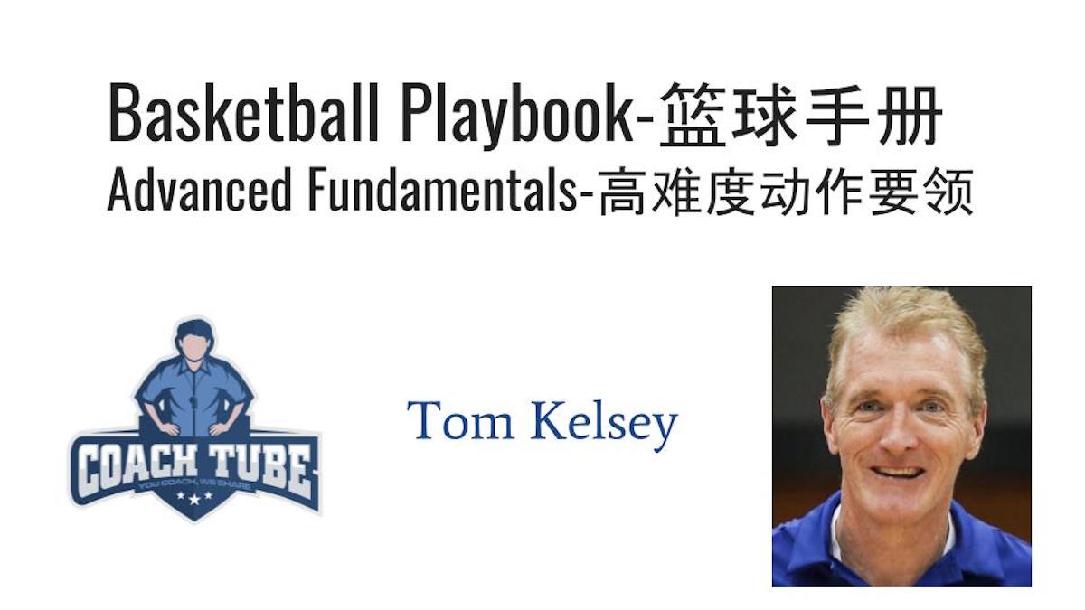 Description
A Basketball Playbook for coaches and players of all levels.
Want to improve your skills and overall game? Master the fundamentals.
We share ball handling, passing, defense, shooting and rebounding drills that have a proven track record of success.
Even the most talented and skilled players work on fundamentals on their own or in practice with their team.
Our teaching focuses on building up a players confidence. You gain confidence by repeated successful repetitions.
For all these drills we want players to go at game speed. To be able to produce in a game you must have practiced the skills over and over at a quick pace.
This playbook helps sets the foundation for players to increase skills and technique.
Lessons
The Coach
Tom Kelsey's career has spanned from coaching Professional teams to players just learning the game.
Working with the NBA, Women's Professional Basketball, High Major College Basketball, Small College Basketball. High School, Middle School, and Elementary School Kelsey knows how to communicate his message, ensures his teaching is understood, and how to measure improvement.
Kelsey has traveled all over the world teaching and coaching the game of basketball. Playing legendary coaches Don Meyer (college coach) and Rick Torbett of Better Basketball (high school coach) gave Kelsey a solid base in teaching the game.
As a player at Lipscomb University, the team averaged 30 wins per year his last three seasons.
His senior and captain, the Lipscomb team, won the NAIA National Championship.
At 26 Kelsey was the youngest Athletic Director and Head Basketball Coaches in the country. Before the age of 30, Kelsey's team at Faulkner University made college basketball history by going from 4 wins to 23 wins the following season. By his third year, Kelsey was named Coach of the Year and taking the school to their first trip to the National Tournament and team set a record for wins in a season.
At Murray State, Kelsey helped recruit the #11 Ranked recruiting class, set a conference record for wins and team received the highest seed in the NCAA National Tournament ever for the Ohio Valley Conference.
At Belhaven University, Kelsey took his teams to two national tournaments in three seasons after the school had not been to the tournament in 37 years. Kelsey was named Coach of the Year and team set a school record for wins.
As an assistant coach at Alabama and LSU, he was part of recruiting and signing three #1 players in the country:
Schea Cotton
Gerald Wallace
Ben Simmons
While at both schools they were able to sign top 5 recruiting classes. And Kelsey was named one of the top 20 recruiting coaches by HoopScoop Magazine.
Kelsey has worked, organized, and directed basketball camps in Bolivia, Brazil, Peru, Poland, Greece, Belgium, Singapore, and China.
Coaching Career
Brentwood Academy-Assistant Coach
Franklin Road Academy-Head Coach
Faulkner University-Head Coach
Lipscomb University-Assistant Coach
Athletes in Action-Assistant Coach
Murray State University-Assistant Coach
University of Alabama-Assistant Coach
Greater Atlanta Christian-Head Coach
Belhaven University-Head Coach
Louisiana State University (LSU)
Ensworth School-Assistant Coach
NBA Asia-Lead Instructor/Camp Director
NBA China-Lead Instructor/Camp Director
Music City Icons (Women's Professional Basketball Team)-Head Coach
Coach Tube-Basketball Ambassador
科尔西教练的篮球指导生涯从初学阶段横跨到专业等级,包含指导美国职业篮球、美国女子职业篮球、美国大学一级篮球比赛、小型美国大学篮球、美国高中篮球、美国中学篮球和美国小学篮球等。柯尔西教练擅长沟通,而且让球员们充分了解他的专业指导之下可精进球艺。
柯尔西教练在美国和世界各地教导并指导篮球比赛,他在美国传奇篮球教练唐·迈耶(大学篮球)和篮球训练教学教程教练瑞克ž托北(高中篮球)旗下奠定扎实篮球指导之基础,他26岁时成为全美最年轻的运动经理和篮球总教练,未满30岁前,他所指导的福克纳大学篮球队刷新大学篮球历史(从4胜到来年的23胜),在指导贝尔黑文大学篮球队期间,该队从37年来未曾参与赛事进步到三季内打入两次全国篮球锦标赛。
在阿拉巴马大学和路易斯安那州立大学担任助理教练期间,他负责招募并签下三名全美篮球选秀排名第一轮的球员(史奇ž康顿、杰拉德·华莱士和本·西蒙斯),而期间两校篮球队皆可与排行前五轮的篮球选手签约,同时,柯尔西教练被HoopScoop杂志评为全美前20名之选秀教练之一。
在莫瑞州立大学期间,柯尔西教练协助招募到排名第11轮的球员,进而创下美国大学篮球胜赛纪录,且该校队成为当年全美大学体育协会第一种子。
柯尔西教练在玻利维亚、巴西、秘鲁、波兰、希腊、比利时、新加坡和中国等国家都曾指导、规划和统筹过篮球营队。
若你想要在位置上有效进攻,你必须能快速移动到想要接球的位置,甩开严密防守并抢到球,且你必须在投篮前完成这些动作。
其实很多球员的致命伤是以为到达进攻位置则得分将会易如反掌,因为他们努力了老半天到这一步却无法替球队得分,你应该要攻到篮下之后引诱犯规或投篮得分。
练习并完全掌握这些动作之后,球员会发现他们在球场上曝光的机会增加,而且队员也会想传球给他们。
你到达定点之后能得分吗?做出几个动作再利用对应这些动作的防守来进攻得分。
所有程度都适用的篮球战术图解(教练和球员皆可)
想要增进你的篮球技巧和篮球战力吗?掌握这些基本动作。
我们会指导保证见效的篮球技巧,包括控球、传球、防守、投篮和篮板球等。
即使是最有天分和最厉害的球员也会独自或与队友练习这些篮球基本动作。
This Course Includes
---
Lifetime access
Certificate of completion
100% money back guarantee
Course Info
---
| | |
| --- | --- |
| Rating: | (0) |
| Caterory: | Basketball/Fundamentals |
| Bookings: | 119 |
| Duration: | |