SEMI-PRO-AM: The True Story Of A Basketball Season Unlike Any Other
by Graham Wilson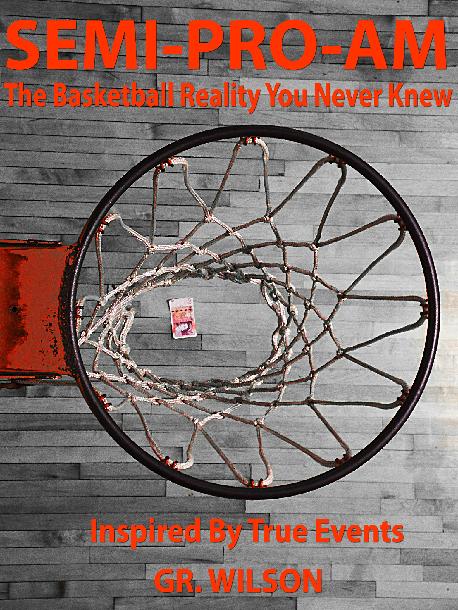 Description
SEMI-PRO-AM is the untold true story of a Basketball Reality you never knew existed. A world where NBA All Stars matchup against Footlocker Employees, where FIBA World Champions face High School Wannabes and where the salary of one team's twelfth man equals that of this team's entire roster. Faced with a physically torturous and spirit crushing season like no other, 15 men battle the opposition, each other and themselves to succeed simultaneously against everyone from the Sport's Bottom Feeders and those who feast at its Highest Table. 81 Games over a mere eight months in 14 countries for just one team; this team.
The spotlight of Professional Basketball shines brightest on the chosen few, however once in a lifetime a select few from the humble majority get their 24 seconds of fame. Semi-Pro-Am follows the reality of 15 such men forever connected by their shared experience of reaching competitive heights beyond their wildest dreams while simultaneously battling though the juxtaposition of Basketball Backwaters.
When offered a chance, the Manager of London's biggest Basketball Club laid everything on the line to compete at a level no British team had ever before reached. Craving to sit at the top table with Europe's most established clubs as a part of the fledgling continental basketball scene, his story is one that will ring true for any underdog that has ever given their all and struggled to be unleashed.
Charged with guiding his team through a torturous 80 game season, the Coach fought an ongoing battle to reach the summit of his profession. Challenged daily by his players, management and his own temperament, he was forced to handle the pressures of coaching three seasons in one. His plight and struggle to endure will be familiar to anyone who has ever or wants to succeed in this most stimulating of professions.
Recruited from all walks of life, 12 Players willed their overmatched bodies to compete with the very best in Europe while simultaneously searching for the motivation to retain their domestic title in basketball's British basement. Through a sometimes unwinnable schedule often compromising of nine games in five different countries over 15 nights, their ambition to overcome will motivate everyone who has ever felt the fire of competitive spirit.
Continually overstretched to breaking point and pushing the limits of a collective will, Semi-Pro-Am provides a firsthand insight into the intricate relationships that exists between all levels from semi professional to amateur and the full time professionals caught in between. A firsthand account of how an ever changing set of incredible circumstances set off a chain reaction with ramifications effecting everyone closest to them. Filled with a heartbreaking realism, at times almost fictional coincidence and the cruel humor that became everyday occurrences when people spend more time with their teammates than their families. Seasoned Veteran Professional Players, Unpaid Interns, Part Time Postmen, Wealthy Businessmen, Amateur High School Drop Outs, Next Generation Coaches and Semi Professional Athletes all play their part.
Semi-Pro-Am continually shifts the spotlight from Center Court to the shadows of Professional Basketball and back again. Connecting Flights to Tour Buses, Locker Rooms to Hotel Rooms, Health Clubs to Night Clubs and Barcelona to Brighton; the reader follows in the footsteps of this once in a lifetime team that became like no other. For the first time, revealing true stories played out by those closest to the game you love; unwrapping secrets that you thought existed but could never before see. Over twelve years in the making, Semi-Pro-Am is an essential addition to the bookshelf of anyone who has a passion for Basketball and a hunger to learn more about the reality of Professional Sport from one of the few people that witnessed it all first-hand.
Lessons
The Coach
GR WILSON is to Coaching as Waiting Tables is to Acting; between teams having emigrated from London to New York City in 2013, he sat in his Manhattan apartment, on thrift store furniture with a phenomenal view of the East River and started typing. After 18 days of late summer sunshine and inspiration, the story of 10 months in his basketball life that began at the turn of the millennium was finished and in your hands fulfilling his lifelong ambition.
An experienced Basketball Coach at all levels from the Euroleague to collegiate and FIBA leagues, working as a head, associate and assistant coach with four franchises, an NCAA DIII college and European tour teams over the past 20 years. Career coaching record (0.552) over 400 games.
This Course Includes
---
Lifetime access
Certificate of completion
100% money back guarantee
Course Info
---
| | |
| --- | --- |
| Rating: | (0) |
| Caterory: | Basketball/Ebooks |
| Duration: | |