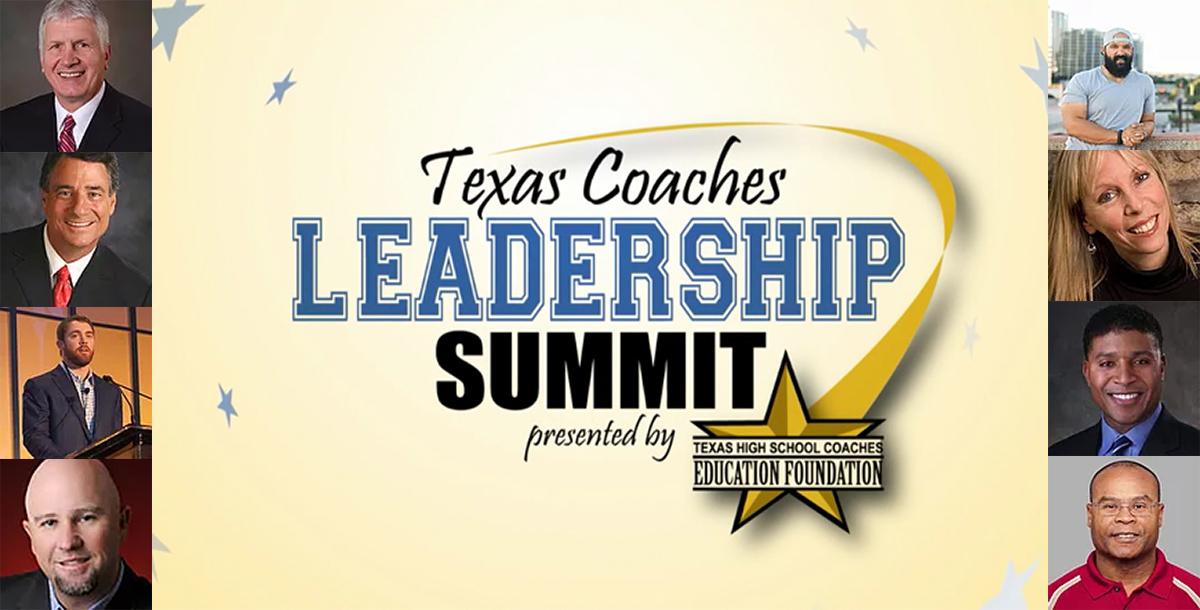 Description
The annual Texas Coaches Leadership Summit is the signature event of the Texas High School Coaches Education Foundation. We want to unite coaches from across the state of Texas with one primary purpose: to coach beyond the game! Over the years, the state of our society has significantly changed and children are flooding into our educational system laden with social issues that could hinder or negate their chances for success. With domestic violence coming to the forefront recently, the lack of fathers and positive male role models in the lives of American youth today is quickly becoming an epidemic that we feel athletics and coaches, specifically, can play a part in changing for the better. We will be featuring a slate of excellent speakers who will be addressing core values in the hopes that our coaches statewide can carry the torch to help our student-athletes become successful and responsible citizens. Check out our 2018 Summit Speakers : "Leadership from All Walks of Life" -Dr. Charles Breithaupt, Executive Director of the UIL
This presentation will inspire each of us to look at every aspect of our lives for lessons on leadership. Drawn from cartoon characters, the Bible, sitcoms, westerns, Noah's ark, the animal kingdom, coaches, political figures, Hollywood stars and more, Dr. Breithaupt will provide perspective regarding leadership from each arena. You will be provided tools from past and present characters from all walks of life that will prepare you to be a better leader. "Higher, Swifter, Stronger" -Neal Jeffrey, Associate Minister at Prestonwood Baptist Church
This message is one of inspiration and encouragement, smothered with humor and powerful personal stories. Neal will challenge the way you look at your life and the way you are living it, the legacy you are leaving and the memories you are making. It will help you to evaluate the success of your life in light of its significance not just in terms of career success. You will discover ways to address limitations, dream big and to spread the light that is within you to your world. Everyone needs to be reminded that you only have one chance, so you might as well decide to go, Higher, Swifter, Stronger. "Influence and Responsibility of a Coach" -Colt McCoy, Former Collegiate Quarterback, Current NFL Quarterback

Colt has been around coaches his entire life. The son of a Texas High School coach and a phenomenal athlete himself he has had first-hand experience with the influential power of a coach at all levels. Listen to him share stories of the powerful influence coaches have been in his life. His experiences as an athlete will quickly remind you of the amazing and immense responsibility that comes along with the title "Coach"! "The Uncommon Coach" -Clint Rutledge, Author/Director of the Fourth Quarter Leadership Institute
The best of America, the America that 'could be' exists in the form of an American Institution known as the Team. The Team replaces Society's will to whine with a will to win. When it comes to the Team, color is replaced by contribution, politics are replaced by performance, and strength of class is replaced by strength of Character. While young people everyday experience the value of the Team, they still need someone to bridge the gap between winning as a team and winning in life. It is in building that connection, that a common Coach becomes Uncommon, and finds his truest value. Listen in as author and international speaker Clint Rutledge shares the secrets to Uncommon Coaching and explains why America needs these Coaches now more than ever. "Be. Stand. Do." -Stephen Mackey, Founder/CEO of 2Words Character Development

I've got two words for you: Left Lane! In this message, Mackey goes "left lane, hammer down, full-tilt boogie" to encourage, challenge, equip and inspire you. In what will feel more like a half-time speech than presentation; a call to action, than a keynote, Be. Stand. Do. will call out the enemies of your impact; celebrate the role you play in the lives of your students; and invite you to a higher standard of coaching and living. With just a touch of "Sunday morning", Mackey will share his story, powerful lessons, and an infectious energy that will have you ready to punch through walls and change lives. "Positive Choices for Outstanding Performance" -Elaine Pasqua, Author/Speaker
As coaches you are responsible for creating a winning team, but most importantly, you are responsible for developing outstanding character in your players. Elaine Pasqua has worked for the NFL, eight NFL teams, and the most notable Division I football programs nationwide. She understands that a culture of integrity starts at the top. Athletes work hard and play hard - poor choices cause many to damage their futures and embarrass their teams. You will learn about the latest high-risk trends so you can recognize the red flags in those who are struggling, and gain the skills to effectively build a team culture of respect and responsibility, to develop productive young men with promising futures. "The Power of a Clear Vision" -Spencer Tillman, Former NFL Player/Broadcast Analyst

Just as cloudy headlights make it difficult to see the road ahead, cloudy vision that has been oxidized by distractions and life disturbances makes it difficult to navigate our way as coaches, leaders, mentors, husbands, and fathers. A clear vision enables us to stand for more than who we are, currently; it helps us maintain optimal performance, and increases our visibility so we can become all we are meant to be. "Committed to Excellence" -Mike Singletary, Former NFL Player and NFL Coach
Your legacy as a coach finds its foundation in your core beliefs and your commitment to excellence both on and off the field or court. How do we define excellence? How do we maintain the highest standard of excellence? And how do we commit ourselves to being all that we can be EVERYDAY for the sake of the young student-athletes we serve daily?
Lessons
D. W. Rutledge, Executive Director of the THSCEF
1
Introduction
Dr. Charles Breithaupt, Executive Director of the UIL
2
Leadership from All Walks of Life
Neal Jeffrey, Associate Minister at Prestonwood Baptist Church
3
Higher, Swifter, Stronger
Colt McCoy, Former Collegiate Quarterback, Current NFL Quarterback
4
Influence and Responsibility of a Coach
Clint Rutledge, Author/Director of the Fourth Quarter Leadership Institute
5
The Uncommon Coach
Stephen Mackey, Founder/CEO of 2Words Character Development
6
Be. Stand. Do.
Elaine Pasqua, Author/Speaker
7
Positive Choices for Outstanding Performance
Spence Tillman, Former NFL Player/Broadcast Analyst
8
The Power of a Clear Vision
Mike Singletary, Former NFL Player and NFL Coach
9
Committed to Excellence
Joe Martin, Assistant Executive Director of the THSCA
10
Parting Words
The Coach
The Texas High School Coaches Association (THSCA) is the principle advocate and leadership organization for Texas high school coaches. THSCA provides the highest quality representation, education, and services to Texas high school coaches and affiliate members, and enhances the professionalism of coaches and the schools they represent. Our mission statement is simply this: To help and serve our Texas high school coaches as they work to help and serve our student athletes.
"HELPING COACHES TO HELP KIDS."
History:
The Texas High School Coaches Association was formally organized on November 28, 1930 with twenty-eight members and was called the Texas High School Football Coaches Association. The first big step for THSCA was in 1933, when the organization sponsored the first coaching school held in San Antonio and had 65 coaches in attendance. In 1935, the association inaugurated the North and South All-Star Football Game. In 1941, the association dropped the word "football" from its title and opened its doors to all secondary school coaches. This move paved the way for the addition of the All-Star basketball game in 1946. The THSCA has grown from 28 members to over 21,500 making it the largest organization of its kind in the world. The annual coaching school boasts an attendance of nearly 13,000.
This Course Includes
---
Lifetime access
Certificate of completion
100% money back guarantee
Course Info
---
| | |
| --- | --- |
| Rating: | (0) |
| Caterory: | Coach Development/Leadership and Coaching |
| Bookings: | 11 |
| Duration: | |