In this course you will learn how one of the most innovative offensive coordinators uses different formation and play concepts to stress the defense. This course breaks down EWU's favorite play concepts and formations versus 4 of the nation's best FCS defenses. I promise in this course you will find multiple play concepts to add to your offense this fall. Formation Study Empty (Rip, Lucky)
RPO Study
Spread Concept Study (PAP, Screen, Power Read)
Goal Line Formation Study
Trick Play Study
Chapter 1:
Empty Run Game
Chapter 2:
Empty PPO
Chapter 3:
Pass Game
Chapter 4:
RPO Study
Chapter 5:
Goal Line
Chapter 6:
Trick Plays
Chapter 7:
Spread Concepts
Chapter 8:
Bonus Material

Coaches Clinic Championships are Won in the Offseason Follow
For the past seven years Mike Rowe has been an active member of the ROCORI School District, working as a third grade teacher and head coach of the Spartans Football program. Under Coach Rowe ROCORI high school has won two conference titles, four section championships, and appeared in the state playoff in 2011, 2014, 2015, and 2016. In 2011 the Spartans won their first ever State Football Championship. Coach Rowe has been an advocate for developing character in his athletes and in 2014 the NFL featured him in a video that aimed to stop domestic violence and dating violence. Prior to taking over the Spartans Football program Mike Rowe was coaching college football at Central Lakes College, Minot State, and St. Cloud State. Mike has been involved in the NFL High School Player Development Camps the last three years, and is married to wife Elisabeth, with whom he has three children Avery, Ainsley, and Grayson. Coach Rowe has also partnered with Coaches-Clinic.com to make both his Team Building the Spartan Way Program , as well as his Spartan Spread System available to other coaches.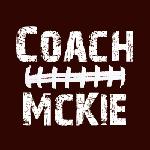 Ron McKie
Coach Rowe has done it again. This video series is a fantastic course. Coach Rowe lays everything out for you. He draws up the concept, explains the concept, then shows the concept in action. This video is a great teaching video, and I can't wait until he comes out with a new one.
Apr 2, 2017 08:53:35 PM