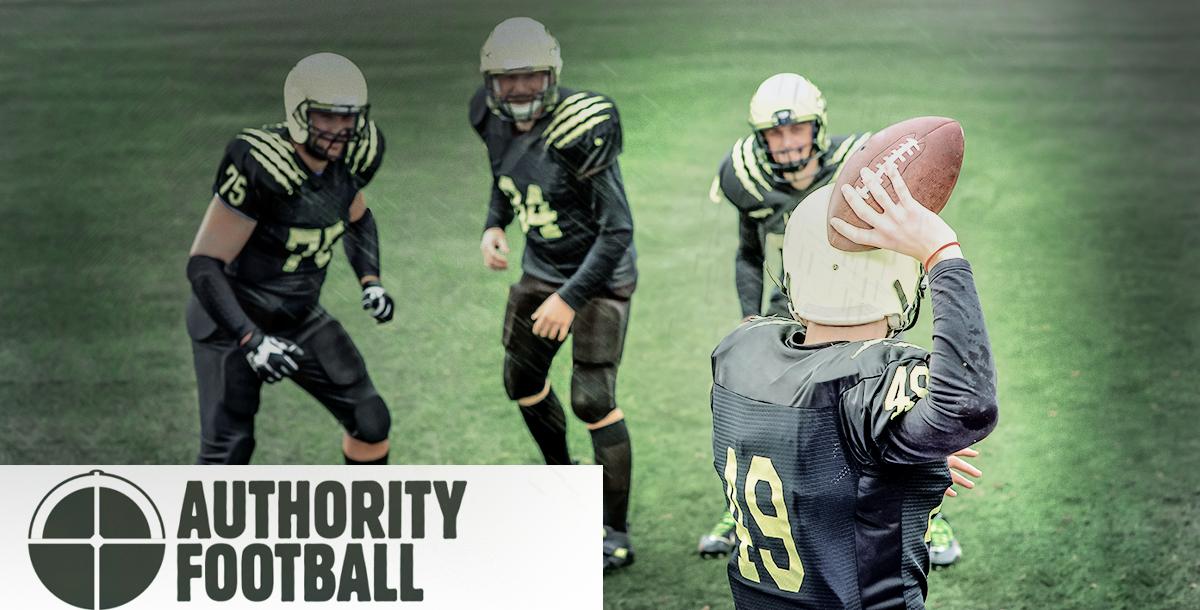 Description
Dear Quarterback, or more than likely, Coach or Parent of a Quarterback,

I've trained hundreds of quarterbacks from 5-years-old to 25-years-old, and I receive new customer inquiries every week. At the root of every single athlete I train is the same thing: a desire to improve performance. No matter how good, no matter how old, no matter how experienced, the athletes, coaches, and parents that seek our training want EXACTLY the same thing: the right answer.
What's the right answer?
When it comes to quarterbacking, the right answer means, "teach me the best way to throw the football." "Teach me the best way to execute my footwork." "Teach me how to be more accurate." "More consistent." "More powerful." But dig a little deeper, and you'll find the real, root reason for wanting to train as a QB - it's because you want to complete more passes so you can score more points so you can win more games so you can have more success so you can elevate your game and so you can create future athletic opportunities - whatever those goals might be; whether that's simply being the starting QB for a flag football team, or earning a scholarhip, or earning a contract.

And what that means is, "I want a system." It means, "I want a system of throwing, dropping, reading, running, and leading that all works together, gives me the best possible chance to be successful, to dominate on the field and separate myself and my team from my peers, opponents, and contemporaries. I want to stand out."
Kids that PLAY quarterback vs. athletes that ARE quarterbacks
You see, any kid can play quarterback. Shortly, kids and coaches weed out the ones who obviously don't possess the needed traits or desire, leaving a smaller group of kids who can play quarterback. These kids that can play quarterback have a few, if not all, of the following characteristics: they can throw; they can run; they are confident; others want to follow them.

Not long after this however, these kids who play quarterback and their parents or coaches realize those traits stop yielding the results they once did when they were younger, or when the opponents were on school yards, or just showed up on a Saturday morning. The kid playing quarterback hits a ceiling, and where he once was a capable passer and a confident runner, and an influencial leader, he continues to diminish, perhaps even losing interest or increasing frustration.

So those that want to continue to play quarterback must take a new approach to the position. They must stop being kids PLAYING quarterback. They must become athletes who ARE quarterbacks.

And while lots of dads and brothers and coaches have "played" quarterback, even if just in a sandlot as kids or in a park on Thanksgiving morning, so few people have ever actually TRAINED as a quarterback, so many parents and coaches of aspiring quarterbacks eventually hit their own ceiling on knowledge to teach the position. They lack the "right answers".

Just like an aspiring musician would learn from an expert the notes, and keys, and timing, and rhythm, he then must learn the positions and techniques to apply to the instrument, and he then must learn how to organize all that knowledge and technique to produce something that actually looks effortless and sounds amazing.

Musical notes and keys are not an opinion; they are simply fact. Understand how they work together, become proficient at organizing and playing them together, and maybe become a master at them.

Being a quarterback is very similiar. Bio-mechanics are not opinion; they are simply fact, as are the concepts of football. Understand them, become proficient at executing them, and maybe become a master at them.

And all athletes seeking to develop and train as a quarterback are seeking the same answer - how can I perform better than my "natural ability" does on its own? And coaches and dads want to know, "how can I teach him if I simply don't know?" or "what kind of damage can I do if I teach him the wrong things?"
The Answer is a System
And this is why the answer is a system - the key to the mysteries of the bio-mechanics involved in being a quarterback, a framework for decision-making, a process for training, and a progression for growing.

We've developed and perfected that system - the "right answer" for EVERY question you have about being a quarterback. We use that system everyday with hundreds of athletes each year. The principles that apply to an 18-year-old QB are the same as those of an 8-year-old QB. And the real secret to successfully developing quarterbacks is not as much about the "what", since "what" works best for playing quarterback is really not open for opinionated debate. Science and physics remove any argument. Something is either more efficient and consistent and successful than something else, or it is not.

So the real secret to successfully developing QBs is the "how" we go about doing it - the language, the drills, the system.

"The Quarterback Mechanic" is our system. It's the "what", "why", and "how" of playing quarterback better than your natural abilities will allow. And the key is its SIMPLICITY.

We reduce "the most complex mechanics in all sports" down to its simplest, most essential parts, and we teach and develop QBs to master those parts so they can "simply dominate"
An Entire Block of Training Instruction for less than a Single Private Session
"The Quarterback Mechanic" Vol. I is over 1 hour and 15 minutes of instruction, film analysis, expert demonstration, and dynamic diagrams about the most essential components of playing quarterback. It's teaching you, the untrained QB, or the dad, or the coach of an untrained QB with the concepts, drills, terminology, and video examples of exactly how we develop quarterbacks at all levels.

For less than the price of a single private session with me, you will get ALL of the content and instruction of an entire 2 month training in one easy-to-consume, on-demand, online membership instructed directly by me.

This product is perfect for the untrained quarterback, the parent or coach who wants the "right answers" and the toolkit to give their young QB to shape his development. "The Quarterback Mechanic Vol. I" is a great option for those that aren't geographically able to train with us at Authority Football, or an affordable alternative to our premium training. It is the foundation of ALL quarterback play and the system I use with beginners and advanced QBs alike.Here's exactly what you'll get inside
The Quarterback Mechanic Vol. I


On-Demand access to 115 minutes of HD video instruction
Optimal ball grip for throwing consistent, accurate, powerful spirals
An understanding of ball flight principles and how arm mechanics affect ball flight
The simplest throwing mechanic framework available to ensure repeatable, optimal, efficient throws for accurate, powerful, consistent passes
The most important footwork secret that NO ONE else will ever teach you
All the drills I use with ALL of my quarterbacks to execute the fastest, most effective dropsteps so you can throw a 3-step drop in 1.3 seconds from snap to throw
Lessons
No lessons available
The Coach
I'm Coach Mac, a veteran high school English teacher and football coach in the East Valley of the Phoenix Metro area. Since 1995 I've coached youth sports, jr. high, high school, and college football. In the last decade, I've coached and coordinated some of the state's best players and best squads, but also got to impact hundreds more other young men who didn't go on to play college ball.

My high school quarterbacks have lit up scoreboards and sports pages in Arizona's highest and most unforgiving regions with quarterbacks from Div. I FCS , Div. II, and Div. III, and ALL are receiving or have received a top-rate education in some of our nation's absolute best schools.

I don't expect a whole lot of Top 100 prospects calling; those guys can fly in the nation's top QB gurus. I work with the other 99.9%. The 5'9″ 160 pounders, and 6'1″ 205 pounders, and the occasional 6'6″ 190 pounders. I work with the QBs looking to take their team's starting job, or wanting to decrease interceptions, increase completion percentage, move the chains, score points, and win games. Bottom line is that I work with any athlete that wants to work.

And I hang my hat on my ability to coach and teach. What I know and what I can do or have done is irrelevant. My gift is getting that knowledge and those skills to an 8-year-old or an 18-year-old in a consistent language he understands, can immediately apply, and can take with him to correct himself on his own.

If you're a parent of a young quarterback, I assure you that your son will learn more in the first ten minutes with me than he's ever been taught before, and when all that teaching is flying around, you can't help but get some on you too if you sit in on the session. If you like the results, pass me on.

If you're a player, and no matter where you're currently at as a QB, you have a desire to be better, to play faster, to know more, and to be the authority in your field, then let's go and start training this week!
This Course Includes
---
Lifetime access
Certificate of completion
100% money back guarantee
Course Info
---
| | |
| --- | --- |
| Rating: | (0) |
| Caterory: | Football/Quarterback Training |
| Duration: | |