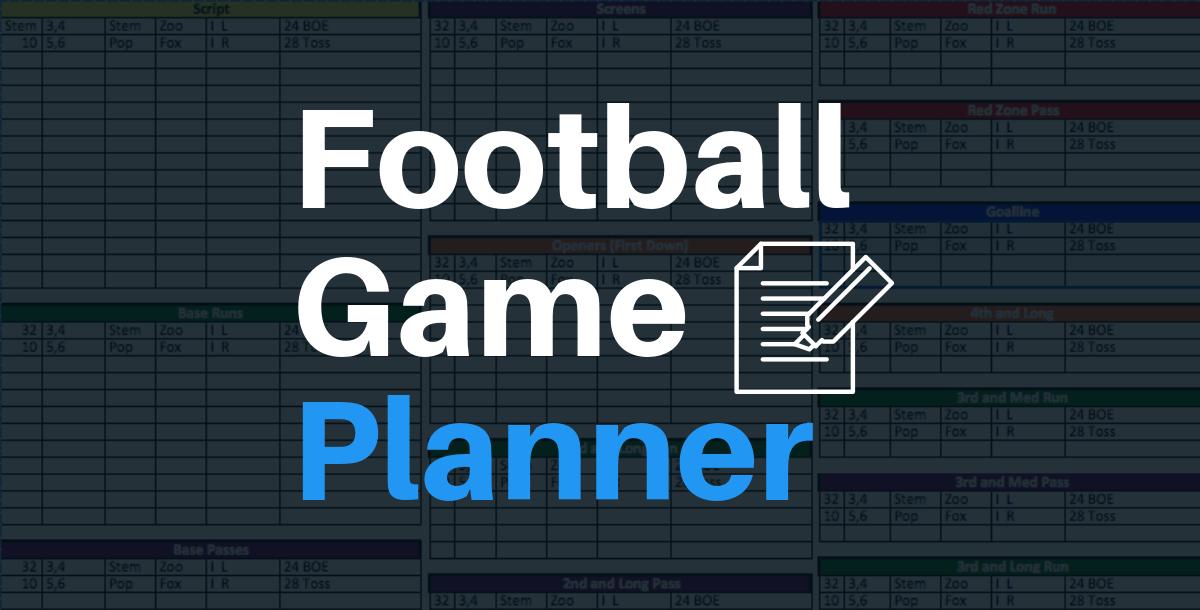 Description
Click Here to Download FREE Scouting Template that will help you draw up your next opponents alignments to your formations.
Teach Faster. Practice Efficiently. Win More.
How do you teach your offense?
If it's pure memorization, I get it.
Players just don't put in the time outside of practice.
Then you have to simplify things so much that they need a lot of extra teaching on the field - again reps are wasted.
One or two plays a day doesn't add up very quickly by the time you need to be using them in your first game.
I always ended up cramming in plays the last week because we had to get our offense in on time. How can we get plays in faster so we can get the reps we need?
What about your weekly practice organization?
Pull a play out, put a new one in...practice and situational scripts it all was just too much to type it all out and then have to go in and change things up again.
At best, I shot a quick email to coaches with the plays we needed to call that day and waited till thursday to finally put together a full gameday call sheet.
How do you manage the game?
Every coach loves a good call sheet. Even if we have it all upstairs, a well organized call sheet is a good reminder of all the tools you have at hand.
While I never let a decent call sheet slip, It took a ton of time every week to keep it updated with only the plays we ran in practice and felt confident going into the game with.
How does your season progress?
If you have to keep everything super simple, don't think about trying different shifts, motions or play variations.
We always hope to put that stuff in but it all depends and is pretty much the first thing that gets dropped. I
If we are struggling, even though it would help us, we never try to add it on for fear of overwhelming players.
I always kept trying to figure out how teams install complex plays without causing more mental errors?
This exact problem is the one of the top reasons I went back to the drawing board to find something that works and actually saves coaches time.
Maybe you have tried to get it all set-up once in a nice organize spreadsheet, but then school starts and your preparation time goes down to burning the midnight oil or mornings so early you've done a whole days work before the sun comes up.
Then by week three, your file ends up in the deep recesses of your hard drive rarely to be opened due to the sheer terror of all the frustrating busy work that you know it takes just to set it all up.
Introducing Easy Football Gameplanner V1.0 and V2.0 - Yes you get both! And any future ones as well!
Easy Football Game Planner is a specifically designed Microsoft Excel file that allows you to organize in the simpest way possible your Plays, Call Sheets, Practice Scripts, and Arm Band Cards.
Now you can install more offensive plays with unique shifts and motions as soon as you want them put in and not have the issues with players remembering what to do.
Now you get the reps you need to be confident in running plays sooner and faster without wasted reps because of simple screw-ups.
Utilize the simple feature that allows you to fill in multiple practice scripts in just a few simple clicks.
Print out a full call sheet any day of the week that reflects accurately every single play you ran that week.
*I had to build this tool for the coaches who passionately know that efficiency will take their coaching to the next level.
How it works in 3 steps:
Step 1: Fill out every play's details. You will do this only one time for each play.
Step 2: Assign the plays you need in your game plan to your situations, call sheets and arm bands in just a few clicks.
Step 3: Print everything and distribute or send to coaches.
Here is what you get:
- Microsoft Excel file that contains everything needed to run the Football Gameplanner. Advanced in design, but simple to use and modify to your exact wishes.
- Call Sheets are Automatically Populated in each category.
- Practice Scripts are Automatically Populated.
- Each Player's Wristband is Automatically Populated with the players assignment.
- Print Macro set up that allows you to print out every armband with just one click.
- Play Grid that saves your plays and assignments week to week preventing you from needing to redo everything.
- V1.0 has Dropdown variations in Formation, Shifting, Motioning so that you can change plays window dressing, but still keep the core execution. Dropdowns can also be changed to other categories if needed.
*V2.0 has more plays (180) on the arm band and dropdown play capability to categorize your plays. We have doubled the call sheet as well. It's simplified because all you need to do is type in the entire playcall and then assign it.
- Easy to adjust column sizes of armband sheets in one step.
- Exclusive training Videos and a Private Facebook Group to help you set it up simply and effectively.
Requirements:
- PC or Mac with the Microsoft Excel Program Installed
- Printer
- (Optional) Arm Bands (This is the link to purchase the ones I have set it up to use with, however you can also adjust the size to fit other bands).
Lessons
The Coach
Jason has been studying the game of football since he first became a coach at the collegiate level in 1999.
His passion led him into a variety of coaching positions where he enjoyed learning new systems from a wide variety of coaches at multiple levels.
Jason is as passionate about coaches education as he is about coaching the game of football.
Check out Jason's appearances on the Winning Youth Coaching podcast as well as The Sports Parenting Podcast.
He was also the first coach to pioneer taking the flipped classroom into physical education and coaching under the influence of John Bergman, the pioneer of the Flipped Classroom Movement.
As an author, Jason has been published in John's book titled "Flipped Learning: Gateway to Student Engagement".
Currently, Jason teaches Physical Education in Chicago's North Suburbs and is also the founder of The Pro Style Spread Offense Football System.
Football Coaching Experience: Special Team Coordinator, 2012 – 2013, New Trier High School, Winnetka, Illinois Offensive Coordinator, 2009 – 2011, North Shore Country Day School, Winnetka, Illinois Defensive Coordinator, 2007 – 2009, North Shore Country Day School, Winnetka, Illinois Offensive and Defensive Line, 2005, Muncie South Side High School, Muncie, Indiana Assistant Football Coach, Wide Receivers, 2000 to 2005, Taylor University Football, Upland, Indiana (Under Head Coach Steve Wilt) Assistant Football Coach, Wide Receivers, 1999 to 2000, Trinity International University, Deerfield, Illinois (Under Head Coach Andy Lambert)

This Course Includes
---
24 hours on-demand video
Streaming from mobile and TV
Lifetime access
Certificate of completion
100% money back guarantee
Course Info
---
| | |
| --- | --- |
| Rating: | (14) |
| Caterory: | Football/Tools for Coaches |
| Bookings: | 494 |
| Duration: | |
| Videos: | 9 |