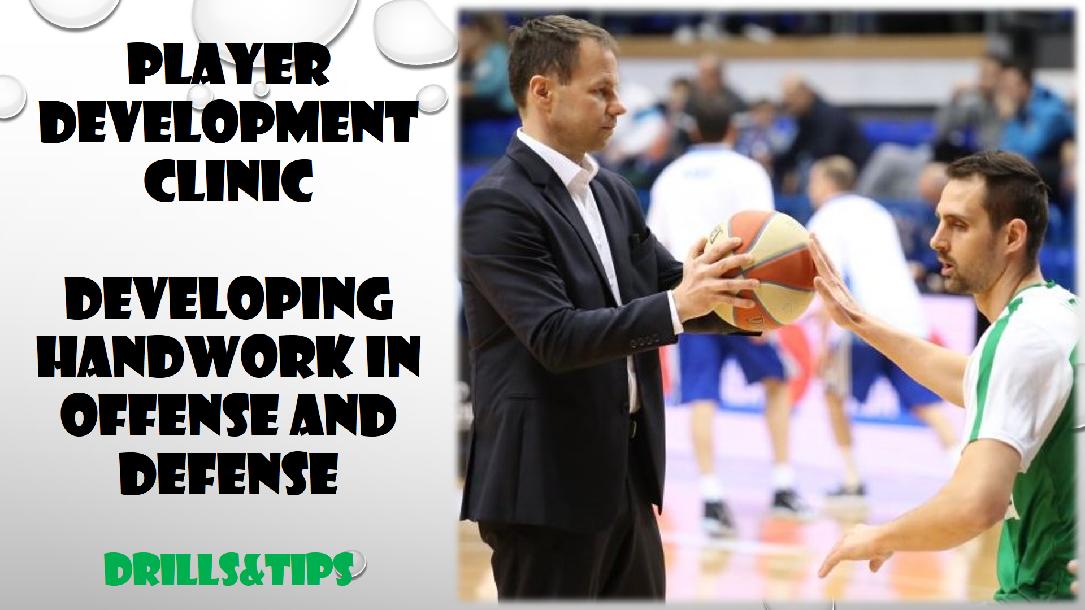 Description
How many times were you angry and nervous when your player didn't catch the ball on the roll or follow... How many times were you frustrated when your player didn't react proper way in defense while denying passes or playing over play... It is about HANDWORK. And now ask yourself how many times you worked such things at practice. How many minutes you spent to develope HANDWORK? Like everything, we must teach and players must learn proper HANDWORK, we must develope proper position, quickness, reactions...in offense and defense. HANDWORK is very underrated when it comes to practices. What we do, more or less, is yelling "hands, hands, hands..." from sideline and expecting that players will do it. It doesn't go like that.
And what is handwork? HANDWORK is system of moves and positions which enable players to use hands as their weapon...on both sides of the floor. HANDWORK is a habit and we must develope this habit by the drills developing moving technique.
Here is the player development clinic that talks about developing HANDWORK. Clinic that will give you ideas, tips and drills to teach your players proper HANDWORK. Maybe some drills are not really interesting and difficult, but with such drills we will "buy" our players and will develope better HANDWORK...and win more games. We must convince our player that handwork is important...also by showing them clips of good and bad defense, and how different should be if the HANDWORK would be better.
We have introduction to clinic, basic handwork drills, handwork drills for offense and handwork drills for defense...but all the drills develope HANDWORK (together with FOOTWORK) for all levels and all phases of the game.
Most of the drills are individual drills that can be implement into your practices and even more important, can be part of time before or after practice.
Clinic is originally in Slovenian language but there are sub-titles in English and is understandable for everybody. I recommend this clinic to all coaches, especially youth level coaches.
Lessons
The Coach
Luka Bassin is Slovenian coach who worked at all level of basketball - from youth teams to high level professional teams. Luka worked as an assistant coach, head coach, advanced scout and last few years he specialized to work as player development coach. during his clubs' and national teams' career, he worked with some NBA players or high level EuroLeague players from all over the world. Luka is also very welcomed guest at basketball clinics all over the world (Great Britain, France, Italy, Estonia, Finland, Spain, India...) and spend summers to have individual workouts with young prospects or high level players.