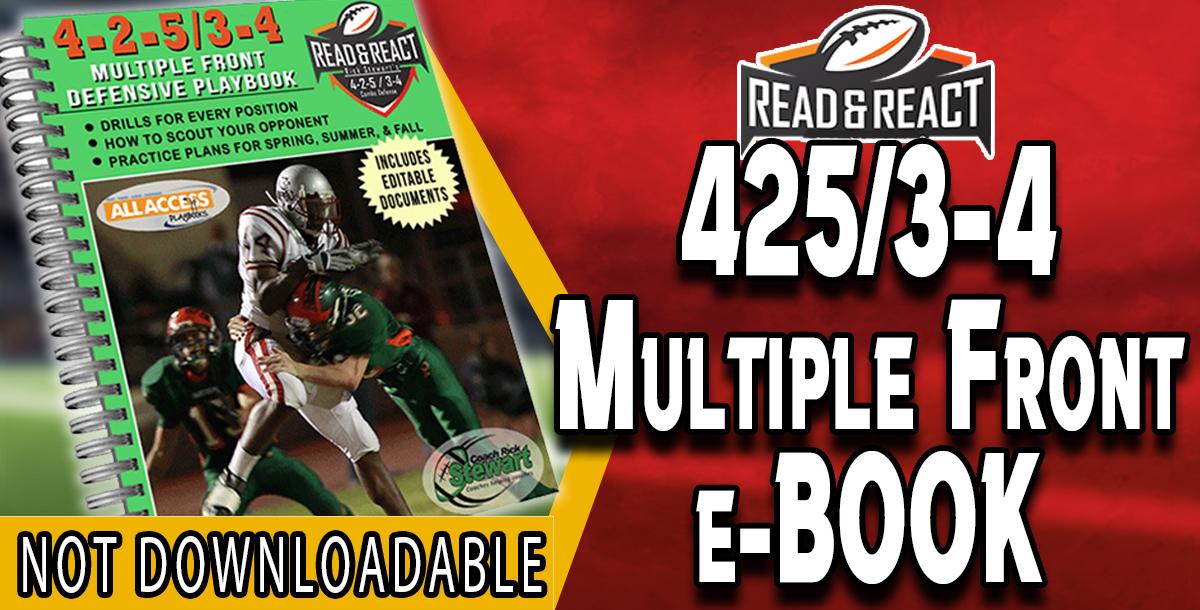 Description
DISCLAIMER: This is not a downloadable product. You cannot download or print this book from the CoachTube website.
The BASE defense has headup D-Line in 6-4-0-4 techniques. The two D-Tackles step weak as soon as ball is snapped, so this defense starts off in a 3-4 alignment but becomes a traditional 4-man front as soon as ball is snapped.
EASILY go from 4-4 to a 4-2-5 to a 3-4 Defense !
Matchup Cover 2, 3, and 4 using pattern reading and robber concepts. Violent re-routes of the #2 receiver.
HEAD UP ALIGNMENTS
The READ & REACT Multiple Front Defense has a 0-tech NG and a 4-tech DT who slants weak, putting them in the same position as traditional 1 and 3-techniques once the ball is snapped. The philosophy is that head up defenders create more confusion for the blockers since they can slant into either gap. The 0-tech alignment makes for an easy transition from 4 man to 3 man front. The uncovered guards give very clean run/pass reads to the defense.
DIVORCED FRONT and SPLIT FIELD
The "Front 6" consists of four DL and two ILB who align to a run strength. The "Back 5" align to the multiple receiver side. This separation of the run and passing strengths is referred to as a "DIVORCED FRONT", which allows the defense to have multiple looks while remaining simple to learn (multiplicity with simplicity). Formation recognition is also easy to learn by splitting every formation in half, effectively reducing every offensive formation to 6 alignments.
INDIVIDUAL POSITIONS
Section 4 has "Every Day Drills" (EDDs) that are used in practice to teach the positions and explain every position's Alignment, Assignment, and Responsibility. In the defensive line chapter, the STUD and END techniques are not the same as the TACKLE and NOSE techniques. The Outside Linebackers are actually HYBRID SAFETIES and their techniques are more similar to the defensive backs.
RUN FIT DEFENSE
This defense is a contain and turn it back inside philosophy. The goal of every run play is to force the running back into a very narrow "alley" in which he will be outnumbered 3 to 1. The beauty of the Read & React 4-2-5 is that each player's job remains the same regardless of whether you are in the 3-4 or 4-2 fronts.
Backfield actions are broken into fast flow, split flow, and counter flow. The 2 inside linebackers play 20 technique and read the uncovered guards which allows clean reads and aggressive reactions. The defensive line primary job is to "sting" their man and keep the offensive lineman from blocking the linebackers. They are taught to react, not read, to the five things an OL can do: reach, fire out, escape inside, pull, and pass block. The secondary provides the force, alley, and contain players as the Falcon (FS) is an aggressive run defender and the corners provide secondary run support.
PASS COVERAGES
As previously mentioned, the Read & React method of teaching divides the field in half, thereby narrowing the teaching of 4 coverages (man, 2, 3, 4) versus 6 alignments (pro, solo, tight, wing, twins, & trips). These chapters start with 1 on 1 route defense and progresses to multiple route recognition based on our "+1" rule: Always have 1 more pass defender than they have receivers. This section has 4 chapters dedicated to pass defense.
GAME PLANNING and SCOUTING
Section 6 takes you through how Stewart starts scouting his opponent in the spring and takes you up through "Saturday to Friday" game week preparations. There is detailed explainations on how to use HUDL most efficiently. Practice organization and how to fit everything into a 75-minute practice Mon – Wed is also detailed.
EDITABLE FILES THAT YOU DOWNLOAD.
Email coach Stewart for game playsheets, wristbands, scouting reports, and player evaluation forms that can be edited with Microsoft Office. There are also 10 spring practice, 6 summer, and 20 August practice schedules that you can customize to your needs. All the tackling drills, pursuit drills, and individual position EDDs are in pdf printable form. There are also powerpoints to show your staff and players.
Lessons
The Coach
Coach Stewart has been a football coach for 27 years, 16 as a head coach, Stewart has been to 2 CIF Section Finals, and in 2011, his 12-0 team lost the CIF championship on a hail mary pass in the rain. His 12-0 team won the district title in Pennslyvania in 2020.


He took four losing programs to playoffs.
Coach Stewart has turned around four different schools and led each team to the playoffs within his first two seasons at the helm. Since 2019 produced his 1st scholarship player, Stewart's system gives his players a chance to be successful vs superior talent.
McFarland, a small, agricultural school of 600 students with no weight room, had lost 24 games in a row. Stewart served as offensive coordinator and they went 8-2 with only 3rd playoff berth in 75-yr school history
Stewart left McFarland for 3 years and they went 3-26 during his absence. He returned as head coach to make the playoffs in Year 2. (the Disney movie, "McFarland", starring Kevin Costner is the same town and school)
Broke 0-27 losing streak at Corcoran, a school with 900 students, winning an undefeated league title in Year 2;
Porterville, a large, rural school of 2,000 students, won 40 games in 5 years, including back-to-back section runner-ups at a that had won 8 games in the 5 years prior to his arrival.
Pennslyvania. Stewart went to a different state to coach a team that had went 3-7, 2-8, and 4-6. Stewart's team went 9-1 and was #6 in entire state in total offense in 2018 followed by a 12-1 district championship that had the #2 offense in the entire state. The school had only won 9 games twice: 1982 and 2009.

Stewart also has coached basketball, serving as AAU director for girls basketball in California and tutored seven girls to D-1 scholarships. He understands what coaches want and his company, ALL ACCESS COACHING, is all about helping the next generation of coaches.
This Course Includes
---
Lifetime access
Certificate of completion
100% money back guarantee
Course Info
---
| | |
| --- | --- |
| Rating: | (13) |
| Caterory: | Football/4-2-5 Defense |
| Bookings: | 442 |
| Duration: | |