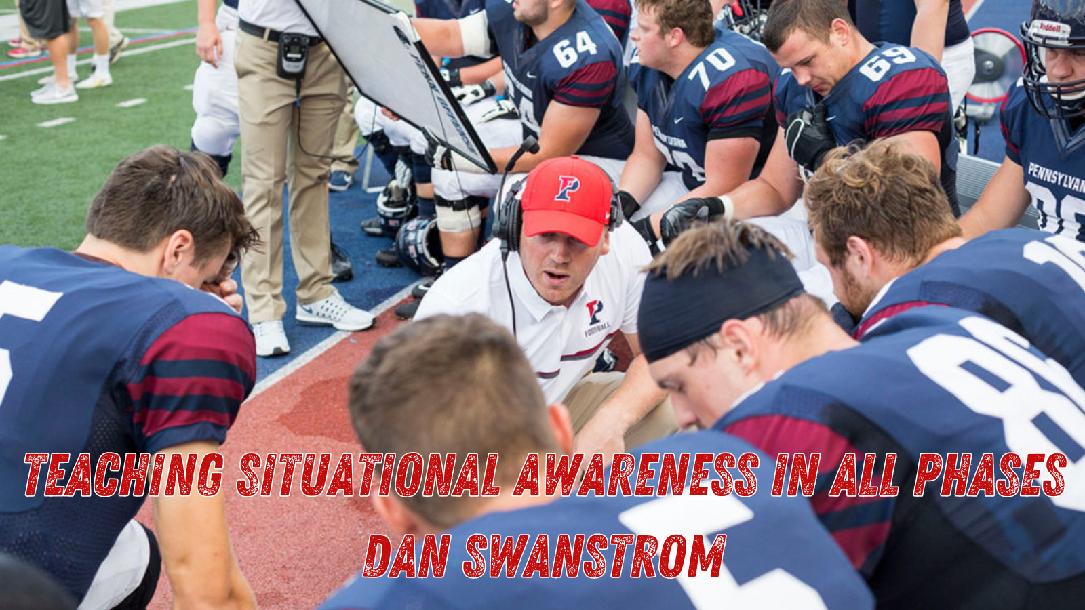 Description
Situational Awareness - Increas Your Team's Football IQ
What is situational awareness in Football?
Situations come in various types of forms, from entering the red zone and your short on yardage to a first down inside your own three yard line. You could have your offense come out in a bad field position, you could face a screen trick play and you need to know how to adjust, or it's a 4th down and you want to impose your will on the opposing team.
Perhaps it's overtime and you need to be understanding of the rules. Maybe the two minute offense where you need a field goal or touchdown but you have no timeouts? Or you're pulling out the hail mary offense out of desperation and it's the last play of the game?
Unique scenarios in football are inevitable. There are different football scenarios that occur during the game. When those situations happen, the team must adapt its play and react appropriately.
There are two approaches to this. You can wait until they happen and teach based on that...OR you can start teaching those and make them a part of your team's collective Football IQ.
Create situational awareness for your team and be ready when the time presents itself.
Introducing Ithaca's own Dan swanstroms training!
**TEACHING SITUATIONAL AWARENESS IN ALL PHASES**
In this course, Ithaca Head Football Coach Dan Swanstrom details how they approach teaching unique situations in offense, defense, & special teams, and how he handles them. He delves into Short Yardage, Dropping The Ball Early, Spikes, Killing The Clock & much more
Simply click the 'Book This Course' button at the top right of this page, place your order, and you'll immediately be logged into the training with full access. Improve your situational awareness today!
Lessons
The Coach
Dan Swanstrom has been named the 10th head coach for the prestigious football program on South Hill. Swanstrom, a native of Texas and 2005 graduate of Rhodes College, joined Ithaca after previous stints at Pennsylvania, Johns Hopkins and the University of Redlands. During his time in Ithaca, they were ranked as high as No. 8 in the coutry. Prior to his arrival at Ithaca, Swanstrom was the quarterbacks coach and recruiting coordinator at Penn, which won back-to-back Ivy League Championships.
During his time at Hopkins, Swanstrom began as a quarterbacks coach and was quickly promoted to offensive coordinator and then to associate head coach. Hopkins won five Centennial Conference titles while Swanstrom was on the sidelines. Four straight players were named the conference player of the year under Swanstrom.
This Course Includes
---
24 hours on-demand video
Streaming from mobile and TV
Lifetime access
Certificate of completion
100% money back guarantee
Course Info
---