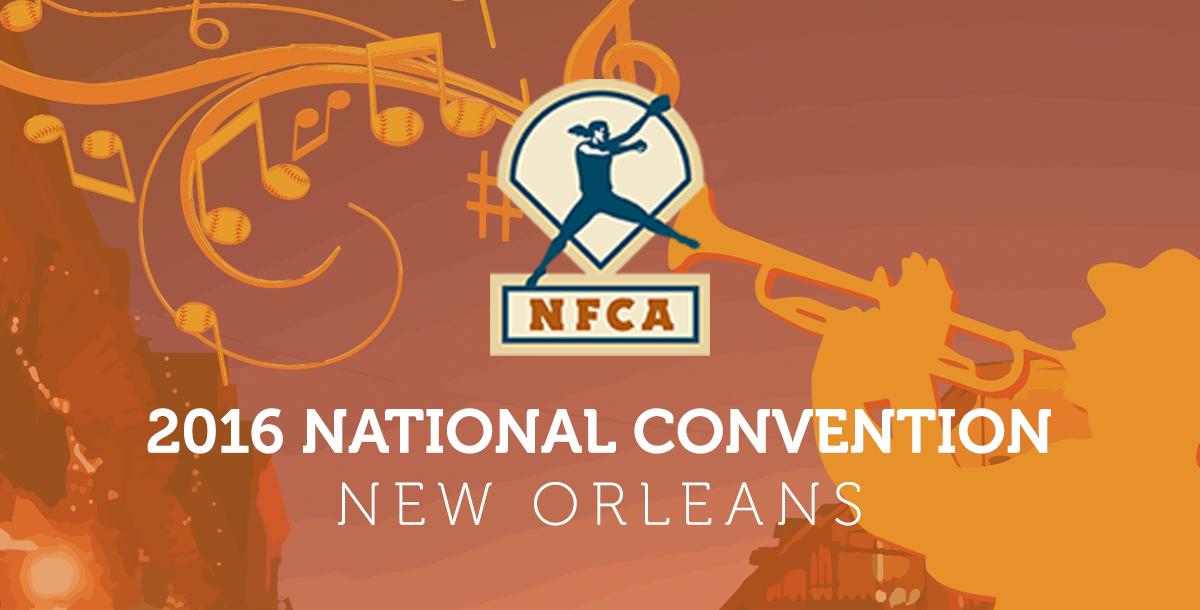 Description
Missed the convention in New Orleans last year? Good news! You can still see all the great speaker presentations from 2016's NFCA National Convention in this compilation course.
What's included:
• Over 8 hours of educational softball coaching content
• 16 speakers coaching softball at the best colleges across the US
Are you an NFCA member? These videos are available to you for free within your members-only "Coach's Box" through the Education tab under Digital Education Library. Visit NFCA.org to log in.
Lessons
The Coach
2016
Sue Enquist, Head Coach (ret.)
UCLA Sue Enquist is UCLA Softball's first All-American, National Champion, and Hall of Famer. In 2006, Enquist concluded her storied 27-year career as head coach of the UCLA Bruins with a 887-175-1 (.835) record, making her the winningest softball coach among all active coaches.She is the only person in NCAA Softball history to win a championship as a head coach and a player. During her career, Enquist produced 65 All-Americans and 15 Olympians. She has been inducted into six Hall of Fames including UCLA, Women's Sport Foundation, USA Softball Hall of Fame, and National Fastpitch Coaches Association. Enquist is also the recipient of multiple National Coach of the Year and Pac-10 Coach of the Year honors. Sue Enquist grew up in San Clemente, California, and is a former professional surfer. Today she lives in San Clemente, California, where she surfs daily and enjoys spending time with her family.
Scott Whitlock, Head Coach (ret.), Kennesaw State
NFCA Hall of Famer Scott Whitlock is in his 31st year as a member of the Kennesaw State Department of Athletics, 23 (1991-2013) of those spent as the program's head coach, and the last three exclusively as the senior associate athletics director. During his illustrious coaching career, which concluded after the 2013 season, Whitlock garnered two national titles, 13 regional crowns and more personal accolades than can be mentioned. He was the driving force that made Owls softball one of the most admired and respected programs in the country. After successful runs at the NAIA and NCAA Division II levels, Whitlock carried his success into Division I. The Bostwick, Ga. native compiled a 228-157 (.592) overall record in eight seasons at the Division I level including winning the Atlantic Sun Conference Regular Season Title in 2007 and 2012. Legendary is a word that is often overused, but it is appropriate when describing Whitlock's career. A total of 51 All-Americans can attest to that. Whitlock guided the Owls to back-to-back Division II national championships in 1995 and 1996. In his 21 seasons coaching fastpitch, Whitlock compiled an overall record of 997-296 (.771), placing him near the top in most NCAA softball coaching categories. While at the helm of the Owls, Whitlock produced 18 consecutive 35-win seasons from 1991 to 2008; he had fifteen 40-win campaigns and four seasons in which his clubs won 50 or more games. Additionally, Whitlock led the Owls to nine consecutive seasons (1992-2000) in which they never lost more than a single-digit number of games. Every year from 1991 through 2002, Whitlock led the Owls to a final top 10 national ranking. For his lifetime of hard work, dedication and success, Whitlock was granted the highest honor of his profession when he was inducted into the National Fastpitch Coaches Hall of Fame in Orlando, Florida in 2005. He also was honored with induction into the Georgia Dugout Club Hall of Fame in 2010.
Sandy Jerstad, Head Coach (ret.), Augustana (S.D.)
Sandy Jerstad, inducted into the NFCA Hall of Fame in 2000, compiled a win-loss record of 1,011-359-2 in 27 years of coaching, all at Augustana College in South Dakota. She guided the Vikings' program from its infancy to national prominence, winning the NCAA national softball championship in 1991. When she retired after the 2003 season, she ranked second all-time in wins among NCAA softball coaches, regardless of division. Her team won eight North Central Conference championships and played in 16 NCAA regionals and three NCAA Division II national tourneys. In their national championship year, the Vikings went 61-4-1 and set school records for wins and winning percentage. Augustana also was runner-up in 1993. Twenty-nine of her players were named All-Americans. Jerstad also coached the Vikings' tennis team for six years (1977-82), winning one conference title, and she coached the volleyball team for another six years (1982-87), going 174-117-3. Jerstad grew up in Virginia, Minn., and met her future husband, Mark, while attending St. Olaf College. The two were married for 31 years and had three children (Rachel, Mike and Sarah) before Mark's untimely death from cancer in 1997. Jerstad graduated from St. Olaf in 1966, and went on to get a Master's degree in Health, Education, and Recreation from South Dakota State University in 1980. She earned a doctorate in Educational Administration from the University of South Dakota in 1994. She currently sits on the board for the Good Samaritan Society (2003-present) and the Center for Western Studies (2005-present). She served one term as a South Dakota state senator, representing District 12.
Diane Miller, Assistant Coach, Nebraska
After orchestrating an offensive revival at Colorado State, Diane Miller is producing an encore performance in Lincoln. Nebraska's offense has exploded under Miller's watch, as the Huskers have set more than 35 school records entering her ninth season in 2017. Nebraska's record-breaking performances come on the heels of Miller's nine seasons at Colorado State, when the Rams' offense set 44 conference records and 14 school records. Individually, Husker hitters have combined to earn 29 all-conference honors, 17 all-region accolades and five All-America awards under Miller. In her work as Nebraska's catching instructor, Miller has coached four different catchers to six all-conference awards in her first eight seasons. A two-time member of the NFCA Midwest Region Coaching Staff of the Year, Miller has helped Nebraska to a pair of NCAA Regional titles, a trip to the Women's College World Series and a share of the 2014 Big Ten regular-season championship in the past four seasons alone.
Patty Gasso, Head Coach, Oklahoma
Having recently completed her 22nd season at the University of Oklahoma, NFCA Hall of Fame head coach Patty Gasso has molded the OU softball program into a national power and permanently placed herself among the elite college softball coaches in the country. Oklahoma is one of just three programs in NCAA history to win three national titles, doing so in 2000, 2013 and most recently in 2016. She's reached the Women's College World Series 10 times during her tenure, and in the process, advanced to the postseason in each one of her 22 seasons With 26 seasons as a head coach to her name, Gasso has a career collegiate coaching record of 1246-372-3 (.770) and holds an overall record of 1085-313-2 (.776) at the University of Oklahoma. She has won more Big 12 games (290-84; .775) than any coach in the league's history and has more than twice as many overall wins as any other coach in OU history. OU has claimed nine Big 12 regular season, including an unprecedented five straight since the 2012 season, and four championship titles under her direction. Gasso's Sooner teams have finished second or higher 17 different times in the 21 years since the inception of the Big 12 in 1996.
Shonda Stanton, Head Coach, Marshall
Head Coach Shonda Stanton enters her 18th season at the helm of Marshall Softball and her 19th season overall as a college head coach. Stanton is the winningest coach in Marshall softball history with 518 at Marshall and 545 total career wins. Stanton has participated in five conference championship games, including back-to-back from 2005-06 and three straight from 2012-14. She has also captured two regular season conference titles and has ten 30 win seasons. In 2013, she led the Thundering Herd to the Conference USA Tournament Title, the first softball conference tournament championship in Marshall history. The Herd advanced to the NCAA Regional Tournament, which included a 3-1 win over Notre Dame, in the Lexington, Ky. Regional. Since taking over the reins, Stanton has produced 63 all-conference, 34 NFCA all-region, one four-time All-American, one Capital-One All-American and 62 player/pitcher of the week selections in 16 seasons. Her Herd players have also garnered many conference specialty awards, including 2003 MAC Freshman and Pitcher of the Year, 2004 MAC Player of the Year, 2005 MAC Freshman of the Year, 2006 and 2008 CUSA Player of the Year, 2008 and 2009 CUSA Co-Newcomer of the Year, and the 2015 CUSA Freshman of the Year. Under Stanton's leadership, her teams have excelled in the classroom as well, earning a grade point average of 3.0 or higher each academic year of her career, with a top 15 national ranking for team grade point average during four seasons. Stanton joined Marshall after heading the program at Indiana University-Purdue University of Indianapolis (IUPUI). During her time at IUPUI, Stanton inherited an NCAA Division II squad that finished 8-20, and promptly led the first-year Division I program to a 27-25 record, a spot in the Mid-Continent Conference Tournament semifinals and a victory over Notre Dame. Stanton's lone season with the Jaguars is currently the only winning season in the program's Division I history.
Stanton received her undergraduate Bachelor of Arts degree in History at the University of North Carolina at Greensboro. While at UNC Greensboro, Stanton was a four-year starter, three-year captain, and was instrumental in the Spartans consecutive Big South Conference crowns. During her senior season, Stanton scored 66 runs, eighth best in the nation. Stanton spent the 2007 and 2008 summers coaching the professional softball club, Akron Racers of the National Pro Fastpitch league. Stanton guided the Racers to a regular season second place finish in 2007 with a 26-17 overall record. Stanton was equally successful on the field after her collegiate days. She played in Women's ASA Fastpitch Summerball for the Chet Smith Lady All-Stars in Columbus, Ohio, and the Buckeye Slammers in Akron, Ohio, from 1994-96. Both teams were Class "A" National Qualifiers and the Slammers captured the Class "B" National Championship in 1994.
Kathy Riley, Head Coach, Longwood
Longwood softball head coach Kathy Riley is set to begin her 20th season at the helm of the Lancer softball program in the 2016-17 season. Throughout her storied career, Riley has posted an overall coaching record of 696-400-1 while notching a 618-338-1 since taking over the Lancer softball program prior to the 1998 season, including a record of .500 or better in each of her 19 seasons. Riley has thrust Longwood onto the national stage through the success of her softball program, taking the Lancers to three NCAA Regionals in 2013, 2015 and 2016 and winning the Big South Championship in all three of those seasons. Longwood has never posted a record below the .500 mark under Riley and reached 20 wins 18 times, 30 wins 11 times and 40 wins three times, including last year's 40-20 record that advanced to the program's first NCAA Regional Championship game. Since Longwood has joined the Big South in 2012-13, Riley has coached two NFCA All-Americans, Megan Baltzell and Brooke Short, and has seen four players named to the NFCA All-Southeast Region team. In addition, Short (2013) and Baltzell (2015) have each been named Big South Female Athlete of the Year during Riley's tenure. With every NCAA Tournament berth, Riley's teams have ventured closer to an NCAA Super Regional. In the program's historic first visit to an NCAA Regional in 2013, the Lancers suffered back-to-back losses for a quick exit from the Knoxville Regional. Longwood's next trip, which was a return to Knoxville in 2015, featured another historic first when the Lancers upset Commonwealth rival Virginia Tech for the school's first-ever Division I NCAA Tournament win. One year later, the Lancers earned victories against ACC foe North Carolina and Princeton at the Harrisonburg Regional on the same day to advance to the NCAA Regional Championship series against nationally-ranked James Madison. Under Riley's watch, Baltzell went from a little-known recruit to becoming the greatest player to don a Longwood uniform from the 2012-15 seasons. During Baltzell's time at Longwood, Riley coached her to 11 school records, four conference records -- despite being eligible in just her final three seasons that Longwood was a member of the league. In addition, Baltzell ended her Lancer career inside the top-10 in NCAA history in career home runs with 76, while ranking inside the top-three nationally in two of her four years. Prior to Longwood, Riley served as head coach at Mount Olive from 1993-97, gaining CVAC Coach of the Year honors in 1997 and 1995. She coached volleyball as well and was the 1994 CVAC Coach of the Year in that sport. Before that, Riley coached basketball and softball at Goldsboro (N.C.) High School for one year following eight years with the Houston (Texas) Flames AAU women's basketball team that won two National AAU Championships. In addition to her coaching accomplishments, Riley has enjoyed quite a remarkable individual career in athletics. She was the 1981 Broderick Cup National Softball Player of the Year at East Carolina University, leading ECU to a No. 1 national ranking while garnering 1st-team All-America honors. Riley later played on the gold medal-winning team at the 1990 Olympic Sports Festival. Riley is a member of the National Fastpitch Coaches Association (NFCA), and was inducted into the United States Specialty Sports Association (USSSA) Softball Hall of Fame on November 12, 1999. She received the 2000 USSSA DeBeer-Richard H. Pollak Memorial Outstanding Sportswoman of the Year award as well. Riley has played on five national champion softball teams during the summer months, gaining All-America honors seven times. In basketball, Riley was a Street & Smith magazine preseason All-American and North Carolina Athlete of the Year in 1981. ECU was a top-20 program that year while advancing to the NCAA Tournament. She scored over 1,800 career points while at ECU and Middle Tennessee State University, and earned tryouts for the 1980 United States Olympic Women's Basketball Team and the 1978 Pan American Games team. Riley was a finalist for the 1980 Olympic team, and later played professionally with the Houston Shamrocks of the Women's American Basketball Association during 1983-84.
David Mikula, Director & Clinical Supervisor, Center for Family Development
David Mikula, LCSW, CADC III, NCAC II, has been working in the Behavioral Health field since 1988, and with the University of Oregon's Athletic Department since 2001 where he supports student-athletes cope with mental, emotional, and behavioral health issues. Mikula has extensive experience in the design, development and implementation of treatment models, including those focused on co-occurring mental health and substance use disorders. He has cultivated a close working relationship with treatment providers in the mental health, chemical dependency, and physical health fields. Mikula played collegiate tennis at St. Leo University in Florida.
Mickey Dean, Head Coach, James Madison
Dean has brought JMU to new heights and in the national spotlight of collegiate softball since his arrival four years ago. He has guided the Dukes to NCAA postseason each of the past four seasons and set a single-season wins record in each year. Under his guidance, the Dukes have won more than 79 percent (185-48) of their games, including an impressive 70-7 mark in the Colonial Athletic Association. Dean's program rewrote the record books in the 2016 season, winning JMU's third CAA Championship and first NCAA Regional title, along with hosting a NCAA Super Regional. With a 50-6 mark, the Dukes finished the season with the best record in history (most wins and fewest losses), while producing the program's first ever NFCA First Team All-American selections, Jailyn Ford and Megan Good. In 11 seasons at the college ranks, Dean has amassed a 491-169 (.744) career record and a nine-year, Division I coaching record of 426-164 (.722), having coached one season at the junior college level. He has also been named conference coach of the year seven times, with four in the Big South and three in the CAA.
Bo Hanson, Director, Athlete Assessments
In 1992, Bo Hanson became the youngest-ever rowing Olympian for Australia. Since that first Olympics, Hanson won bronze medals in the 1996, 2000 and 2004 Olympic Games. Drawing on his learning experiences from the Olympics, as well as formal university education and his 15-years' experience in corporate training, development and facilitation, Hanson founded Athlete Assessments with a team of colleagues in 2007. Athlete Assessments created the first online sports-specific behavioral profiling tools for athletes, sports teams and coaches, called the AthleteDISC, CoachDISC and Sports ManagerDISC profiles. Today, Athlete Assessments' DISC Profiles are used by USA university teams and coaches, leading coach education providers, leadership programs, universities, national and state sporting organizations, professional teams and a network of consultants. They are a significant ingredient to success in sport. Hanson is an internationally respected coaching consultant who has spoken at more than 100 International Sporting Conferences. Specifically, he has worked with the World's most successful Olympic and Professional coaches and athletes. His current clients span from all four professional football codes (AFL, NRL, FFA and ARU) in Australia to more than 100 of the top US college programs. Hanson is highly educated and accredited in the use and administration of DISC Profiling and Emotional Intelligence (Emotional Competence Inventory 360), plus several other personality and behavioral modelling tools. Not only does Hanson's work benefit many coaches and athletes, it is also helping those in the corporate world. He has been training and presenting to premier companies such as American Express, Fairfax Digital and Media, The Commonwealth Bank, ANZ, Macquarie Bank, Insurance Australia Group, Telstra and many others. Hanson is highly regarded for his expertise in leadership development and all aspects of teamwork, such as culture development, team behaviors and communication principles and structures. He draws unique parallels between the world of elite sport and high performance business. In Keynote Presentations, Hanson regularly speaks about leadership and teamwork and how we can develop our skills using behavioral profiling, emotional intelligence, to create greater success in our personal, sporting and business lives. Your conference participants will benefit from and value the time they spend with Bo Hanson. He is an extremely experienced elite athlete as well as someone who has successfully made the transition from athlete to coach, has extensive corporate experience and now also works with many of the top sports programs and coaches, across over 40 different sports globally.
Megan Smith, Head Coach, Kansas
Megan Smith completed her seventh season as head coach of the University of Kansas softball team in 2016. The eighth head coach in program history, Smith guided the Jayhawks to their sixth-straight 30-win season in 2016. Smith, who previously spent three seasons as an assistant coach at perennial power Louisiana State University (LSU), was named the Jayhawks' head coach on June 24, 2009. In 2016, Kansas enjoyed another record-breaking season under Smith. Along with reaching the 30-win plateau for the sixth year in a row, the Jayhawks' pitching staff saw a hurler toss a no-hitter for the fourth-consecutive season. Sophomore Andie Formby threw the 26th no-no in program history during the 2016 campaign following a nearly 29-inning scoreless streak. Formby wasn't the only Jayhawk to etch her name in the record books in 2016 under Smith's guidance. Senior shortstop Chaley Brickey began her final season in the Crimson and Blue by claiming KU's all-time base on balls record and by the time her career ended she became Kansas' all-time RBI, runs scored and slugging percentage leader. Brickey was also the second Jayhawk under Smith's tutelage to be selected in the National Professional Fastpitch draft, and fourth Kansas player overall, as the Pennsylvania Rebellion chose her as the 16th overall selection in the third round. In her seventh season at the helm of Kansas softball, two Jayhawks earned All-Big 12 honors while four earned National Fastpitch Coaches Association (NFCA) All-Region accolades. Brickey became the second Jayhawk to earn four All-Big 12 honors while freshman Alexis Reid earned a spot on the league's all-freshman squad. Brickey, Formby and Shannon and Erin McGinley each garnered all-region recognition at the conclusion of the 2016 season. In addition to multiple postseason honorees, Smith saw five Jayhawks acknowledged for their efforts in the classroom with Academic All-Big 12 honors. The Jayhawks' RPI has continued to rise under Smith's guidance. When she first took over the program in 2010, KU had an RPI of 93 and in six short years it has soared into the 20's. In 2015, Kansas once again reached new heights under Smith's tutelage after posting an RPI of 23, the highest in modern RPI history. Before taking over the reins at Kansas, Smith helped lead the LSU softball team to the NCAA Tournament all three years she was on staff. Prior to LSU, Smith served as the head coach at Western Carolina in WCU's inaugural season in 2006. There, Smith orchestrated a storybook season in which the Catamounts compiled a 41-20 record, including a 16-4 conference mark that earned them the regular-season championship and warranted conference coach of the year honors for Smith. The Southern Conference also awarded Smith's players with conference pitcher of the year and freshman of the year accolades, while six Catamounts were named all-conference, including five selections on the first team. Smith began her coaching career at Young Harris College in Georgia where she compiled a 79-41 record in two seasons as head coach of the Mountain Lions from 2001-02. Without an assistant, Smith was responsible for all aspects of the NJCAA Division I program.
Kim Borders Dunlap, Assistant Coach, Campbellsville University
Kim Dunlap Borders is in her eighth season as an assistant softball coach at Campbellsville University, working primarily with pitchers. Borders is the owner and pitching instructor at BSA Softball Academy in Scottsville, Ky. During her playing days, Borders was a four-time high school All-American while leading Ezell Harding Christian School in Nashville, Tenn., to four state championships. She also led her summer team to the ASA 18 National Championship in 1997. In College, she was a two-time All-Region selection at the University of Louisiana at Lafayette, while helping the Ragin' Cajuns to four straight NCAA regional appearances. She was named the Sunbelt Conference Pitcher of the Year in 2000 and was a National Fastpitch Coaches Association (NFCA) Scholar-Athlete. Following her collegiate career, she returned to Club K, where she formerly trained 10 years under Cheri Kempf. She instructed and trained hundreds of pitchers over a five-year span before starting BSA. Stacy
Nuveman Deniz, Associate Head Coach, San Diego State
Stacey Nuveman Deniz enters her ninth season at San Diego State, serving as the recruiting coordinator and the hitting instructor. Nuveman Deniz was promoted to assistant head coach from an assistant coach in 2010 and was moved to associate head coach in 2013. Nuveman Deniz, a three-time U.S. Olympian, brings a host of softball experience and accolades to The Mesa. In addition to her two Olympic gold medals (2000 and 2004) and silver medal in 2008, Nuveman Deniz has helped the United States National Team to a World Cup championship (2006), two World Championships (2002 and 2006) and two Pan American gold medals (1999 and 2003). Most recently, her 2004 Olympic gold medal team was inducted into the U.S. Olympic hall of fame in July 2012, while Nuveman Deniz was inducted into the UCLA hall of fame in October 2012. In the spring of 2010, Nuveman Deniz served as an assistant coach for the Women's National Team Selection Camp, at the Canadian Open Fast Pitch Women's International Championship and at the World Cup of Softball VI. In SDSU's dugout, Nuveman Deniz has helped the Aztecs earn seven NCAA Regional bids and a combined 277-162 record in her eight seasons on The Mesa. During her tenure as an assistant and associate coach, the Aztecs have improved their batting average from .275 in 2008 (the year before she arrived) to a school-record .312 mark in 2015, and also in runs per game (3.98 to 5.59), home runs per game (0.23 to 1.09) and slugging percentage (.348 to .486). In 2015, San Diego State set seven school records, including batting average (.310), slugging percentage (.486), runs (324), home runs (63), RBIs (293), total bases (758) and hits (484). Nuveman was a standout at UCLA, finishing her four-year career with four NCAA records - 90 home runs, .945 slugging percentage, 240 walks and 81 intentional walks. She was a four-time first-team NFCA All-American (1997, 1999, 2001-02) and a three-time Pac-10 Player of the Year (1999, 2001-02). Nuveman is also ranked first in school history in games played (264), total bases (653) and on-base percentage (.600). In 1999, Nuveman led the Bruins to a national championship, batting .446 during the season with 31 home runs and 91 RBI. For her efforts in the national title run, Nuveman was named to the all-Women's College World Series team. In addition to her on-field accomplishments, Nuveman also works with several organizations, including the Visalia Miracle League, the Women's Sports Foundation, and the Make-a-Wish Foundation.
Joanna Hardin, Head Coach, Virginia
Joanna Hardin is in her first season as the head coach of the Virginia Cavaliers. Hardin has spent the last four seasons at McNeese State, the latter two as the head coach with the Cowgirls. In her two seasons, Hardin led the Cowgirls to a 79-34 record including the Southland Conference championship and an NCAA Regional in 2016. Under Hardin's guidance, sophomore Erika Piancastelli received All-America honors from the National Fastpitch Coaches Association (NFCA) in 2015 and 2016. She is the first All-America selection in McNeese State program history. In 2016, Hardin led the Cowgirls to a 43-14 record as McNeese State claimed the Southland Conference regular-season championship and the Southland Conference Tournament championship. The Cowgirls posted a 23-4 record in conference play and competed in the NCAA Baton Rouge Regional. In regional play, McNeese State opened the tournament with a win over perennial national power Arizona State. The Cowgirls were eliminated from the Regional after falling to host LSU, who would advance to the semifinals of the Women's College World Series as a national seed, and the Sun Devils in a 14-inning game in the second meeting between the teams. Several players excelled under Hardin's tutelage at McNeese State with Piancastelli leading the way as a two-time Southland Player of the Year and Hitter of the Year selection. Eight players also earned All-Southland Conference honors in 2016. In 2015, her first season as head coach, Hardin coached Piancastelli to Southland Hitter, Player and Freshman of the Year honors. It was the first time a player had ever won all three honors in the league's history. Hardin also coached Alanna DiVittorio to Southland Player of the Year and Hitter of the Year honors in 2014, while Jamie Allred claimed Southland Pitcher of the Year honors that same season. Hardin began her coaching career as the head coach at Whittier Christian High School in La Habra, Calif., from 2005-07 and helped guide the Heralds to an Olympic League championship in 2006. From 2007-09, Hardin served as assistant coach at Liberty University where she oversaw the pitching staff, conducted camps and clinics, and organized daily practices. After earning her Master's Degree from Liberty, Hardin started and coached a successful 12U/14U travel team, the Virginia Titans, in 2009. In 2010, while coaching the Titans, she served as head coach at Jefferson Forest High School where she led the Lady Cavaliers to the 2012 Seminole District Tournament Championship, a Virginia High School League (VHSL) Region III runner-up finish and the quarterfinals of the VHSL playoffs. Hardin played softball for Biola University (La Mirada, Calif.) where she was a four-year letter winner from 2002-05. She was a four-time All-Conference and All-Region selection and earned NFCA All-America honors as a freshman in 2002.
Stephanie VanBrakle Prothro, Assistant Coach, Alabama
Stephanie VanBrakle Prothro enters her sixth season at the University of Alabama as the team's pitching coach. In her first season guiding the Alabama pitching staff, she helped the Crimson Tide win the program's first national championship. Behind the right arm of Jaclyn Traina, the 2012 team rolled through the postseason, winning the Southeastern Conference regular-season title for the third straight year and then claiming the SEC Tournament title before advancing through the NCAA Regional and Super Regional rounds and finally capturing the coveted national championship. VanBrakle Prothro was instrumental in the development of Traina through her four seasons at Alabama (2011-14). In her first season as the ace of the staff, Traina was named an NFCA first team All-American and the SEC Pitcher of the Year. Traina led the nation with a school record 42 wins and struck out 361 batters, another Tide all-time best. The following season in 2013, Traina again earned NFCA and Easton All-America honors. In Traina's senior season, she was named SEC Pitcher of the Year and became just the third player in Alabama history and the ninth in SEC history to surpass 100 career wins, ultimately finishing with 103. Traina is just the fifth four-time All-American in Alabama history and is the only one to earn three First Team accolades (2011, 2012, 2014). VanBrakle Prothro was named Alabama's pitching coach on July 5, 2011, returning to Tuscaloosa after spending one season as the head coach at Samford. Prior to serving as Samford's head coach, VanBrakle Prothro spent the previous two years as the head coach at Birmingham-Southern College. She posted a record of 57-14 in her two seasons with the Panthers, for an impressive .803 winning percentage. In her first season as a head coach in 2009, VanBrakle Prothro led the Panthers to a 32-5 record. The team broke 13 program records, including the mark for wins in a season. Her first team posted a .364 team batting average and 1.19 ERA. VanBrakle Prothro's 2010 team then finished with a record of 25-9 overall and 12-4 in the Southern Collegiate Athletic Conference. Prior to becoming head coach at Birmingham-Southern, VanBrakle Prothro spent the 2008 season as an assistant coach on the BSC staff. That season, the Panthers earned a 32-28 record for the first 30-win season in program history. She also helped coach four All-Big South Conference players and two CoSIDA Academic All-District honorees. VanBrakle Prothro played professionally in the National Pro Fastpitch (NPF) league for the Philadelphia Force prior to being hired at Birmingham-Southern. She also served as a 2007 student assistant coach at her alma mater, with the Tide going 55-10 during that season. During her stellar career at Alabama from 2003 to 2006, VanBrakle Prothro helped the Crimson Tide win its first Southeastern Conference regular-season title in 2006 plus SEC Tournament championships in 2003 and 2005. She earned SEC Tournament MVP honors in 2005 and was named SEC Pitcher of the Year in 2006. A native of Chambersburg, Pa., VanBrakle Prothro was named a NFCA second team All-American in 2005 and 2006. She was named SEC Pitcher of the Year and was one of 10 finalists for the Collegiate Player of the Year as a senior in 2006. She also was named to the SEC Honor Roll and the Academic All-SEC Team all four of her years at Alabama.
Tiffany Ozbun, Head Coach, Denison
Tiffany Ozbun returns for her 10th season as the head softball coach at Denison University in 2017. Ozbun is the program's all-time leader in victories with a career record of 223-139. Ozbun is a two-time North Coast Athletic Conference Coach of the Year who has guided Denison to nine straight 20-win seasons. Since 2008, she has led DU to three NCAC Tournament Championships, two NCAA Division III Tournament appearances, and three regular season conference titles. Last season the Big Red were 22-16 and advanced to the NCAC Tournament with an 11-5 conference record. Sarah Herold and Amanda Howell were named all-region and Kerry Hager and Lauren Secaras were first-team all-conference selections. Forty players have earned all-conference honors under Ozbun and 13 players have been named to the All-Central Region team. Prior to her arrival at Denison, Ozbun spent three seasons as an assistant coach at Manchester College where she was responsible for pitcher/catcher development and the team's strength and conditioning program. She aided in the development of numerous all-conference and all-region athletes and in the fall of 2005 stepped in as the interim head coach/senior women's administrator at Manchester. Ozbun also served as an instructor in the Exercise and Sport Science department. Prior to returning to Manchester, Ozbun spent three seasons at the University of Louisville where she earned a master of science in sport administration. While at Louisville, Ozbun worked primarily with catchers and defense while assisting in the development of numerous all-region and all-conference players, including the Cardinals' first All-American. In 2004, Louisville earned the program's first NCAA Tournament bid. That year, the Cardinals also set a Conference USA record for wins in a season (41). As a player, Ozbun was a four-year letter winner and three-year co-captain for the Spartans. She led Manchester to the 2001 Heartland Collegiate Athletic Conference championship and was named the team's most valuable player. She was the recipient of Manchester's Betty Clark Memorial award for her outstanding scholarship, athletic achievement, leadership and service and was a member of the Manchester Directors Council and the Manchester Faculty Athletic Committee. Since 2002 Ozbun has served as the director of the University of Louisville Softball Camps and has spent her summers working various national camps and clinics. A member of the National Fastpitch Coaches Association (NFCA) since 2003, Ozbun is also active in the Ohio High School Fastpitch Softball Coaches Association (OHSFSCA).
This Course Includes
---
Lifetime access
Certificate of completion
100% money back guarantee
Course Info
---
| | |
| --- | --- |
| Rating: | (0) |
| Caterory: | Softball/Coaching Softball |
| Bookings: | 18 |
| Duration: | |