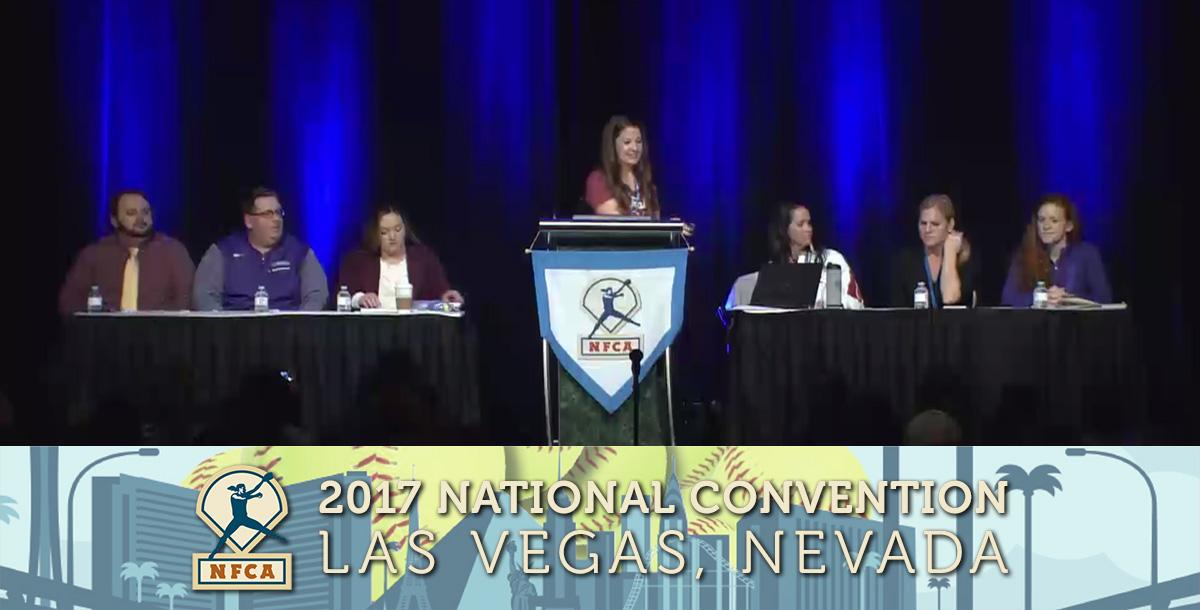 Description
Kate Harris of the University of Alabama and an expert panel present Efficiency Leads to Success at NFCA's 2017 National Convention in Las Vegas, Nevada.
Are you an NFCA member? This video is available to you for free within your members-only "Coach's Box" through the Education tab under Digital Education Library. Visit NFCA.org to log in.
Lessons
The Coach
Kate Harris, Director of Softball Operations, University of Alabama
Kate Harris enters her eighth season as the Alabama softball program's director of operations.
Harris coordinates all team travel, including processing expense reports, game contacts, monitors monthly financial budgets and reconciles Pcard purchases for sport oversight and the business office. She also organizes and facilitates all official and unofficial recruiting visits and handles each visiting teams needs throughout the fall and spring seasons. Harris monitors all activities for compliance with the University according to NCAA and SEC guidelines and logs weekly countable athletically related activities. She serves as the camp director for Patrick Murphy Softball School Summer camps and assists with other clinics throughout the fall and winter. Harris is the program's liaison with the official booster club of Alabama Softball, the Bama Softball Walk-off Club and helps tremendously with various fundraising projects. She is also very active in Alumni affairs, striving to maintain strong relationships and support with former Alabama student-athletes and staff.
Harris joined the Crimson Tide staff after serving as an assistant softball coach at her alma mater, Creighton. For two seasons, the Waterloo, Iowa, native worked with the outfielders and hitters in addition to her role with Bluejay softball camps. In her two seasons at Creighton, she helped guide the Bluejays to back-to-back Missouri Valley Conference regular-season championships and two NCAA regional appearances.
Harris was a Bluejay outfielder from 2004-07, appearing in 122 games. She was a member of three NCAA Tournament teams, helping the Jays win the MVC tournament in 2004, 2005 and 2007. Creighton also won the 2007 MVC regular-season championship with Harris as a senior leader. She received Creighton softball's Most Inspirational Award following her sophomore, junior and senior seasons.
Harris' grandfather Tom Lind played basketball at the University of Iowa while her sister Molly played softball on the 1999 DePaul team that reached the Women's College World Series.
She graduated from Creighton in 2007, with a bachelor's degree in sociology and is currently pursuing a Master's of Science degree in Human Environmental Sciences with a graduate certification in conflict management, negotiation and mediation from The University of Alabama.
Alyson Habetz, Associate Head Coach, University of Alabama
If Patrick Murphy has been the face of the Alabama softball program throughout its entirety, Alyson Habetz certainly has played a huge role of her own in developing the Tide into one of the nation's elite. Currently in her 20th season on Murphy's staff in 2018, Habetz earned a promotion of her own when Murphy named her associate head coach in the summer of 2007.
Habetz brings a wealth of softball and baseball knowledge to the Crimson Tide softball staff. She joined on Sept. 21, 1998, in the program's third year. During her tenure, Habetz has helped Murphy lead the Tide to 11 Women's College World Series appearances, including its first national championship in 2012, along with five SEC regular season titles and four SEC Tournament titles.
Habetz's primary duties include outfield play and team offense. She also contributes significantly to the evaluation of recruits.
During her time in Tuscaloosa, Crimson Tide outfielders have consistently earned NFCA All-America accolades, including four-time All-Americans Kelly Kretschman (1998-2001), Brittany Rogers (2006-09) and Haylie McCleney (2013-16).
Habetz began her stint at Alabama following a four-year career in women's professional baseball. She joined the pitching rotation with the Colorado Silver Bullets women's professional baseball team in 1995 following her collegiate playing career. Habetz played with the Silver Bullets for three years before joining the Long Beach Aces of the now defunct women's professional baseball league, as a first baseman and pitcher in 1998.
While displaying her talents as a basketball player at USL, Habetz was a member of the softball team, earning third team All-America, All-South Region, All-Louisiana and Academic All-America honors with the Ragin' Cajuns. While at USL, she played for a staff that included Murphy, who was an assistant coach in Lafayette.
Habetz helped lead the Cajuns to an appearance in the 1993 Women's College World Series. As a member of the basketball team, Habetz etched her name in the record books, settling in at No. 7 all-time on the career scoring list en route to earning membership in the 1,000-point club. She graduated with a bachelor's degree in communications in 1995.
Habetz was a 2006 inductee into the Louisiana High School Coaches Association Hall of Fame. She also is enshrined in the University of Louisiana at Lafayette's Sports Hall of Fame, where she was inducted in 2003.
Amy Lefurgy, Director of Softball Operations, University of Washington
Amy LeFurgy enters her fifth season as the Director of Operations for the UW softball team after joining the staff in the summer of 2012. Prior to joining the staff, LeFurgy worked at Elmhurst College in Illinois as the Assistant Women's Soccer coach and Marketing Assistant.
Originally from West Lafayette, Indiana, LeFurgy earned her Bachelor's degree in communication from Elmhurst College in 2006. In 2012 she earned her Master's degree in Intercollegiate Athletic Leadership from the University of Washington.
J. J. Dillingham, Assistant Coach, Lipscomb University
J.J. Dillingham is entering his fifth season as an assistant coach for the Lipscomb Lady Bisons. This is the third time in his career Dillingham has been an assistant coach for the Lady Bisons.
From 2002-2005 Dillingham served as an assistant coach Lipscomb as the Lady Bisons made the transition from the NAIA to NCAA Division I.
Dillingham has coached outfielders, all aspects of hitting and offensive fundamentals as well as base running. He also has experience in directing summer camps.
Dillingham started his career at Lipscomb as a student working in the sports information department.  During that time he also served as the public address announcer for basketball and baseball, along with assisting the Lipscomb Radio Network in various roles. From 2000-2002 he was assistant for athletic marketing and media relations coordinator, and was the executive producer for the Lipscomb Radio Network.
While serving as an assistant softball coach Dillingham also was the director of athletic operations.
Dillingham began his coaching career while a student when the softball program began at Lipscomb and served as a student assistant softball coach from 1995-2000 when the Lady Bisons were competing in the NAIA.
Dillingham earned his B.A. degree in Communications from Lipscomb in 2000. He completed his Master of Arts in Learning and Teaching at Lipscomb in 2010, earning his teaching certification in grades K-6.
Peter Suarez, Director of Softball Operations, Iowa State University
Peter Suarez enters his second season as the program's director of softball operatons. Suarez came to Iowa State from Stephen F. Austin, where he was an assistant coach for the Ladyjacks, specializing in infield defense, as well as hitting.
Suarez was at Stephen F. Austin for two seasons following his graduation from Florida State University in May 2014 with a degree in Sport Management. Suarez also served as a student manager for the FSU softball program from 2012-14. With Suarez on staff, the Seminoles made it to the 2014 Women's College World Series, advancing past the Tallahassee Super Regional with a 2-1 series win over Michigan. The team was eliminated with losses against Oregon and Baylor and ended the campaign with an overall record of 55-9.
The Seminoles were highly successful over Suarez' first two years with the club as well, finishing with a 44-19 record in 2013 and posting a 47-16 mark in 2012.
The Miami, Florida native graduated from Immaculata-La Salle High School in 2010.
Shanna Diller, Director of Softball Operations, University of Texas
Shanna Diller enters her sixth season as the Director of Operations for the Texas Softball program.
In her current role, Diller serves as the program's travel coordinator, pregame coordinator and summer camp director.
Diller worked behind the scenes of the 2017 Longhorn squad that won 33 games and reached the NCAA Regionals for the 13th-consecutive year.
During her initial year on the Forty Acres in 2013, Diller was part of the Longhorn program that returned to the Women's College World Series for the first time since 2006. Texas won a program second-best 51 games and made its ninth-straight NCAA Tournament appearance.
Diller joined UT following a two-year stint as an Assistant Director of Marketing at the University of Illinois, where she served as the primary marketing contact for women's soccer, women's basketball, men's and women's gymnastics and baseball. Prior to joining the department on a full-time basis, Diller was a graduate assistant from 2009-10 for the I FUND, working specifically with the Varsity "I" Association and its mailings, individual sport reunions and other related events. During that time, she also played professional softball for the Rockford Thunder and Tennessee Diamonds.
From 2005-08, Diller was the starting third baseman for the Fighting Illini softball program, earning a trio of All-Big Ten Conference selections as well as a pair of placements on ESPN the Magazine/CoSIDA Academic All-District 5 squads. She also became the first three-time team captain in program history.
Upon completing her eligibility at Illinois, Diller signed a free-agent contract with the Rockford Thunder of the National Pro Fastpitch. The Thunder, behind the pitching arm of former Longhorns' All-American Cat Osterman, claimed the 2009 championship with a 2-0 victory over the USSSA Pride in the third game of the series. Diller led the squad with 18 runs batted in during the title-winning campaign. A summer later, Diller played for the Tennessee Diamonds, batting .294 and collecting 20 hits.
Diller graduated from Illinois with a bachelor's degree in advertising and a business minor in December 2008 and followed with her master's degree in sports management in May 2010.
Whitney Showalter, Director of Softball Operations, Virginia Tech
Former Hokie standout player and volunteer assistant coach Whitney Davis Showalter is in her third season on the staff as the Director of Softball Operations.
Showalter plays a key role in all phases of the Virginia Tech softball program as she serves the coaching staff in multiple areas including donor relations, alumnae relations, camp coordination, recruiting visits, team travel and equipment. She is also the liaison between the program and the marketing and strategic communications departments.
Showalter has been instrumental in the creation and direction of large-scale events such as alumni weekends, meet and greets and the annual Leadoff Banquet with donors. Another event developed by Showalter is the program's annual Hit-A-Thon, a home run derby style service project that serves as a team fundraiser and a community engagement event.
In 2016, Showalter spearheaded a partnership between TeamWorks, a communications and operations database, and the Hokie softball program. As the marketing liaison, she works with the marketing department to successfully plan promotions for all home games at Tech Softball Park. She also runs yearly postgame clinic that has seen almost 400 kids over three years. Showalter also played a vital role in hosting the 2015 ACC Softball Tournament at Tech Softball Park.
Off the field, Showalter was re-elected for a second term as the softball representative in the Virginia Tech Monogram Club. The Monogram Club is an exclusive 21-person board made up of former Virginia Tech student-athletes that seeks to honor and engage former and current letterwinners through networking and fellowship events, in order to celebrate the traditions and promote the value of the Virginia Tech student-athlete experience.
Showalter graduated in 2011 with a degree in psychology from Virginia Tech and completed her Master's in education, curriculum and instruction in 2013. She was previously employed at the Edward Via College of Osteopathic Medicine and also spent time in the broadcast booth, calling several Virginia Tech games for ESPN3, as well as the entire 2014 NCAA Division II National Tournament for NCAA.com.
2017
This Course Includes
---
Lifetime access
Certificate of completion
100% money back guarantee
Course Info
---
| | |
| --- | --- |
| Rating: | (0) |
| Caterory: | Softball/Coaching Softball |
| Bookings: | 31 |
| Duration: | |