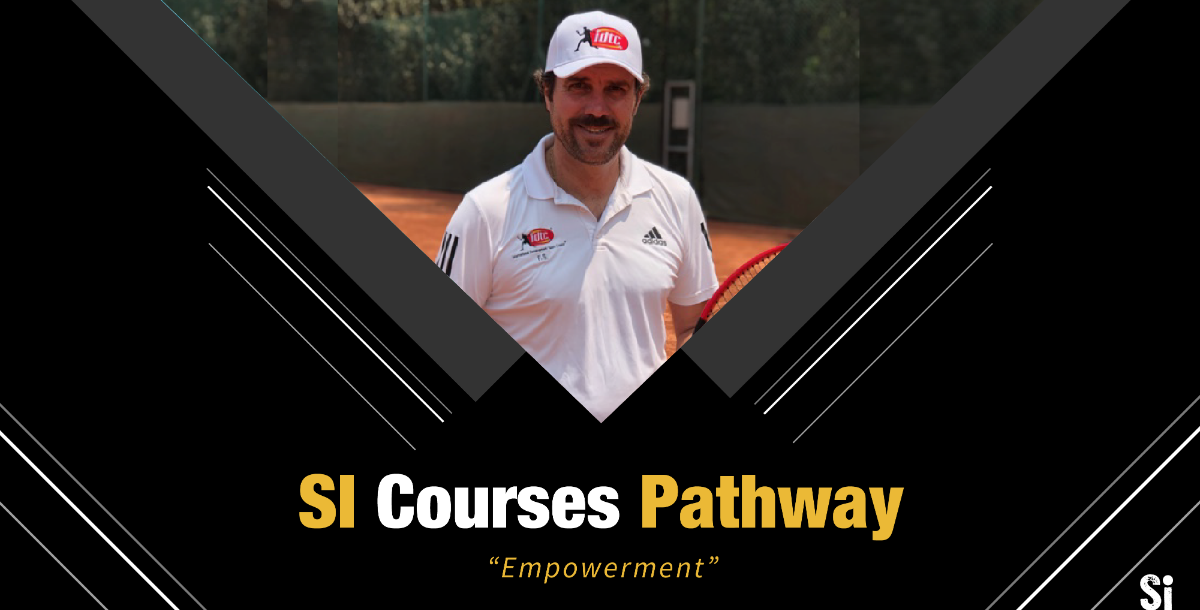 Description
Empowerment
One of the fundamental principles in the development and coaching of tennis is to understand the structural concepts for the formation of programs, the meanings of said principles and the necessary knowledge of all the factors that make up a model of construction and personal and professional growth through the tennis.
The author in this course/presentation on Empowerment. shows us how the Tennis has a lot of resources to develop yourself On/Off tennis court. Let's talk about some specific particularities:
It is generally an individual sport

There is no draw, one wins, another loses

You know when you start and not when you finish (Time)

You adapt to the ever-changing conditions, environment, rivals, and many more

You control an element, the ball, with another element and put it in a certain space.

You deal with who you are, your emotions, your thoughts, your education, your culture, your level of adaptation.
Playing and competing you constantly negotiate concepts such as:
Performance factors

Win and lose situations

Success and frustration

Good or bad ball

Recognition or dismay

hit or miss

Approval or otherwise

To understand or not to do it

Surpass or stay

Accept or resign
And among many benefits and values ​​of our sport, this allows us to empower ourselves in:
Understanding the game of sport and life

Having a learning and continuous improvement model open to evolve

Developing a clear vision of what you want

Be willing to pay the price

Put passion, affection, fun and joy

Having a strong mental, emotional, spiritual, and physical energy

Having personal and competitive values

Surrendering to daily tasks and much more
This course will make you reflect on the transformative power of the game, competition, training, and the daily quest to be better in our sport. Fernando's thought highlights as a fundamental aspect the integration of values ​​and meanings in the journey and evaluation that you will make as player, as parents, as tennis coaches, as a lover of our sport.
This is a process of continuous improvement that will never end throughout our lives.
Enjoy it, being prepared to develop more tennis!!
Lessons
The Coach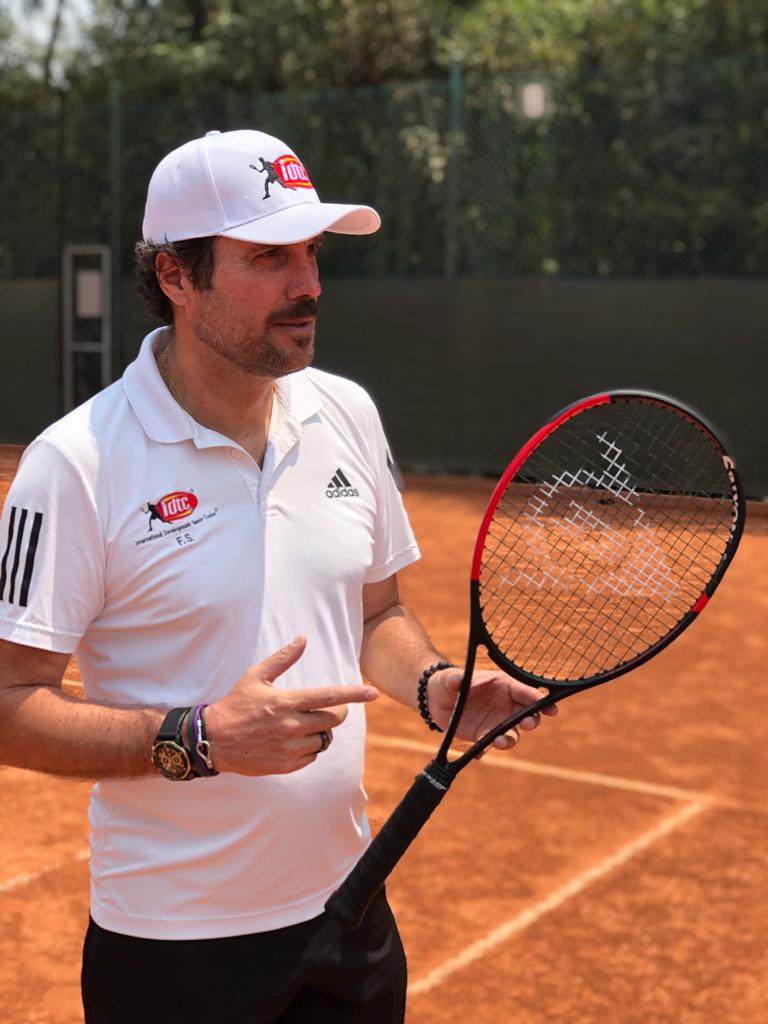 Fernando Segal
International Tennis Leader worldwide recognized for to be specialized in Tennis Development Projects for players, coaches' teams, international and regional organizations and company, as for National Tennis Federations.
Fernando is focused in create growth in Tennis in systematic and structured programs, actions and technical materials for coaches, management staff, academies, and organizations.
Fernando is driven by purposes of help to transform lives through Tennis and to create growth in our sport.
With more than 44 years of professional career. He is a tennis development expert recognized worldwide for his successful results and philosophical concepts through actions like:
Founder of the "SEGAL INSTITUTE" first LAB full focused in Tennis Development, designing strategic tennis project whichproduce transformations with many international clients.
He is the author of 11 published books on different tennis topics, like: TENNIS, Concept 6/90, How to grow Tennis, To Sell Tennis, SAF 1, SAF 2, and many others.
Has presented as main speakers his concepts, experiences and theories at various ITF world conferences, national tennis congresses and courses in more than 45 countries.
He directed and developed the ITF Worldwide Coaches Conference in Cancun in 2013 which is the biggest tennis conference on ITF records with 924 participant from all over the world
He has been a member several times of International Tennis Federation (ITF) Committees (Coaches committee, Marketing the Game Committee, WCC Team) and other International Committees that he is part of such as GPTCA, IMSCA, STMS, SSIH, Sports Alliance and others.

More than 6000 tennis coaches are using his theories around the world. He will publish his 12th book in 2022 coming soon.

Additionally, he has worked with National Tennis Federations and tennis organizations as National Tennis Director and Chief Development Consultant: Argentina, Brazil, Australia, Mexico, New Zealand, and others. He is the only Tennis Development Coach from Latin America who has worked in the three largest countries in Latin America. (ARG / BRA / MEX).
From his Development Programs, Junior players have been developed who have won 16 Junior Grand Slams and then were Top 10 ATP / WTA and other Top 100.
He received the GPTCA Award as "Tennis Coach of the year" 2021. GPTCA is the official body of the ATP to certify coaches.
He is President of the GPTCA for Argentina, Chile and Mexico, the official body of the ATP for Certification of High-Performance Tennis Coaches. He is also a member of the scientific and administrative council of four different organizations around the world.
He has created the concept and event WOLRD TENNIS CONFERENCE by GPTCA / SI with support of ATP which have the participation of the best coaches in the world such as: Goran Ivanisevic, Toni Nadal, Ivan Ljubicic, Brad Gilbert, Gilles Cervara, Apostolos Tsitisipas, Nick Bollettieri, Boris Becker, Janko Tipsarevic, Tommy Haas and many others. WTC was held in 202, 2022 and third edition will be coming in March 2023. WTC was defined as the best Tennis Conference of High-Performance Tennis

history.

In 2021, the Segal Institute was organizing with its management, TBD TENNIS INNOVATION WEEK 2021 (Technology, Business & Development), the virtual event, which integrates 3 events, the first and most important in innovation and transformation of tennis in the world that will be held in the TennisONE App Platform with 88 main speakers.
He has founded and directs projects such as: IDTC, Tennis Stars, 33 Tennis, Segal Leadership Academy, other academies, and tennis projects.
He has presented in 2022 in Tennis Australia Grand Slam Conference, WTCA Indian Wells Conference, Winning Summit and other national conferences and presentations.
Fernando is a leader on Tennis Worldwide, who are currently leading several tennis projects like The Tennis Talk - Coaches Voices in TennisONE with interviews with many of theorist important tennis coaches in the world. Tennis Diagnosis & Performance Center (TDPC) in Houston- USA, a center full dedicated to diagnosis and evaluation of tennis players.
His main priority is to help to develop and transform a new generation of tennis leaders with concepts and principles to be applied with several ongoing projects and in tennis courses like we have in CoachTube right now.
This Course Includes
---
Lifetime access
Certificate of completion
100% money back guarantee
Course Info
---
| | |
| --- | --- |
| Rating: | (0) |
| Caterory: | Tennis/Coaching Tennis |
| Duration: | |