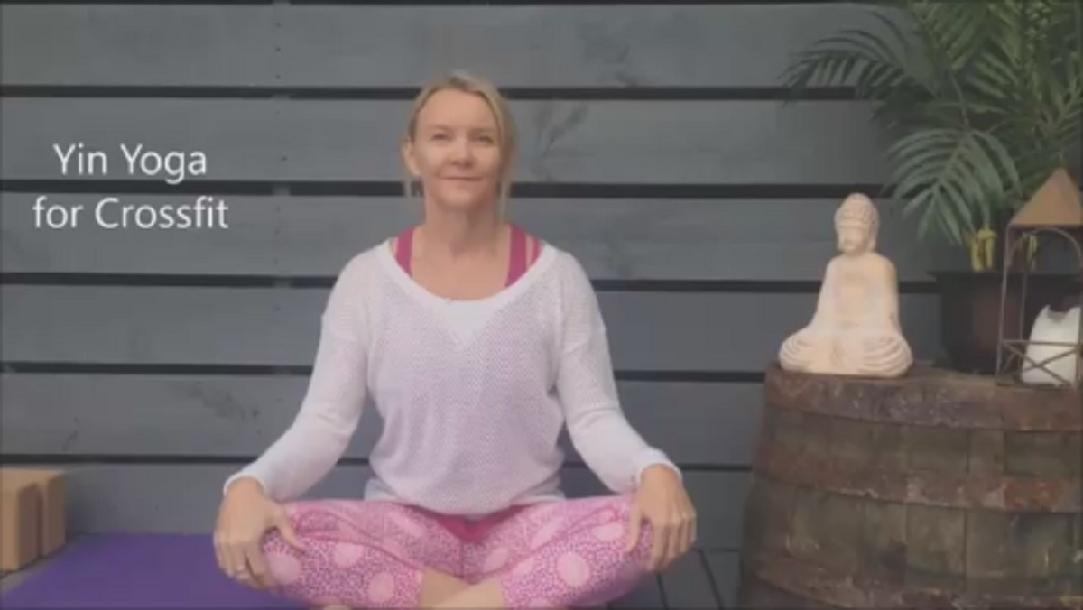 Description
Yin Yoga for Crossfit is targeted to the crossfitter who wants to relieve some of the tightness and soreness that may be experienced each week after your W.O.D. (Work-out Of the Day). This class is also beneficial to anyone who is looking for an 'all-rounder' Yin Yoga class providing eustress to the tendons, ligaments and fascia to most of the body. Now, I know Crossfitters are meant to work on mobility after each session, but how many of you actually do that? This one hour class gives you the chance to practice anytime, anywhere, and I recommend that you practice at least once a week. Dedicating yourself in this way will optimise your crossfit performance and health overall. The beauty of this course is its convenience. Yin Yoga is actually recommended to be practiced when you are 'cool' not necessarily straight after exercise, but it still can be added after your W.O.D if that suits you best. This yin class is the perfect complement to your intense, yang style of exercise and is a beneficial recovery tool. A Yin practice assists you to protect the parts of your body that are usually vulnerable to strain and injury. The intense style of Crossfit definitely encourages strength and power and that can cause the connective tissue to tighten leading to soreness, reduced mobility and possibly time out to recover. Yin is quite different to the stretches that you might typically do after your W.O.D. because it isn't actually about stretching muscle. Instead it works closer in towards the bone offering what I like to refer to as eustress, a healthy stress as opposed to distress. Our bodies actually need a certain amount of stress to stay strong and healthy. The poses in Yin are held typically for 2 – 5 mins which is needed to eustress the tendons, ligaments, fascia, muscles and joint capsules. Maximum intensity is never the aim in Yin Yoga so we do not take joints to their extreme ranges of motion, instead we aim for 60 – 90 % intensity. In these long holds you will practice mindfulness, noticing what is going on in your mind at any given moment, but not get carried away by it. Yin Yoga for Crossfit has been researched, designed and tested on crossfitters, to give you a class targeted to your individual needs. A calmer, more relaxed and mobile you is just one hour away. So what are you waiting for… Book this Course! Before you start the class I suggest you read the Yin Yoga Practice Guidelines document, so you have an understanding of the safest way to practice.
Lessons
The Coach
Martine's love for movement began at four, when she enrolled in her first ballet class in the coastal town of Port Macquarie. She continued with that passion, studying and performing various styles of dance, before fulfilling her next love, producing two beautiful and busy boys (now young men). After searching for something to fulfill her desire again for movement and passion a friend suggested Power Yoga classes. Martine began practicing Power Vinyasa Yoga in 2006 and loved the transformative effect the classes had on her physically, and more surprisingly, mentally and emotionally. "I loved the way Power Yoga could transform my whole mood by the end of the class, and I could walk away feeling joyful, retrospective, courageous or just relaxed depending on what happened on the mat that day! With continued practice I realised that this style of yoga was a moving meditation and with time I was enjoying staying present during class, not having to fidget or be constantly distracted by a busy mind." It was this love for yoga and it's many physical and spiritual benefits that inspired Martine to start her own business, Spirit Yoga in 2010. With a thirst for more yoga knowledge she has also become qualified in teaching Yin Yoga, yoga to children of all ages as well as pre/post-natal yoga students. Martine teaches varied students, in various location. She teaches kids, teens, and adults of all ages. She teaches in gyms, yoga studios, the Crossfit Box, school halls (for sport elective), people's loungerooms, in the Great Outdoors and Entertainment Centres. Her Power Yoga (yang) classes are a playful fusion of Power Vinyasa Yoga (flowing), Core Vinyasa Yoga (CSV) and Yoga Therapy (Chinese Meridian Activation). The Still Yoga (yin) classes are mostly seated poses (asana) with the addition of pranayama, mindfulness and a guided relaxation. Many courses and workshops have been facilitated by Martine including Active Nation Day 2014 for Lorna Jane Port Macquarie, presenting at Ekam Yoga Festival (Port Macquarie), Kids Yoga Workshops in the 'Glasshouse' (the local Arts, Conference and Entertainment Centre), Kids Yoga Classes for Primary and High School Sport Elective and also Adult courses for the Community College. Eager to spread the benefits of yoga afar, she is now playing author and is onto her second series of yoga e-Books self published by Spirit Yoga on Amazon. The first series was, Yoga for the Seasons which consists of five e-Books for Spring, Summer, Late Summer, Autumn and Winter. The next is The Spirit Yoga Health Series which is a collection of five yoga e-Books designed to benefit a particular health concern and made into and easy to follow class. Martine is enjoying being able to share her love of yoga in Port Macquarie and afar, and encourages her students of all ages to live from a place of peace, strength and clarity. Credentials

Yin Yoga - Jo Phee @ P.L.A.Y (Power Living Australia Yoga) 2015.
Advanced Assisting Course - P.L.A.Y (Power Living Australia Yoga) 2015.
Sadie Nardini Online Rockstar Teacher Training - 2013.
Advanced/Level 3 Teacher Training - P.L.A.Y. - Byron Bay 2011.
Advanced Kids Yoga Teacher Training - Zenergy 4 Kids - Sydney 2011.
Kids Yoga Teacher Training - Zenergy 4 Kids - Sydney 2010.
Pre & Post Natal Yoga Training - Yoga Institute - Syd 2010.
Advanced Vinyasa Training - Power Living Australia Yoga - Sydney 2009.
Assisting Program - Power Living Australia Yoga - Sydney 2009.
Teacher Training Level 2 - Power Living Australia Yoga - Sydney 2008.
Teacher Training Level 1 - Power Living Australia Yoga - Sydney 2008.
Diploma in Dance - Queenland Dance School of Excellence (QDSE) - Brisbane 1986. Testimonial by Happy Students Spirit Yoga e-Books by Martine Ford on Amazon.
This Course Includes
---
24 hours on-demand video
Streaming from mobile and TV
Full lifetime access
Certificate of completion
100% money back guarantee
Course Info
---
| | |
| --- | --- |
| Rating: | (1) |
| Caterory: | Yoga/Fundamentals |
| Duration: | |