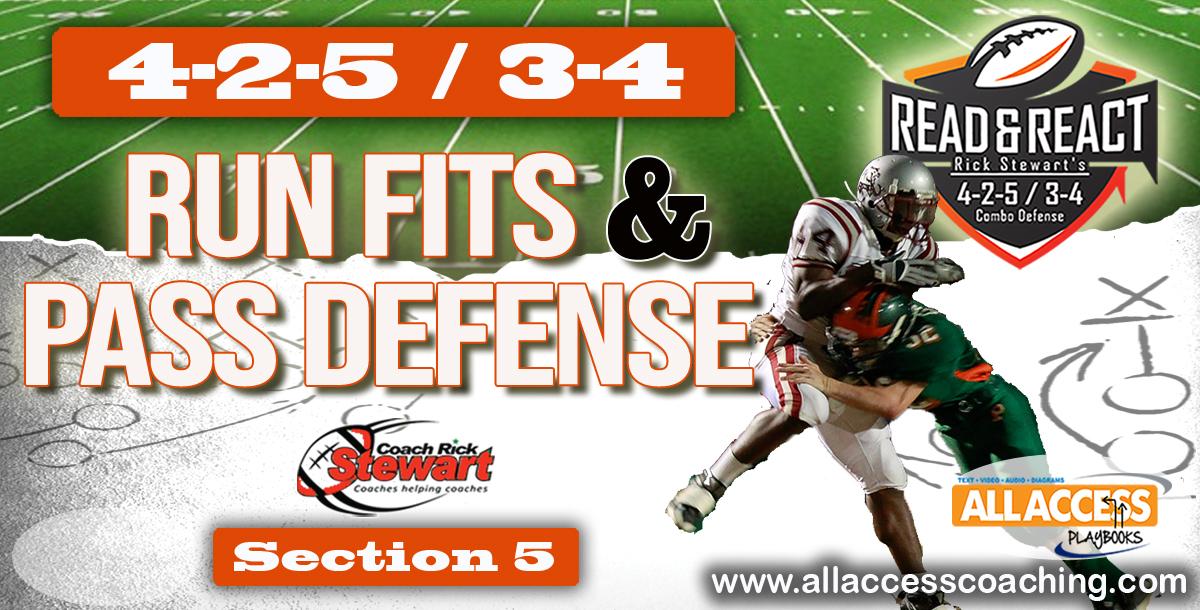 Description
This is SECTION 5 of the Complete, 300-page playbook
EASILY go from 4-4 to a 4-2-5 to a 3-4 Defense !
Matches up with the READ & REACT videos on CoachTube.
DISCLAIMER: This is not a downloadable playbook. To order a printed, bound hard copy go to www.allaccesscoaching.com
Ch 12 RUN FITS (18 pages)
--> Why would you Spill the RB to the sideline or "Funnel" him back into the other defenders? Do you spiill just because all the college guys do?
--> Great detail of how D-Line react to every block, followed by Linebacker reads, and then they are tied together. This ties together Ch 9 & 10 of the Drills Manual. Iso, Option, Counter, Guard Trap, Jet Sweep, Inside Zone, Outside Zone...every offense is covered.
--> How do Outside Linebackers fit when playing up in Sky Alignment and how do they fit as Quarters Safeties? How do they defeat all the edge blocks?
--> The last 7 pages show how all 11 players fit together.
Ch 13 DEFEND WING T, DOUBLE WING, AND FLEXBONE (18 pages)
--> Can you defend these out of your base defense or do you make the mistake of putting in a "special" defense that week? One your players are not used to running?
--> Stewart has ran the Wing T for over 20 years and shows you all the keys and read blitzes you need
Ch 14 RUN FITS vs ZONE & POWER BLOCKING SCHEMES (18 pages)
--> Inside Zone vs odd front (6-4-0-4 tech) and even front (double 2 techniques)
--> Zone Read Option
--> Power, Power Read, Counter, and Dart out of Shotgun
--> How do you defend the Pistol formation with Horn, Midline, Veer, & Jet when there is not strength call since the offense is balanced?
Ch 15 DEFEAT PASS PROTECTIONS, HOW TO PATTERN READ, and DEFEND COMMON AIR RAID CONCEPTS (16 pages)
--> Do you know how to recognize and defeate 'Big On Big", "Slide", and "Combo" pass protections
--> Patttern Reading is defined, including "cutting a receiver"
--> 4 Verts, All Curl, Grab, Wheel, Stick & Corners (Snag), Shakes & Corners, Y-Sail, and Y-Corner.
--> Crossing Routes are very hard to defend, but Stewart has simple rules that make it easy for Linebackers to know when to run with them and when to "pass them off"
--> Learn what STEAL coverage is
Ch 16 DEFENDING RPOs (4 pages)
--> Pre Snap and Post Snap.....Perimeter and Box RPOs
--> There are two types of coverages Stewart runs, but the D-Ends are also keys to defending RPOs. The best pass defense is a sack.
Like What You Read and Decide to Buy the Entire Book?
THE PRICE YOU PAID FOR THIS SECTION WILL BE DEDUCTED FROM THE PRICE OF THE WHOLE BOOK
74 pages!
Lessons
The Coach
Coach Stewart has been a football coach for 27 years, 22 at the high school level including 16 as a head coach. He took three losing programs to playoffs.
--> Won 9 games with a Pennslyvania team that hadn't won 9 games since 1982 and had only won 8 games in 5 years
--> Won 40 games in 5 years, first playoff win in 100-year school history, and back-to-back section title games at school that had won 8 games in 5 years
--> Took 0-27 Corcoran to undefeated league title in his second season. Coaching staff remained after Stewart left and won 3 consecutive section titles
--> During his absence, McFarland went 1-19. Stewart led them to their 4th playoff in 2004. This was McFarland's last winning season
--> Took 0-24 McFarland team to its 3rd playoff in 75 years in 1999. (Stewart took a 3-year hiatus after that season)
Stewart also has coached basketball, serving as AAU director for girls basketball in California and tutored seven girls to D-1 scholarships. He understands what coaches want and his company, ALL ACCESS COACHING, is all about helping the next generation of coaches.
This Course Includes
---
Lifetime access
Certificate of completion
100% money back guarantee
Course Info
---
| | |
| --- | --- |
| Rating: | (1) |
| Caterory: | Football/4-2-5 Defense |
| Bookings: | 33 |
| Duration: | |