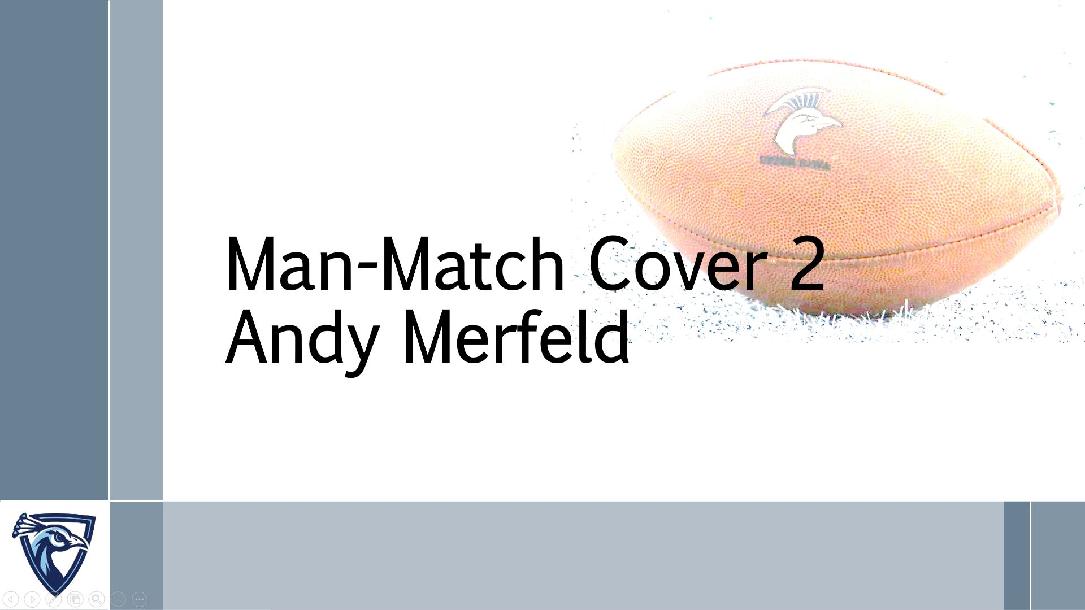 Description
Playing good pass defense is difficult. That's why you're reading the description for this course, and that's what this coverage is designed to address. Playing Man-Match Cover 2 gives your pass defense three distinct advantages: it allows you to take pressure off your corners, it allows for tight coverage without playing man-to-man, and it is the best way to defend the middle of the field from a two-high coverage structure.
This is the third course of Coach Merfeld's Man-Match Cover 2 Bundle. This coverage is part of the Cover 2 Man (Saban verbiage Cover 5 Buster/Cougar) and man-match quarters (Saban Cover 7 Clip/Cut) worlds. It is a tremendous third-down concept to take pressure off of your defensive backs while still playing tight coverage on all routes. In the first presentation, Coach Merfeld does an in-depth installation for each position and focused on 2x2 formations and split adjustments. In the second presentation, he covers the specifics of defending 3x1 and empty formations (both the strong and weak sides of the formation).
In this third presentation, Coach Merfeld discusses other tools to help make this coverage even more effective: motion adjustments, a coordinated disguise package, and QB scramble control. The first tool covered is motion adjustments. It is important to practice motion adjustments against all coverages, and especially the ones you intend on using in passing situations. It is also important to practice motion adjustments against man-match coverages, because it only takes one bad route matchup to leave a receiver wide open.
The second tool discussed in this course is the disguise package. Coach Merfeld focuses on presenting one-high looks pre-snap before running the Man-Match Cover 2 post-snap. He discusses coaching points for the disguise and how it ties in to the coverage package as a whole.
The third tool is quarterback scramble control. Given the nature of the coverage, with underneath players turning to run with the interior receivers, it is important to have QB scramble control answers. Coach Merfeld presents several different options to get extra pressure while keeping the quarterback under control and keeping his scrambling to a minumum. There are diagrams and examples of different interior and exterior defensive line stunts, as well as recommendations on spying the quarterback.
Finally, Coach Merfeld turns his focus to defending the run in Man-Match Cover 2. He presents general principles for defending the run using middle of the field open coverages, and discusses specific tools using both even and odd spacing front concepts, 'now' stunts, read stunts, "slinging" the fit based on RB location, and more!
As an added bonus, Coach Merfeld has included a Powerpoint presentation which contains all the diagrams from all three Man-Match Cover 2 courses. This includes all formation adjustments, as well as the position responsibility charts from each coverage check. The Powerpoint is editable, so coaches can download it and change what they need to, in order to best suit their team's needs!
These presentations include everything you need to install this coverage!
Part 3 Contents:
Motion adjustments
Disguise package
QB scramble control: DE/DT stunts, empty stunts with spy, interior stunts, rush 3 & spy
Defending 10 personnel run: "slinging" the fit. even spacing, odd spacing, read stunts, 'now' stunts
Defending 11/20 personnel run: "slinging" the fit, even spacing, odd spacing, fitting middle of the field open like middle of the field closed
Lessons
The Coach
Andy Merfeld has experience coaching at the small-college and high school levels and specializes in coverages, defensive back play, situational defense, and special teams return units. His CoachTube courses are designed to focus narrowly on very specific topics. This narrow focus allows coaches to effectively implement the strategies and processes Coach Merfeld discusses.
He currently coaches at Benedictine College (NAIA – KS) and previously coached at Upper Iowa University, the University of Minnesota Duluth, and Edgewood High School (WI). Relevant coaching achievements:
Benedictine College (CBs). In 2019 the Ravens led all NAIA and NCAA schools with ten blocked punts, and also led the NAIA in punt return yards at the end of the regular season. In 2020 the team again led the country in blocked kicks, and also finished sixth in punt return yards. The defense finished 3rd in the NAIA in sacks, 4th in interceptions, 2nd in rush defense, and led all NAIA and NCAA schools with four shutouts in ten games.

Upper Iowa (DBs). In 2017 the Peacocks finished second nationally in punt return touchdowns and fifth in punt blocks. They also finished 10th in the country in pass defense.

Minnesota Duluth (CBs, OLBs). In two years the Bulldogs compiled a 22-4 record, including three postseason wins and a #3 national ranking in the 2014 season.

Edgewood High School (DC, strength and conditioning). In 2011 the Crusaders set the school record for wins and advanced to the WIAA state semifinals for the first time.
This Course Includes
---
24 hours on-demand video
Streaming from mobile and TV
Lifetime access
Certificate of completion
100% money back guarantee
Course Info
---
| | |
| --- | --- |
| Rating: | (0) |
| Caterory: | Football/Coverage |
| Bookings: | 22 |
| Duration: | |
| Videos: | 17 |