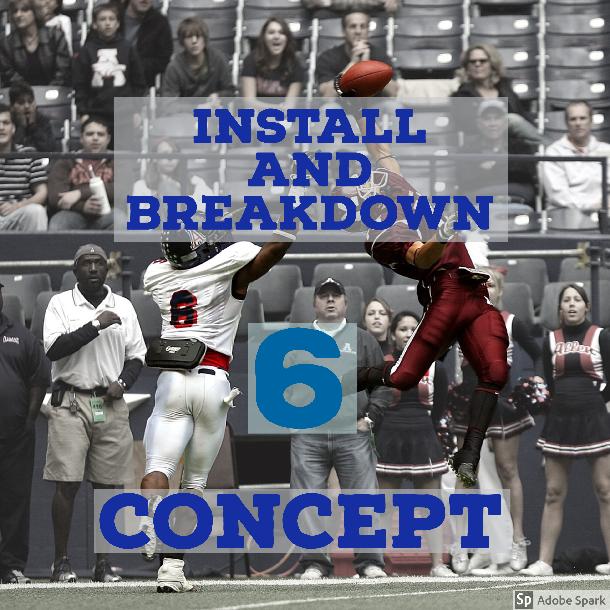 Description
The 6 play, the best play in football. Many have seen my free videos on line, and have asked many questions on how and why. This book will give you all of that including: protection, quarterback play, tags, route/replace rules, and many more. I go through every formation and give several pages of my favorite tags explanations. I talk about what tags I like to use versus different looks, and how to teach the QB. You can print this out and take the sheets on the field to teach your players. 50 pages dedicated to the best play in football, and how the Engineered Air Raid Offense uses the Open Grass Reads, to exploit defensive schemes.
Why do I tag these routes in this concept?
1.I cannot win a one on one match up.
2.Defense is trying to take away better players.
3.Gets every inch of the field involved.
4.Allows me to make in game adjustments without burning a time out or running something we have not practiced.
5.Creates an unlimited amount of possibilities to allow us to succeed.
6.Great for 2 minute and before half situations.
7.It gives a play action look off of the run game.
8.Forces man to man superior teams to cover every inch of the football field.
9.Negates blitzing teams.
Tagging this concept also allows me to create the foundation of the Air Raid out of a 4 vertical concept. To Stretch the defense Horizontally and Vertically from option routes, and a route/replace concept. The creative ability is endless and puts the game in the hands of the quarterback and offensive coordinator. You can take any one play away from my system, but this one.
I wanted to develop a play that allowed me as an offensive coordinator the freedom and ability to execute at a high rate no matter the level of opponent.
I was also tired of practicing quick game that we rarely used and were completely separate routes from our normal bread and butter offense.
I wanted to release the ball quicker and let my players catch and run. Keep the ball moving forward and negate the blitz.
By employing the principles in this book, I was able to utilize each one of these points, condense my playbook, and practice, practice, practice. My quarterback ratings, completion percentage, and yards all went up as a result. My playbook seemed a lot bigger in Hudl breakdowns, and made defensive coordinators spend more time on routes I might not run this week. It was like an effectively growing counter punch for a fighter. You can be sure that when the game is in need of a big play, or we just want to make a completion, 6 will be the play call. The routes, well they could be a million different combinations. I have found the secret to make the defense defend the vertical and horizontal areas of the entire field, and I want to share it with you.
Lessons
The Coach
Over a decade ago I started my journey as a high school football coach. I have been fortunate enough to work on some amazing staffs, that have accomplished record breaking feats. I first served as a Head Coach/Offensive Coordinator/Defensive Coordinator, in Georgia. Utilizing the Air Raid offense the teams were able to break numerous offensive records in rushing and passing, and lead the AAA state in passing yards.
During my first stint in the in the Air Raid, All school offensive records were broken, as well as players being recognized on the state and regional level for their accomplishments. Reaching the playoffs each year. In North Carolina, installing the Air Raid offense led us to producing 4,000 yards of total offense while compiling 2,000 rushing annually. We led the Western Piedmont Athletic Conference in total yards, passing, and team rushing. This helped us produce several all conference players, the Winston Salem Journal All Northwest Receiver, and the Offensive Player of the year. During my 6 seasons utilizing the Air Raid offense, the teams have gained 21,200 yards of total offense.
I am currently the offensive coordinator for the North Surry Greyhounds, in Toast, NC. I am a small part of an outstanding staff that is committed to teaching young me to compete and perservere on and off the field. If you are ever in the area feel free to stop in, we are always ready to talk ball. You can also follow me at www.coachpatricktaylor.com, and learn more about the Engineered Air Raid Offense.
This Course Includes
---
Lifetime access
Certificate of completion
100% money back guarantee
Course Info
---
| | |
| --- | --- |
| Rating: | (4) |
| Caterory: | Football/Passing Game |
| Bookings: | 121 |
| Duration: | |