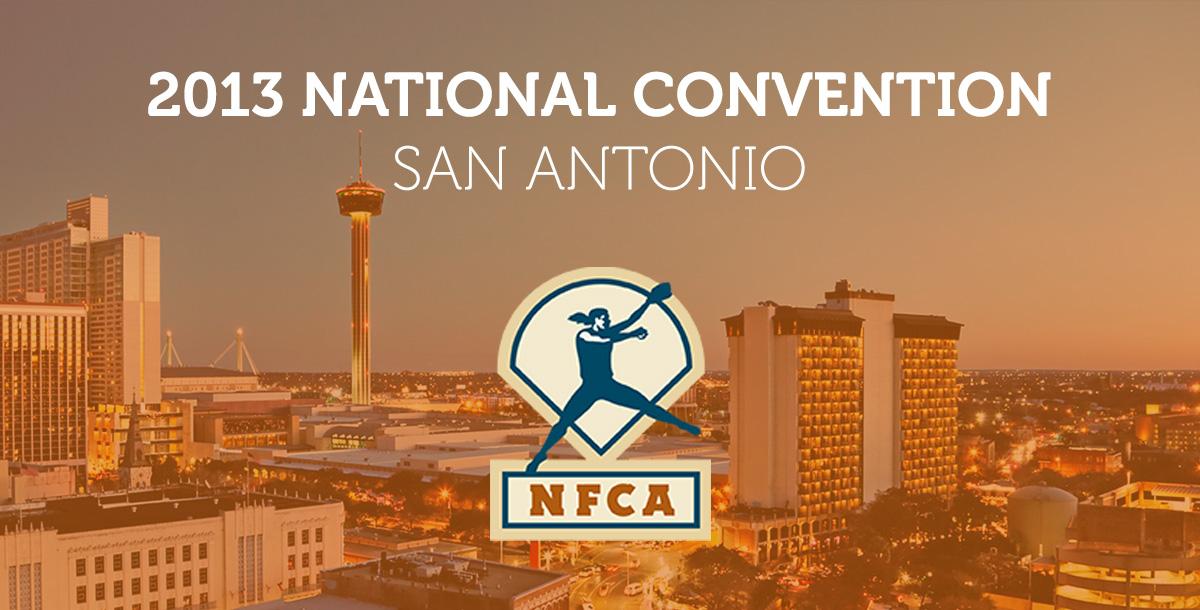 Description
Our 2013 "Viva Fastpitch" Convention held in San Antonio. The 2013 video package showcases various speakers from this convention. You have the opportunity to learn about coach & player relationships, the building of a softball business, and pointers on the mental game. As always, traditional skills presentations are available as well.
What's included?
Over 13 hours of educational softball coaching content
10+ speakers involved with the best college softball across the US
Are you an NFCA member? These videos are available to you for free within your members-only "Coach's Box" through the Education tab under Digital Education Library. Visit NFCA.org to log in.
Lessons
The Coach
2013
Dee Abrahamson, NCAA Secretary-Rules Editor
Dee Abrahamson recently retired after 17 years as an athletics administrator and 32 years of total service to Northern Illinois University. Abrahamson, who served as the Senior Woman Administrator for NIU Athletics, was the Huskies' head softball coach from 1979 to 1994, including a College World Series berth in 1988, and totaled an NIU career-record of 416-286-5. In her duties with NIU, Abrahamson oversaw internal affairs units of the athletic department including personnel, facilities, events, camps and clinics, in addition to oversight of several sport teams.
Abrahamson has served as the NCAA Softball Secretary Rules editor since 1996, and her responsibilities include all rule interpretations, editing the annual rulebook, and educational programs for coaches and umpires. She is nationally recognized as an expert in softball and bat technology, and is also the liaison to the National Federation of High Schools and Amateur Softball Association, which is the National Governing Body for the sport.
Bill Edwards, Head Coach, Hofstra University & Hofstra Staff
A 2009 NFCA Hall of Fame inductee, Bill Edwards has completed 24 seasons as the Hofstra University head softball coach and has been the architect of a program that has grown to national prominence. He has led Hofstra to the regional finals of the NCAA tournament six times in the last 10 years, and helped the Pride capture 11 straight conference tournament titles from 1998-2008, which is the longest streak in NCAA Division I softball history. His career record stands at 894-404-3 in 24 seasons.
Edwards guided Hofstra to a school-record 46 wins in 2013 en route to winning the CAA regular season and tournament titles. He led the Pride to its first-ever NCAA Regional crown and NCAA Super Regional in 2012, finishing just a single victory away from a Women's College World Series berth. In 2008, two triumphs at the NCAA Regionals in Hempstead allowed the Pride to finish 45-13, while winning the Colonial Athletic Association regular season and postseason championships. Hofstra also reached the regional finals at Alabama in 2005 and at Stanford in 2004, when the Pride won four games and fell just one why shy of reaching the Women's College World Series.
Jo Evans, Head Coach, Texas A&M University & Texas A&M Staff
In her 18th season at the helm of Texas A&M softball, Jo Evans has made her mark on the Aggies, taking them from a team with a lot of history into a formidable contender on the national stage. One of the winningest active Division I coaches in softball today, Evans has guided Texas A&M to a program-best No. 2 national ranking and a school-record, 12-straight NCAA Tournament appearances since 2002. Evans has led the Aggies to three Big 12 titles (2005 regular season and 2008 regular season and tournament), 14 NCAA Regional appearances (including 12 straight) and five NCAA Super Regional Appearances.
In her tenure, Texas A&M has advanced to the NCAA postseason 14 times, including two consecutive trips to the Women's College World Series (WCWS) in 2007-08. After A&M returned to the WCWS for the first time in 20 seasons in 2007, the '08 Aggies gutted their way to the Championship Series and posted a national runner-up finish in addition to the Big 12 regular season and tournament titles. Evans and Associate Head Coaches Joy Jackson and Mary Jo Firnbach were voted the 2008 NFCA Midwest Region Coaching Staff of the Year.

Lance Glasoe, Assistant Coach, University of Washington
Lance Glasoe was named an assistant coach for the Husky coaching staff back in 2008 and works primarily with the pitchers. During his time at UW he has helped the Huskies to a pair of Women's College World Series appearances and the 2009 NCAA Division I National Championship. A Puyallup, Wash., native, he previously served a two-year stint as pitching coach at Pacific Lutheran from 2006-2008. Glasoe also served as the director and lead instructor for Grand Slam Camps at various locations in the South Puget Sound Area.
Prior to coaching at Pacific Lutheran, Glasoe was the head coach at Bonney Lake High School from 2005-2006 and Sumner High School from 2001-2005. Under his guidance, Sumner made three consecutive state finals appearances from 2003-2005 and won two league championships. For his efforts, Glasoe was named Tacoma News Tribune All-Area Coach of the Year in 2005 and 2006 as well as being named Seamount League Pierce Division Coach of the Year in 2006 and South Puget Sound League Coach of the Year in 2005.
Rachel Hanson, Head Coach, Dartmouth College
Rachel Hanson was named Dartmouth softball head coach in the fall of 2010 and will begin her fourth season at the helm of the Big Green program in 2013-14. Dartmouth is coming off a record breaking 2013 campaign in which the Big Green clinched the North Division title and advanced to the Ivy League Championship series for the second time in school history. The Big Green set single-season records in batting average (.292), triples (16), home runs (33) and RBI (198). In her three-year tenure, Hanson has led the Big Green to 57 wins. Prior to her appointment at Dartmouth, Hanson spent five years as the head softball coach at the University of Dallas.
During Hanson's five-year tenure, she posted an overall record of 80-87, setting a school record for victories by a softball coach. She was hired as UD's head coach shortly after graduating from Trinity University in Texas and went right to work to turn the independent program into a winning program. After averaging 14 wins during her first three campaigns, the Crusaders posted a school-record 20 victories and featured the Association of Division III Independents (AD3I) Player of the Year and Rookie of the Year in 2009.
Sara Hayes, Founder & Owner, Powerline Consulting
After graduating from the University of Notre Dame in 1995, Sara Hayes coached collegiate softball until the summer of 2008. In that time, she had the privilege of working alongside, and learning from, some of the most enthusiastic, dynamic, and brilliant leaders of women's college fastpitch softball – Liz Miller (Notre Dame), Eugene Lenti (DePaul), Patrick Murphy (Alabama), Sue Enquist (UCLA), Brian Kolze (Pacific), and Kathy Van Wyk (San Diego State).
During the 2008 softball season, Hayes assisted San Diego State University, in putting together the most successful campaign in Aztec history thus far. Hayes was honored as a member of the Mountain West Conference Softball Coaching Staff of the Year, after the Aztecs won the conference championship and earned an automatic bid into the NCAA Regional softball tournament. She has four years of experience as a Division I head softball coach, including a two-year stint at Indiana University from 2003-04, where in 2004 the team celebrated its first winning campaign since 1996.
Yvette Healy, Head Coach, University of Wisconsin
Yvette Healy concluded her third season as head coach at Wisconsin in 2013 by leading her squad to a school record 44 wins, including 16 Big Ten victories, the most ever at UW. It marked the Badgers' third-consecutive 30-plus-win season under Healy. During the record-setting campaign, she also guided the Badgers to their first Big Ten tournament title, to the program's initial NCAA tournament appearance since 2005 and to its first NCAA tournament win since 2001.
Before UW she was in charge of the Loyola (Ill.) University program during the 2005-2010 seasons, leading it to a top-four conference finish in every season she was at the helm. She took over as head coach at Loyola in July of 2004 after spending two years as an assistant at her alma mater, DePaul. While with the Blue Demons, Healy coached five All-Americans as the team won the Conference USA title in 2003 and 2004 to make the NCAA tournament.
Corrie Hill, Assistant Coach, University of Texas
Corrie Hill recently completed her ninth season as an assistant coach at The University of Texas. Hill oversees and directs all aspects of the Longhorns' offense and serves as bench coach during games. Hill helped the 2013 squad earn its fifth trip to the Women's College World Series and its first national semifinal appearance since 2005 with 51 wins. During NCAA tournament play the Longhorns outscored their opponents, 41-18, and for the season UT posted the second-most runs in program history (356). Prior to coming to Texas, Hill was the head coach of UTSA's softball team for seven years. Hill's Roadrunners won two Southland Conference titles (2004 and 2005) and made the program's first-ever NCAA Tournament appearance in 2004, earning her Southland Conference Coach of the Year honors.
Hill started her coaching career as an assistant at UT Arlington (1989-92) before serving as head coach at Southeastern Louisiana (1992-95). She also had a one-year stint as an assistant and pitching coach at Baylor during the 1995-96 season. Hill played collegiate softball at Baylor and UT Arlington. She picked up team offensive player of the year honors while at Baylor before finishing her collegiate career at UTA after Baylor dropped its program. She began her post-collegiate playing career in the ASA majors with the Lone Star Lady Lights in 1989. She then starred as a catcher and first baseman for the softball Coors Light Silver Bullets in 1990-92.
Carol Hutchins, Head Coach, University of Michigan
Carol Hutchins recently completed her 29th season at the helm of the University of Michigan softball team in 2013, where she has molded the Wolverines into one of the elite programs in college softball. On December 8, 2006, Hutchins was inducted into the NFCA Hall of Fame in recognition of her coaching success and the indelible mark she has left on both Michigan and collegiate softball.
The hall of fame induction kicked off a series of career milestones that would come for Hutchins during subsequent campaigns. On February 28, 2007, she became just the seventh coach in NCAA softball history -- and the sixth in Division I -- to reach 1,000 career wins. Two months later, on April 29, Michigan picked up a home doubleheader sweep vs. Wisconsin (2-1, 2-0) to net Hutchins her 1,000th career win at Michigan, strengthening her position as U-M's winningest coach in athletic department history. On March 29, 2013, the Wolverines defeated Penn State 7-4 giving Hutchins her 1,300th career victory. She became just the third NCAA softball coach to top the 1,300-win plateau. She is now the third-winningest coach in collegiate softball history and the ranks second in career wins among active coaches.
Amanda Lehotak, Head Coach, Penn State University
Amanda Lehotak was named the seventh coach in Penn State softball history on July 22, 2013. She ventured to Penn State with seven years of head coaching experience under her belt, including the last two seasons at Texas-San Antonio. Lehotak guided the Roadrunners to a 27-26 overall record this past season to give the program just their second winning overall record in the last seven years. She also led the team to a fifth-place finish and a berth in the WAC Tournament in UTSA's first season in the conference.
Prior to her time at UTSA, Lehotak spent six seasons at Jacksonville University, including five as the head coach. The Dolphins improved their win total each of Lehotak's five seasons at the helm, culminating in a 44-16 overall record and 18-2 conference mark in 2011. That season, Jacksonville won the Atlantic Sun regular-season and tournament titles on its way to the first NCAA Tournament appearance in school history. Lehotak was selected as the 2011 Atlantic Sun Coach of the Year as her squad set school records for home runs, earned run average, shutouts and fielding percentage. Lehotak left Jacksonville with a school-record 137 wins.
Eileen Canney Linnehan, Assistant Coach, University of Illinois-Chicago
Eileen Canney Linnehan is in her third season as an assistant coach for the UIC softball program, where she leads the battery. The two-time All-American and former Northwestern pitcher has a wealth of playing experience at the collegiate, national and international level. During her playing days, Canney-Linnehan was a four-time letterwinner at Northwestern, which included a second- and third-place finish at the Women's College World Series and a two-time All-American. She then served as a member of two national softball teams, an international squad and most recently, the United States National Team.
In addition to her playing experience, Canney-Linnehan coached the 2011 Under Armour All-American high school game, where she led the nation's 30 best high school softball players as they showcased their talents during the ESPN RISE games. Canney-Linnehan also provides private instructions that develop upcoming players both physically and mentally. Canney-Linnehan's accomplishments as a player are evident as the Paradise, Calif. native was a member of the Northwestern softball team from 2003-07. During her rookie year (2004) she was named the Big Ten Freshman of the Year, in addition to being an all-Big Ten and NFCA all-Mideast Region selection each season (2004-07). During the 2006 season Canney-Linnehan assisted her team to a second-place finish at the Women's College World Series.
Diane Miller, Assistant Coach, University of Nebraska
After orchestrating an offensive revival at Colorado State, Diane Miller is producing an encore performance in Lincoln, leading the Huskers to outstanding offensive totals and more than a dozen school records in her first five seasons. Individually, Miller has produced 18 all-conference hitters in her five seasons, six all-region performers and one All-American, while also helping NU to the 2013 Women's College World Series.
Entering her sixth season in 2014, Miller's offenses have posted some of the best totals in school history. Nebraska has set school records in slugging percentage (.467 in 2011), on-base percentage (.391 in 2011) and walks (215 in 2013) in the past three seasons alone. The Huskers' power numbers have risen dramatically under Miller's guidance, as Nebraska has averaged 45 home runs per season over her first five years, after averaging 22 home runs per season in the five years prior to her arrival.
In addition to being the hitting coach, Miller also tutors the Husker catchers. She has made an enormous impact in that area as well, as she has coached three different catchers to a total of four all-conference and one All-America honor in her first five seasons.
Cheryl Milligan, Head Coach, Tufts University
A 1995 Tufts graduate, Cheryl Milligan has guided the Jumbos to four New England Small College Athletic Conference (NESCAC) titles, four NCAA berths and to the 2013 NCAA Division III National Championship (46-3 record). For her efforts in 2013 in guiding her alma mater to the national crown, she and her staff were honored as the NFCA Division III National Coaching Staff of the Year. Eight Jumbos have earned All-American honors during Milligan's tenure. She has also coached seven NESCAC Players/Pitchers of the Year.
A four-year starter at shortstop and an assistant coach for six years at Tufts, Milligan was promoted to head coach of the Jumbos in July 2003. She played every inning of the 120 games during her Tufts softball career. Her .377 career batting average is fifth all-time, and she is fifth on the team's career runs scored list with 119. Milligan was a member of the class that vaulted the softball program into annual post-season contention. The 1995 team hosted and won the ECAC North Championship, finishing 31 wins.
Eric Oakley, Head Coach, University of North Dakota
Eric Oakley enters his third season at University of North Dakota, after guiding the team to a 28-59 record in its first two seasons in NCAA Division I. The first two seasons saw 11 UND softball players receive All-Conference Honors with two first team selections, five second team selections and four honorable mentions. In his first year at UND the team saw an improvement in winning percentage as well as in most offensive categories, including Batting Average, Doubles, and Runs per Game, while decreasing UND hitters' strikeouts by 35 percent.
Before UND he spent five seasons as an assistant coach at EMU, including the last two as the program's top assistant, in charge of pitching, catching & base-running. He helped lead the Eagles to an NCAA Tournament appearance and a Mid-American Conference (MAC) tournament championship in 2007. He also served as EMU's interim head coach in 2010. In his last season, his second as the program's pitching coach, Oakley mentored a pitching staff that placed second in the MAC in earned run average (2.78) and boasted five MAC-West Pitchers of the Week. The team's overall ERA fell significantly from 4.57 in 2010 to 3.04 in 2011. During his tenure at EMU, Oakley coached EMU Career Runs-Scored record holder, Jessica Richards. Richards, who is now part of the UND Softball Staff, also holds the EMU record for Single Season Stolen Bases.
Terry Pettit, Founder, Terry Pettit Coaching Enhancement
As the Director of Leadership Academies at the University of Denver and Colorado State University, Terry Pettit served as a mentor coach to over 100 coaches, team captains and emerging leaders. He also presents and conducts workshops on leadership and team building for some of the most progressive athletic departments, and corporations in the country. For 23 years, Pettit was the head coach of one of the most successful athletic teams in NCAA history. Under his leadership, the University of Nebraska's women's volleyball team won 21 Big 8 and Big 12 conference championships while leading the nation in both All- American and Academic All-American selections.
He directed the Nebraska volleyball team to 43 NCAA tournament victories and the school's first national championship in women's volleyball 1995. Pettit earned National Coach of the Year honors in 1986, 1994 and 1996 before becoming a mentor coach to the University of Nebraska Athletic Department in 2000. In 2003 he began his current passion, Terry Pettit Coaching Enhancement.
What makes Terry Pettit's coaching and mentoring success even more unique is his ability to communicate a philosophy of leadership and team building that reflects his experience as a poet, journalist and championship coach. It is not often that a presenter on leadership is as comfortable drawing examples from modern poetry, architecture and contemporary films as he is from a game plan to beat the best.
Whether he is conducting a workshop on leadership and team building or making a keynote presentation on the characteristics of great coaching and team building, Terry Pettit will motivate you to rethink the patterns that lead to success.
Sue Rankin, Senior Research Associate, Rankin & Associates Consulting and Former Head Coach, Penn State University
Dr. Susan Rankin is a Senior Research Associate in the Center for the Study of Higher Education and Associate Professor of Education in the College Student Affairs Program at The Pennsylvania State University. Before moving into her current position, Dr. Rankin served for 17 years as the Head Coach for Women's Softball and Lecturer in Kinesiology at Penn State. She has presented and published widely on the impact of sexism, racism and heterosexism in the academy and in intercollegiate athletics.
Dr. Rankin earned her B.S. from Montclair State University in 1978, a M.S. in Exercise Physiology from The Pennsylvania State University (1981), and a Ph.D. in Higher Education Administration in 1994, also from Penn State. Her current research focuses on the assessment of institutional climate and providing program planners and policy makers with recommended strategies to improve the campus climate for under-served communities.
She has collaborated with over 70 institutions/organizations in implementing assessments and developing strategic plans regarding social justice issues. In her advocacy work, Dr. Rankin is a founding member of the Consortium of Higher Education LGBT Resource Professionals, a network of professionals doing advocacy work for LGBT people on college campuses and the Statewide Pennsylvania Rights Coalition, a network of individuals and organizations across the Commonwealth committed to securing and defending full civil rights for LGBT individuals.
Shawn Rychcik, Head Coach, North Carolina State University
In his initial season with the NC State Wolfpack softball team, head coach Shawn Rychcik led the squad to the 2013 ACC Championship title - becoming the first head coach in the history of the conference to do so in his/her first season. The Wolfpack offense flourished in its first season under Rychcik, breaking multiple program records, individual records and setting multiple ACC marks. Throughout his playing and coaching career, Rychcik has produced champions and championships.
In a 23-year hall-of-fame playing career, Rychcik won three International Softball Congress world championships and two American Softball Association national championships and twice was recognized by the U.S. Olympic Committee as the men's fast-pitch player of the year. In his 10 years as a collegiate coach - two as an assistant and eight as a head coach - Rychcik helped Boston University win four America East Tournament championships and four regular-season championships and led the Terriers to four NCAA Regionals, including three in the last four seasons. He's never had a losing season, overall or in conference play, in his nine seasons as a head coach.
Kevin Shelton, Head Coach, Texas Glory Fastpitch
Kevin Shelton served as an assistant coach until August of 2007 when he took over the management of the Texas Glory Gold. Shelton started coaching as an assistant with the Black Sox from 1997 through May of 2000. Prior to that he served as a Commissioner in Navy and spent an additional eight years, one month, 14 days in the submarine force. While in the Navy, he earned his master's in information systems.
After leaving the Navy in 1995, he worked for Procter and Gamble and Frito Lay in their marketing departments. He attended Clearlake High School in Houston, Texas where he played football and ran track, finishing in the top 10 percent in his graduating class. He also graduated from Texas A&M University where he studied Nuclear Engineering.
Marla Townsend, Head Coach, University of Alabama, Birmingham
Named UAB's first head coach on Sept. 1, 1998, Marla Townsend has guided the program since its infancy. In 2013, Townsend led her squad to its finest season ever, securing its first 40-win season and the Conference USA regular-season title while also making a fourth-straight appearance in the NCAA tournament. During NCAA Regional action the Blazers knocked off nationally-ranked Louisville and UCLA to advance to the NCAA Super Regional round for the first time in school history.
UAB was not Townsend's first head coaching position. Prior to becoming a member of the Blazer family, Townsend was the head coach of the Classic White Lightning 16-and-under Amateur Softball Association (ASA) team in both 1995 and 1996. The club won the ASA regional title and the state championship in both seasons.
Townsend also spent two seasons as the head coach at Pelham High School where she compiled a stellar 77-34 overall record. In 1998, Pelham finished fifth in the Alabama High School Athletic Association Class 6A Tournament and was tabbed as the No. 1-ranked team in Class 6A by The Birmingham News. Townsend is a two-time recipient of the Jefferson County Softball Coach of the Year award, was named the Shelby County Softball Coach of the Year and has also garnered high accolades as a player. Townsend earned First-Team All-America recognition in both fastpitch and slowpitch competition in 1992 and was a valuable outfielder on several national championship slowpitch teams.
Kirk Walker, Assistant Coach, UCLA
Kirk Walker returned to his alma mater on Aug. 7, 2012, to begin his second stint on the UCLA softball coaching staff. Walker, who was the head softball coach at Oregon State for 18 seasons, previously was a member of the Bruin staff from 1984-94. Walker returned to UCLA after spending nearly two decades at Oregon State. The all-time winningest coach in program history and the fifth-winningest in Oregon State history regardless of sport, Walker posted a 594-490-3 record (.548 winning percentage) and eight seasons with at least 40 wins. The Beavers made the postseason 10 times with Walker at the helm, including the 2012 campaign, which saw Oregon State post a 36-23 mark and set team records for runs batted in (269) and runs scored (301). Under Walker's tutelage, the Beavers earned 79 All-Pac-10/12 honors, 28 All-Region accolades and 10 All-American awards.
In 2006, Walker led the Beavers to their first-ever appearance in the Women's College World Series, as OSU posted a school-record, 28-game winning streak and reached No. 5 in the national rankings with a 43-16 overall mark. In 2005, he guided Oregon State (43-16) to its first-ever Pac-10 Championship (and the first regular-season Pac-10 title for any OSU women's sports program), earning Conference Coach of the Year honors for the second time (1999).
Tim Walton, Head Coach, University of Florida
Head coach Tim Walton has changed the face of Florida softball since his first season in 2006, establishing the program as a national powerhouse in just eight years at helm of the Gators squad. Under Walton's tutelage, the Gators became the first Southeastern Conference institution in history to earn four consecutive Women's College World Series berths, as Florida's 2011 team worked its way to a second WCWS Championship Series appearance, its second in a span of just four years in Oklaoma City. In his eight years at Florida, Walton has led the Orange and Blue to countless school and SEC records, as his squads have earned numerous firsts for the Gator softball program.
In 2013 the Gators swept the SEC regular-season and tournament crowns on the way to a berth in the Women's College World Series. In 2011, UF advanced to an unprecedented fourth straight WCWS, including its second trip to the Championship Series. A four-time SEC Coach of the Year, Walton has led the Gators to the NCAA Tournament every year of his tenure, hosted Regionals all eight times and played host to NCAA Super Regionals five times.
Aaron Weintraub, Mental Training Expert
Aaron Weintraub (also known as "Coach Traub") earned degrees at Emory University and a Master of Education from the University of Virginia, majoring in Sport Psychology and Motor Learning. He is a disciple of the late, great Harvey Dorfman, who wrote The Mental Game of Baseball and other books. Coach Traub is honored to be called "Coach" by quite a few people over his 21 years in coaching. He coached college baseball for 13 years with success at: Emory University, Presbyterian College, Brevard College, The University of Virginia and Cedar Valley College.
He has been a full-time mental skills coach, consultant, and author for eight years, working with individuals and teams in all sports from figure skating to golf to softball to football. Weintraub has, on multiple occasions, taught mental skills to parents and athletes jointly with 19-time World Champion sprinter Michael Johnson. He has authored two books: A Coaches Guide to Winning the Mental Game andLeadership Training for Softball and has also put together a mental skills training workbook for athletes, a mental skills training workbook for coaches and organized three Mental Skills Training Full-Day Workshops for professional coaches.
Weintraub has spoken at many coaching conventions, including the American Baseball Coaches Association, the Texas High School Baseball Coaches Association and Frank Glazier Football Clinics.
This Course Includes
---
24 hours on-demand video
Streaming from mobile and TV
Lifetime access
Certificate of completion
100% money back guarantee
Course Info
---
| | |
| --- | --- |
| Rating: | (0) |
| Caterory: | Softball/Fundamentals |
| Duration: | |
| Videos: | 15 |