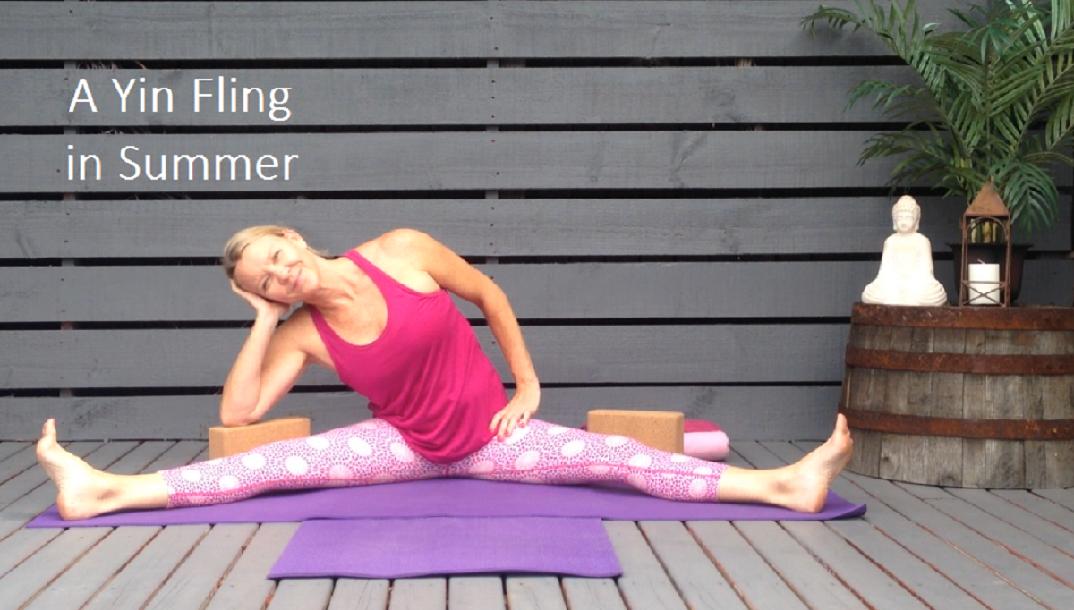 Description
Powerful and Passionate
Come pique your curiosity and soothe your senses with a foray into Yin Yoga. This is the perfect practice to complement the more dynamic 'Yang' practices like Ashtanga or Vinyasa Yoga. Yin Yoga consists of mostly floor stretching poses, typically held for 2-5 minutes. Yin poses apply moderate stress to the connective tissues, tendons, fascia and ligaments, with the aim of increasing circulation in the joints and improving flexibility. It also improves the flow of 'Chi' (energy) through the meridians (energy channels) of the body, as in the Chinese Medicine Theory.
A Yin Fling in Summer was designed for the season of summer so poses used target the meridians (energy channels) of the Heart and Small Intestines and also include a second organ pair, the Pericardium and the Triple Burner. According to the Chinese Five Element theory, the body is made up of the same five primary elements that exist in nature – Wood, Fire, Metal, Earth and Water. Each of these elements links to different organs, and affects us physically and psychologically.
In summer the Fire Element is strongest, so activating the meridians of the heart, small intestine, pericardium and triple burner brings balance to these organs, providing us with the ability to draw on the expansive warmth of fire and reach out and relate to the world like a blossoming flower.
The poses in Yin are held typically for 2 – 5 mins which is needed to eustress the tendons, ligaments, fascia, muscles and joint capsules. Maximum intensity is never the aim in Yin Yoga so we do not take joints to their extreme ranges of motion, instead we aim for 60 – 90 % intensity. In these long holds you will practice mindfulness, noticing what is going on in your mind at any given moment, but not get carried away by it.
Before you start the class I suggest you read the Yin Yoga Practice Guidelines document, so you have an understanding of the safest way to practice.
You can expect a cooling pranayama (breath-work) and poses that activate the inner and outer arms, side-bends, twists, heart opening back bends and soothing forward bends. This class encourages endless expressions of power, strength, joy, love and compassion.. Come practice with me!
Lessons
The Coach
Martine Ford first started Spirit Yoga in Port Macquarie in 2010 after a desire to share her knowledge and passion for yoga with others. Classes taught by Martine FORD are FORDified Flow (Power Yoga), FORDified Fusion (Barre) and FORDified Femme (Yin Yoga). A former professional dancer, she has an extensive background in dance as well as numerous yoga studies/certification in: Power Yoga, Core Strength Vinyasa, Yin Yoga and Kids Yoga.
"I aim to make yoga accessible and affordable to most ages by offering a mobile service, teaching in various locations including: home, office, halls and outdoors. I come to you so you can practice and be challenged in a comfortable environment."
Martine's classes are powerful, playful and nurturing and you can practice a class locally, online or download one of her e-books on Amazon. She has also taught numerous classes, courses and workshops including presenting at Ekam Yoga Festival.
Martine has trained with Duncan Peak and Power Living Australia Yoga (Advanced Power Yoga), Zenergy Kids (Advanced Kids Yoga), Jo Phee (Yin Yoga), Sadie Nardini (Core Strength Vinyasa - CSV) and Donna Farhi. She also has over a decade teaching experience.
Testimonials by Happy Students
This Course Includes
---
24 hours on-demand video
Streaming from mobile and TV
Lifetime access
Certificate of completion
100% money back guarantee
Course Info
---
| | |
| --- | --- |
| Rating: | (1) |
| Caterory: | Yoga/Fundamentals |
| Bookings: | 53 |
| Duration: | |
| Tags: | yin yoga , femme , summer yoga , yin fling , heart and small intestine meridians , fire element , pericardium and triple burner , sheetali pranayama , cooling breath , spirit yoga , powerful and passionate |