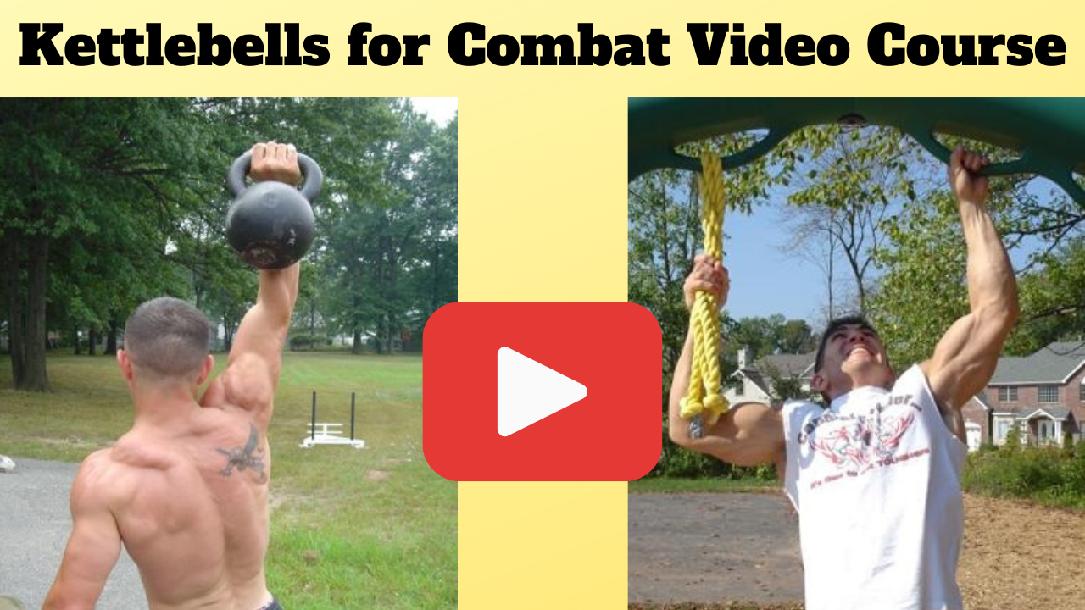 Description

Video # 1: 49 Minutes

Video # 2: 46 Minutes
In the early 2000s, my friend, Jason C. Brown and I were creating Training DVDs that sold around the world. Yes, DVDs. What Jason and I were doing 20+ years we are now starting to see pop up elsewhere. We were far ahead of the curve and the reason is because we were and still are Coaches who were testing, experimenting and training on a daily basis. We were NEVER "influencers". We were training athletes in BJJ clubs, wrestling clubs, in our garages, backyards and and local playgrounds.
We actually applied and tested our training methods to see what worked and what didn't work.
Kettlebells for Combat became one of our best selling DVDs for MMA Fighters, Wrestlers, BJJ Athletes and other combat athletes like Football players, and LAX athletes.
NOTE: These Videos were NOT filmed in HD because it was NOT available in the early 2000s so the quality of the video is less than the videos of today!
Stand up fighters such as Boxers & Muay Thai fighters along with First Responders, LEO & Military also loved these videos. Jason was training special forces soldiers while I was being brought in to train D1 Wrestlers, Marines, FBI and other high level people who needed training that truly had transfer to their sports and / or career.
Training Proven to Transform You or the Athletes You Train Into an Agile, Mobile & Hostile Performance Machine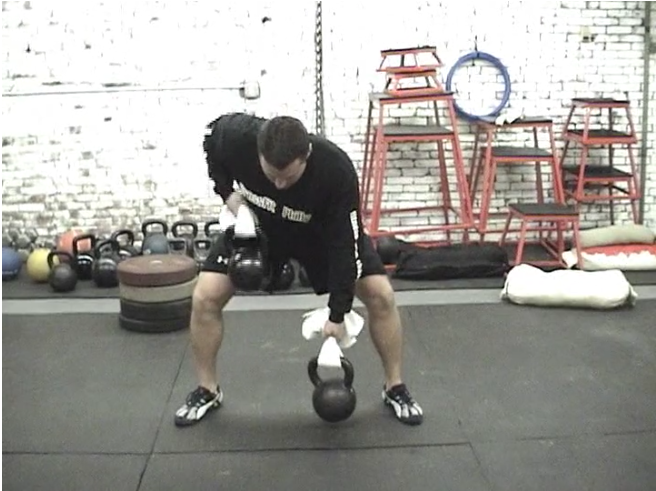 Here's just some of what we cover inside The Kettlebells for Combat Video Course:
· What exactly "Loaded Conditioning" is - and how to use it to your benefit for developing 3 of the most important traits for combat athletes: Strength Endurance, Muscular Endurance & Isometric Strength Endurance.

· Discover how to use the Kettlebell techniques that have been proven to Increase your power and explosiveness. You will learn exactly which exercises you need to do to increase your power and speed from the hips, legs, upper and lower body.

· How to use towels and ropes with Kettlebells to dramatically improve your hand and grip strength.

· The Most effective Kettlebell Circuits that increase your overall conditioning so you can out-perform your competition time and time again.

· Over 15 Towel-Kettlebell combinations to develop grip endurance & full body strength.

· How to incorporate The Contrast Method for full-body power using bands and Kettlebells.

· 8 variations of Kettlebell - Box Jump combos for increasing speed & power in your takedowns, throws and guard.

· 15 Kettlebell Swing variations that will turbo charge your combat conditioning, strengthen your combat specific grip and rotational power.

· Discover how to improve your starting strength and explosive power with special Kettlebell exercises.

· 8 variations of Kettlebell Cleans for increased hip, back & leg power.

· 15 different pulling & rowing exercises that develop strength & power from every possible angle. You never want to feel uncomfortable or WEAK in certain positions or situations, hence this multi faceted approach towards training.
Kettlebell Training Methods Used to Develop Dominant, Powerful, Resilient Athletes.
Develop Joint Integrity, Mobility, Flexibility & Conditioning that NEVER Quits.
Whether you're a Coach, a Combat athlete, active duty Military or LEO, this Video Course will give you the knowledge to take your training & performance to new heights.
If you're a Coach, this is an opportunity to arm yourself with knowledge to change the lives of your students.
If you're an athlete or an adult doing what we call "Training for Life" - this is the training methods you need to follow to ensure you are prepared for life or work, especially when The Sh-t Hits the fan!
If You're Always Ready, You Never Have to Get Ready!
As I've gotten older (Age 46 at the time of this writing) I feel that I lose my mobility and overall athleticism when I get away from regular use of Kettlebells. I notice the same thing in the athletes I train.
The barbell will always be the King of the weight room, but "Strong & Useless" is never our goal. When there is too much focus on the barbell lifts, your body feels beat up, tight and immobile. For athletics, you need to be able to move. You need athleticism.
Implementing the training from this Video series will give you the advantage you need.
One of the athletes I used to train in the early 2000s became a Coach at The Underground Strength Gym after 2010. He then was hired at a D1 University and we had a conversation where he told me.......
I felt my most athletic and most explosive when I used Sleds, Kettlebells and Bodyweight. The barbell made me strong but I always felt like I was a step slower compared to Sleds, Kettlebells and Bodyweight.
Only $97 $37
Lessons
The Coach
Zach Even - Esh is the founder & owner of The Underground Strength Gym and began training athletes full time in 2002. Since then, Zach has trained athletes ranging from youth to the D1 level on a daily basis. In 2008 Zach created The Underground Strength Coach Certification and in 2020, Zach created The SSPC Cert (Strength & Sports Performance Coach). Zach has coached at Rutgers & Lehigh University while working with their wrestling teams, consults with D1 Coaches and has also consulted for NSW (Naval Special Warfare). Zach continues to train athletes and on average works with 150 athletes each day. With over 25 years of Coaching experience, Zach has been sought after worldwide for training expertise.
This Course Includes
---
Lifetime access
Certificate of completion
100% money back guarantee
Course Info
---
| | |
| --- | --- |
| Rating: | (0) |
| Caterory: | Health & Fitness/Strength Training |
| Duration: | |