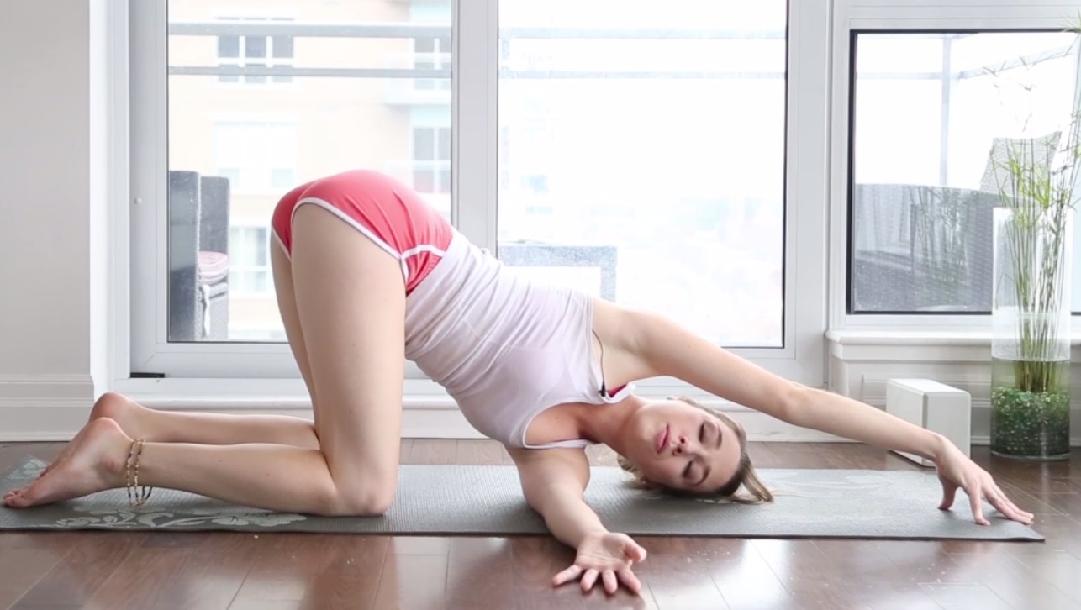 Description
A two-week program for a stronger, leaner more stress-free you!
FLEXIBLE SCHEDULE
Take it in the morning, or take it at night. Start by yourself today or sign up with your friends and start together. It's up to you! These classes are yours to own forever. You can either stream them OR download them to your computer, tablet or mobile phone to watch them without an internet connection.
THE PERFECT BALANCE
Get the best of both world by integrating two different styles of yoga for strength, balance AND flexibility. Vinyasa flow helps you get stronger and more balanced, while yin yoga improves flexibility and melts away stress and anxiety. The perfect combination for a well-rounded practice.
REACH YOUR GOALS
I believe the key to getting back to a regular and consistent yoga practice is to take small actionable steps. Stay on track and stay motivated by doing shorter classes that easily fit into your schedule. Classes are 20-30 minutes long and very effective!
EXTREMELY AFFORDABLE
The value of this program is extremely high but I have decided to price it much lower than what it's worth because I want you to be able to easily afford this! This 2 week program with tons of bonus goodies is less expensive then a cup of coffee a day... A small price to pay for better health!
HIGH QUALITY YOGA CLASSES FOR ALL LEVELS - This course features fourteen different lessons, all based on an effective and engaging sequence: two days of vinyasa flow, followed by one day of yin yoga.
VINYASA FLOW is a great workout that helps you get stronger and leaner, without pushing yourself too hard. It is a dynamic form of yoga that links together movement and breath.

YIN YOGA is a restorative form of yoga based on holding passive poses for an extended period of time. It is often called the yoga of the joints. If you want increased flexibility, look no further! This is it! Yin Yoga is also a wonderful way to practice mindfulness and ease stress and anxiety.
CURRICULUM:
DAY 1: VINYASA BASICS We'll start off the 14-Day Challenge with vinyasa basics and the essentials of flows.
DAY 2: UPPER BODY STRENGTH Strengthen your arms, chest and upper back with this powerful practice.
DAY 3: YIN FOR HIPS Open up your hips and increase flexibility with these passive poses.
DAY 4: CORE & PLANKS Challenge your core strength with these fun plank pose flows.
DAY 5: SIDE BODY Stretch and strengthen your side body, focus on the waist, obliques and IT band.
DAY 6: YIN FOR UPPER BODY Soothe neck, shoulder and back tension with this yin yoga practice.
DAY 7: BACKBENDS Learn how to practice backbends safely and effectively to get a healthy spine.
DAY 8: LOWER BODY STRENGTH Strengthen your glutes, quads and hamstrings with these standing poses.
DAY 9: YIN SIDE BODY Stretch into your side body and feel comfortable from head to toe.
DAY 10: BALANCE Learn to balance with these fun asymmetrical poses to improve coordination and focus.
DAY 11: TWISTS Detox and flow with these dynamic twists to help ease lower back pain and improve digestion.
DAY 12: YIN FOR HAMSTRINGS Stretch out tight hamstrings and improve lower body flexibility.
DAY 13: FLOOR CORE WORK Work your abdominals and back muscles with this core strengthening practice.
DAY 14: GENTLE YOGA Finish off the two-week practice with a nice and easy gentle yoga session.
BONUS - 7 CORE YOGA WORKOUTS
1. Lower Adominals
2. Obliques
3. Back Strength
4. Glutes
5. Endurance
6. HIIT Core
7. Hip Flexors/Planks
Learn how to do yoga at home with this simple guide of 100 yoga poses!
10 Reclined Poses
17 Seated Poses
24 Floor Poses
27 Standing Poses
10 Arm Balances
11 Inversions
8 Simple Sequences to try at home!
BONUS #1
You will also receive 7 amazing and quick workouts to get a stronger core and more defined abdominals!
BONUS #2
You will receive a copy of my "Yoga at Home - 100 Poses" ebook to help you refine your home practice!

On top of this, by purchasing this product you also get LIFETIME ACCCESS! This means that every time I add something new to the program, you'll get it automatically, free of charge!
"We tried Kassandra's downloadable yoga program and we have to say it is truly incredible. The videos are professionally filmed in a beautiful bright setting along with great background music, just like in your live yoga class. And Kassandra provides an excellent yoga workout for both body and mind. The downloadable classes provide a good mix of flexibility and strength, and help to reduce stress, while offering yogis at all levels versatile flows to enhance their practice." - Try Belle Magazine

"I've noticed a huge difference in my body after 2 weeks of consistent practice! My hips are more open, my stomach looks flatter and more importantly I feel better in my skin. I think I'm also calmer. I'm a big fan of the bonus 7 quick core classes!!! They are fantastic for me to do when I'm on the go and want a good challenge. It's amazing to me that this costs less than $2.50 a day... the value I've gotten is priceless." - Camille L.

"Loved this course. Kassandra was a wonderful instructor, she offered easy to follow routines without having to constantly watch the screen. Even though I have been practicing yoga for years I have not found many recorded classes I have enjoyed. I will be going back to these practices again and again." - Blair

"I'm so glad I purchased this course, worth every penny! I love that I can keep the classes for life and do them over and over again.They are fun and challenging without being too hard and since they are 20-30 minutes long, I can easily fit them into my schedule. Kassandra's instructions are really clear so I can always follow along and know how to modify poses if needed. So happy with this purchase!! - Amanda

"I'm at Day 7 and loving the challenge. I'm finding it a good mix of postures I'm comfortable with plus new challenges that mean I can really fell some muscles working in new ways. My hips are freeing up too and they were in a terrible state from too much driving! Thank you - it's great." Nicole

"This was exactly what I needed to get back into a regular yoga practice. I was stuck in a rut and hadn't done yoga for a few months. I was unmotivated and had very little energy. This is the best $35 I have ever spent! The classes are all easy to follow and the themes are super creative. The fact that every class had a different focus kept me curious and motivated to get on my mat every single day. I've already completed the challenge 3 times now and plan on doing it again a 4th time. It's great to do at the beginning of the season to get focused and energized! HIGHLY RECOMMEND!" - Cynthia M.

"Easy to follow and affordable. Exactly what I was looking for! My favorite part of this challenge is the variety of the classes. Since each day has a different theme I never get bored and am always challenged. Thank you Kassandra!" - Sylvia

"I loved the variety of the yoga classes and the bonuses we're a really nice addition. I use the ebook whenever I feel uninspired with my home yoga practice and it helps me keep up with my practice. I've already done the 14 day challenge twice now and I'm really grateful that Kassandra is offering it at such a low price, it's extremely good value. - Iman
Lessons
The Coach
Kassandra Reinhardt is the world's leading Yin Yoga instructor online with 6 Million YouTube views, 90,000 subscribers, and 3,000 more joining every month. Her videos have served as the introduction to Yin Yoga - and the motivation - for thousands of people around the world to experience the benefits of a daily yoga practice.
What started as her own personal sadhana to ease stress and anxiety, quickly unraveled into her greatest passion, exciting career and a whole new way of life. Yin Yoga is about letting go and allowing the body to open up, without force or strain. Kassandra embraced this practice of "allowing" in 2012 and saw her life open up by completing her 200-hour yoga teacher training. In 2014 she picked up her smartphone to film her first YouTube lesson and that same year completed a Level 1 Yoga Therapy training with Phoenix Rising. She is currently completing a 300-hour YTT with Sianna Sherman.
DK Books will publish Kassandra's book Yin Yoga this fall, and her classes are now available on the popular yoga platform Grokker. With an audience online of 50,000, Kassandra represents a number of popular yoga brands, including My Inner Fire, Yogi Approved and Yogi and her blog made it on DoYouYoga's Best Yoga Blogs list of 2016. In her keynote workshop "From Hustling to Allowing," Kassandra teaches yogis and wellness practitioners how to create a prosperous online platform with integrity and ease.
This Course Includes
---
24 hours on-demand video
Streaming from mobile and TV
Lifetime access
Certificate of completion
100% money back guarantee
Course Info
---
| | |
| --- | --- |
| Rating: | (0) |
| Caterory: | Yoga/Fundamentals |
| Duration: | |
| Videos: | 20 |