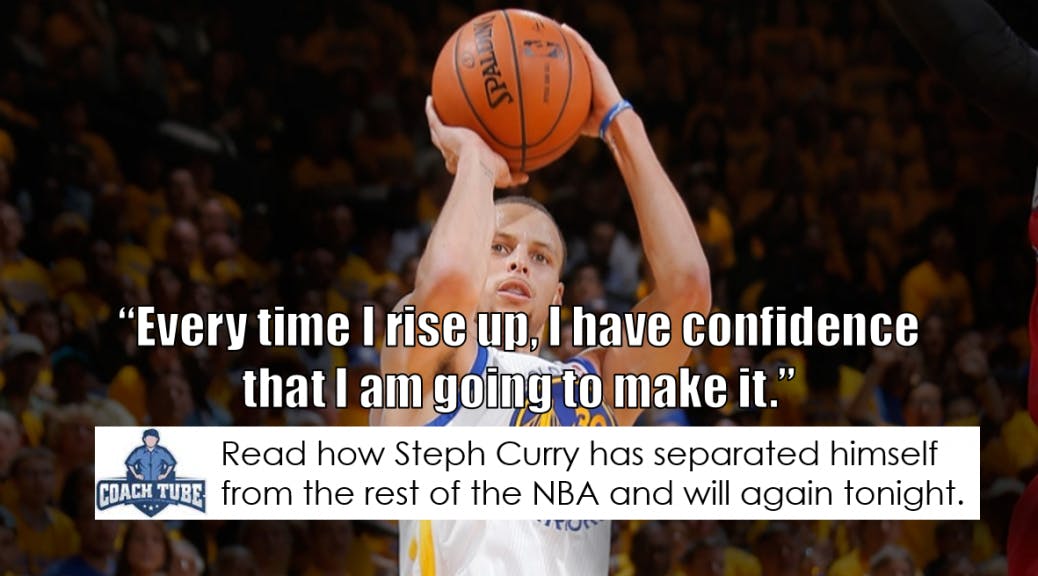 ---
The player who stands before us today holding two consecutive NBA MVP trophies and leading his team to this years NBA Finals was not always this popular. Unlike his multi-sport father drafted twice by the MLB only to turn them down and have a 16-year NBA career, his son had to fight for his title. He was an average high school player; he went to a mid-major university and was counted out as soon as he got to the league. At each phase of his basketball career Stephen Curry was doubted, but still found a way to outlast his peers.
Here are the 3 reasons that have separated Stephen Curry from the rest of the NBA.
Plethora of Shots
Shooting is the most valuable skill any individual player can have.
If you can put the ball in the basket at a high percentage, there is always a team for you; however the problem most of these shooters have is they specialize in only one aspect of shooting.
Whether that is a spot on the floor, off the pass or off the dribble they usually do one maybe two at a high level and the rest suffer.
Stephen Curry is not like most shooters. He can come off screens, isolate a defender, step back, one leg, two legs, off balance, on balance, wide open and (even with a man in his face) shoot at a high level. This is unconventional in many ways and coaches would rarely give a player the freedom to shoot the ball from a multitude of angles but once again Stephen isn't just any player.
He worked to develop a shooting ability that is unparalleled. Many fans would agree Stephen has never come across a shot that he didn't like, but it's very hard to argue with a man that makes nearly 45% of everything he shoots.
Ball Handling Ability
Every team has to plan for the best shooter on the opposing team. That can include crowding him with the best defender, running a box and one or even double-teaming him wherever he goes.
Stephen Curry has faced every defense known to man when it comes to defending a shooter and has found a way to still succeed.
But being just a pure shooter at 6-3 has its limitations when considering a career in the NBA. He had to develop another skill to make up for the lack of size and it had to be one that could get him where he wanted on the floor without the need of a screen or dribble penetration by a teammate.
Spending his entire life on the court crowded by defenders, the skill that would be most valuable to him was ball handling (Check out our free ballhandling course from Koran Godwin). If a player can shoot from every spot on the court as well as break down the defense when he puts it on floor, how do you stop them? The answer is you don't.
Stephen Curry has some of the best ball handling skills in the league giving him the ability to create the slight space he needs to get a shot off whenever he needs to.
Underdog Complex
With all of the skills that Stephen Curry has developed there has been one external factor that has remained constant. He has always been considered an underdog.
In high school he was a three star recruit with boyish looks and a small frame. Having to accept a scholarship to a mid-major school in his home state of North Carolina he used that motivation to excel at Davidson University. Stephen averaged nearly 22ppg as a freshman and didn't stop till he averaged 28.5ppg as a junior before entering his name into the draft.
Even after showing all of the high-major schools what they missed out on and dominating the competition, the NBA still had the audacity to doubt his talents once again.
Selecting three other college guards ahead of him, Curry once again had more motivation to prove himself on the biggest stage. Improving every off-season to silence the critics, he outlasted the guards in his draft class and began to dominate the competition. Setting records and appearing in all-star games, he turned all of his doubters into fans after winning the 2015 NBA Championship. His legendary workouts have been captured on film. Check him out here and the story of him hitting 77 three pointers in a row in practice.
The ultimate award for someone who had been analyzed and critiqued his whole life has now been recognized as the most valuable player in the world twice. The mind frame to go from a mediocre high-school player to an undersized college star and then become the best in the NBA is unheard of. It can only be categorized as the Underdog Complex, an intrinsic motivation created by external factors leading to extraordinary results.
It goes without saying Stephen Curry is a one of a kind athlete that doesn't come along very often. However, just like all great players, there have been factors contributing to his success others can adopt for themselves.
He wasn't a high school draft pick or born so tall he had to duck through doorways. Stephen Curry had the work ethic and determination to surpass whoever was put in front of him, and that is something we can all learn from.
---