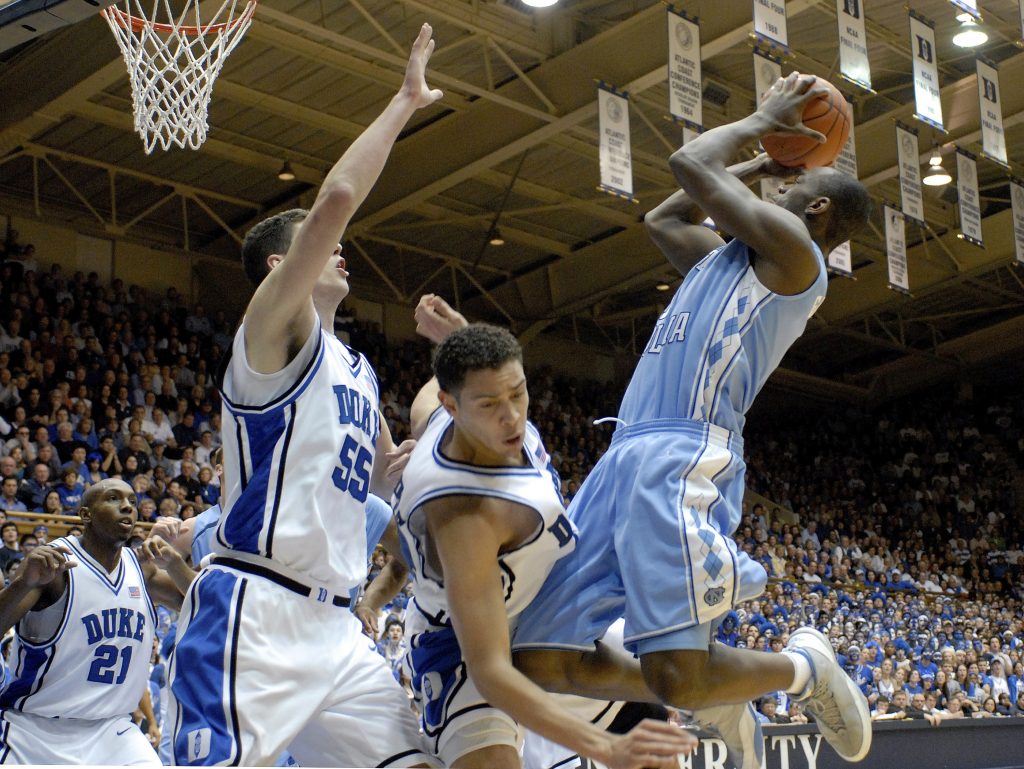 ---
Born in Rochester, NY, Marcus Ginyard has had quite the ride throughout his basketball career. From playing on a star-studded AAU team in his teens to playing college ball with the UNC Tar Heels, one of America's elite basketball powerhouses, Ginyard's skills on the hardwood speak for themselves.
During his stay at North Carolina, Ginyard racked up a reel of honors thanks to his defensive prowess and was a member of the 2009 National Championship team. After going undrafted, Ginyard chose to take his talents overseas and play professionally in Germany, where he averaged 11 points a game with BBC Bayreuth.
For his second season, Marcus signed on with Ironi Nahariya in Israel and quickly excelled, averaging of 21 points and 7 rebounds a game. In his third season, he made it back up to a top division in the Polish Tauron Basket Liga, playing with Anwil Wloclawek. Marcus led his team to the semi-finals and once again was a double-digit scorer.
He later signed with BC Azovmash of the Ukrainian Superleague, averaging over 15 points a game and putting together yet another effective campaign in overseas hoops. He is now back in the states, playing for the Westchester Knicks of the NBA D-League.
Growing as a Player While playing in Chapel Hill, Marcus Ginyard was largely known as a defensive-stopper. He was a coach's dream – willing to work hard, make the hustle plays, and devote his energy to neutralizing the opposition's most dangerous scorer.
As his career has progressed, the rest of Ginyard's game has gradually elevated to the level of his defensive prowess. Ginyard has become an effective, efficient scorer on the offensive end and has rounded himself out as a complete player.
Serving as a Role-Model In today's world, most kids look up to their favorite athletes. While not all athletes embrace the responsibility of being a role model, Marcus Ginyard has chosen to make his life a positive example.
Along with his talents on the court, Marcus has been a consistent advocate for education and academics. While playing at UNC, despite the pressures and spotlight of a national championship victory, Marcus completed his bachelors degree in Communications.
He also hosts an annual basketball camp in Alexandria, VA designed to work on the fundamentals and provide a fun learning experience for kids.
Recently, I had the chance to catch up with Marcus and discussed various things about his basketball journey.
BO: Could you describe the role your older brother, Ronald, had in your growth as a player?
MG: My brother has played a very important role in my growth as a young player, and even now as a professional. He was an assistant coach at my high school for my last two years, which was a huge boost for me. It was a blessing to be coached by someone I had such a strong relationship with. It was much easier for me to take criticism and direction from someone I knew wanted the best for me. Even to this day, my brother works me out in the off-season.
BO: You played on an AAU team with guys like Ty Lawson and Roy Hibbert. How much importance do you think teen basketball players should put on playing in the AAU circuit based on your experience?
MG: My experience in AAU will be significantly different than the experience that young teens will have now. The atmosphere has changed drastically. For me, it was a very effective way to be surrounded with top players, and play against top competition. When I was coming up, the AAU circuit was one of the best ways to showcase your talents for the college coaches.
BO: After breaking your wrist before your freshman season at UNC, can you break down the rehab process that got you ready for the start of the season?
MG: I had surgery on my wrist in August of 2005 and was cleared for the first practice in October. My rehab process was very intense, but we had to be aggressive if I wanted to be available for all of my basketball activities. After placing a screw in my bone, there was no question about the strength of the bone, the only issue was my mobility and range of motion. The great thing about a hand injury is that I could still condition and keep myself in pretty decent shape. Throughout my injury, I continued to lift weights one handed.
BO: At UNC, you were coached by Roy Williams. As a lifelong Jayhawk fan, I know plenty about Coach Williams. What would you say separates him from other coaches in college basketball and how did he put you in the right place for success?
MG: I think what separates him the most is his passion for the game along with the passion for his players. He cares deeply about how his players progress as players and as people. His resume speaks for itself, but ask anyone about his or her time with Coach Williams, and everyone will have great things to say about his character. The game of basketball is such a great teacher for life, and Coach Williams always taught us how to approach our games and our lives with intensity, integrity and passion.
BO: Being a defensive stopper, is there any player currently in the NBA who you see resemblances from your game? Do you believe every team needs a guy that can go out and shut down (or at least throw them off their rhythm) a Kevin Durant or LeBron James?
MG: There are a few players that come to mind. Matt Barnes and Tony Allen come to mind first. I do believe every team needs a player that not only defends well, but takes a high level of pride in stopping their opponent.
BO: In a landscape mired by one-and-done's, could you tell our readers how important it was for you to stay all four years and get a degree? Also, what would you tell younger guys that think about leaving early, despite the draft situation not being entirely clear, maybe like Aaron Harrison (Kentucky) or Christian Wood (UNLV) from this most recent draft?
MG: The one and done situation is a very difficult thing to navigate. I am extremely blessed to have completed my school and earned a degree from UNC. Getting an education was the top priority for me going into college. For the younger guys that are thinking about leaving early, I would say to find a very small team of trusted individuals to help make the decision. Those people are not the same for every player. For some players their families may take them in the wrong direction, for others they will keep them grounded. But in the industry of professional sports, there is only a small window of time that you can earn a living with your body being in its prime, which makes things a bit more complicated.
BO: How would you compare playing overseas versus in the United States?
MG: I have absolutely loved playing overseas. It's an incredible opportunity to see the world, play a game you love, and earn a living at the same time. I've been lucky to play for some great organizations, and for enthusiastic and supportive fans in countries I had never been to. In the last 5 years, I have been able to travel to over 25 countries as a result of being a professional in Europe.
BO: Many players might be hesitant to play overseas due to the language barrier. Was this much of an issue for you during your various stops?
MG: This was a non-issue. It's good to be out of your comfort zone.
BO: Lastly, you're back in the States now playing with the Westchester Knicks of the D-League. What ultimately made you want to return and is playing in the NBA your ultimate goal for your basketball career?
MG: I am not currently playing for Westchester, but I did spend some time with them last season. At the time, the D League looked like a good option for me to play, and to be closer to an opportunity to break through into the NBA. My ultimate goal is to play at a high level. I am not fixated on the idea of playing in the NBA. Having a chance to play in the NBA would be a dream, but not playing in the NBA does not make my basketball career a failure.
I'd like to thank Marcus for participating in this interview and wish him the best in the future.
For more from Marcus, check out MarcusGinyard.com or follow him on Twitter @MG1NYARD
---