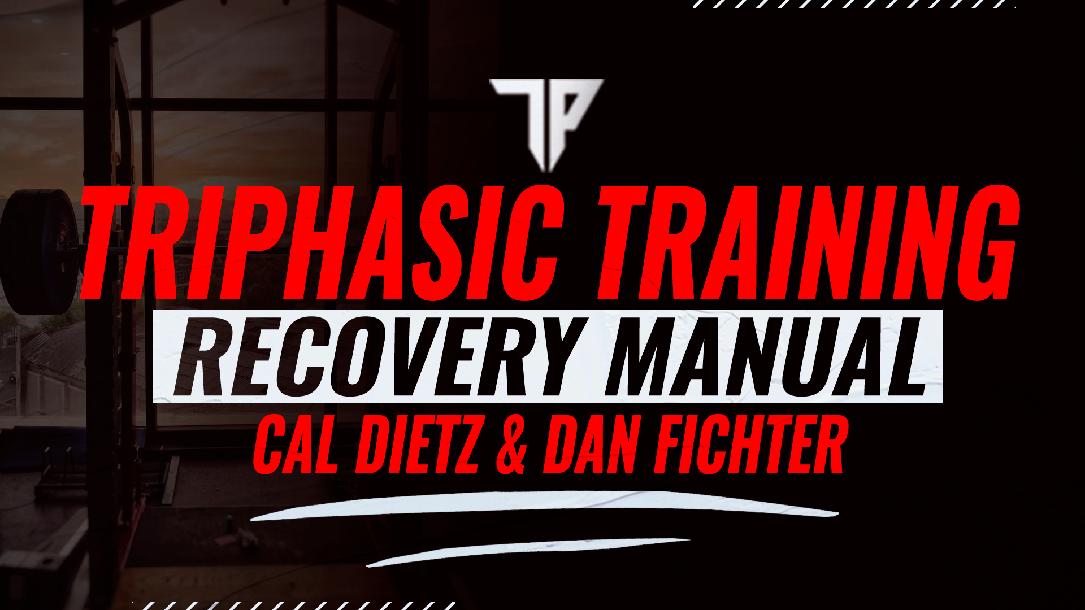 Description
Authors DAN FICHTER and CAL DIETZ
As peak performance for the elite athlete continues to take center stage across all athletic endeavors,
the balance between training and recovery has been brought to the forefront. The importance of
"recovery" has become an aspect highly valued in regards to performance. This recovery piece of
performance can only be applied at a high level when the functioning of the elite athlete's organism and
systems are understood to a higher level. Although this is a current topic of interest to many, it is
commonly applied in a broad fashion merely with an attempt to cover our bases. If an off-season
strength and conditioning program was approached with this mentality, having no thoughtful
progression or reasoning for its structure, it is likely a coach would not see tremendous results in
performance while also potentially increasing the likelihood of injury to their athletes. It should also be
noted that any overemphasis of recovery tactics is likely hindering an athlete's performance, rather than
aiding it. As with most things in life, balance between stress/training and recovery will determine an
athlete's long-term, repeated success at an elite level. This manual serves to introduce new concepts
and methods as well as those that are better understood by many. This will continue to allow recovery
to be provided based on an athlete's individual needs.
The goal of this manual remains to provide the framework of both the concepts, and specific means of recovery in a practical, usable form. By the end of this manual, all coaches should understand the systems of the human body being targeted by specific recovery protocols, as well as how these protocols can be utilized within the training model to achieve desired results (optimal performance) at specific moments in time.
Lessons
The Coach
Triphasic Training: Recovery Manual
Author: Dan Fichter- Physical Education Teacher and Head Football Coach at West Irondequoit High School in Rochester NY Section V
· Member of the Section Five Hall of Fame
· Member of the Brockport State Hall of Fame
· Has been coaching High School and college football for 25 plus years
· In 6 seasons as head coach in football has played in 3 Sectional Finals and won 2 titles
· Has won 6 Sectional Championships in Track and Field at Irondequoit High School
Owns a company called Wannagetfast – He trains athletes from all over the country. Has consulted with multiple NFL, NCAA, and Olympic athletes.
Has trained 100's professional athletes in strength and speed from all over the globe in just about every sporting endeavor
Dan's passion is using neurology to immediately impact movement as it relates to sports performance. He has learned from some of the greatest minds in the clinical neurology and human performance world. The uniqueness of combining neurological concepts and biomechanics to enhance sports performance is catching on worldwide.
Author: Cal Dietz
Cal Dietz has been the Head Olympic Strength and Conditioning coach for numerous sports at the University of Minnesota since 2000. Since Dietz's return to Minnesota he has developed the Strength and Conditioning Programs and overseeing the daily progress in Men's Hockey from 2000-present, Men's' Basketball from 2004-2010, Women's Hockey from 2003-present, Men's Golf from 2000-present, Women's Golf from 2006-present Men's Swimming from 2000-Present, Track and Field from 2000-present, Baseball from 2000-2007, 2010 -present, and Wrestling from 2000 to 2004. During his tenure, Dietz has trained: a Hobey Baker Award winner, two Big Ten Athletes of the Year, athletes that have achieved 500 All-American honors, 35 Big Ten/WCHA championships teams and 11 NCAA Team Champions, and 13 teams finish in the top four in the nation. He has consulted with Olympic and World Champions in various sports and professional Teams and athletes in the NHL, NFL, NBA, MLB, and Professional Boxing.
Editor: Derick O'Connell
This Course Includes
---
24 hours on-demand video
Streaming from mobile and TV
Lifetime access
Certificate of completion
100% money back guarantee
Course Info
---