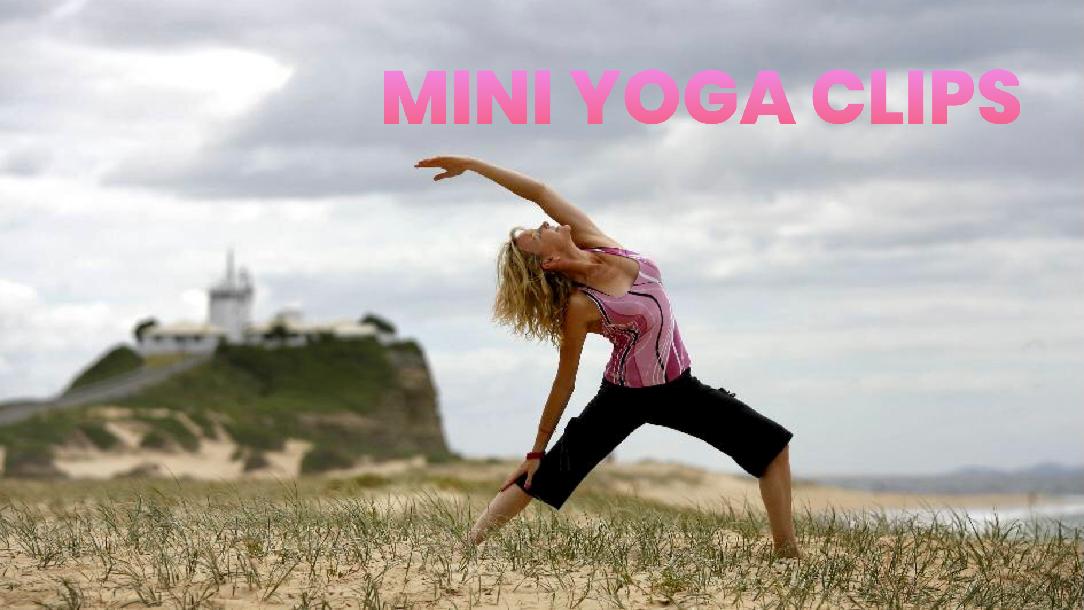 Description
A selection of FREE mini yoga clips, information and printables that you can practice anywhere anytime, perfect if you only have up to 15 mins.

Chapter One - Yoga Warm-ups. We start with some quick routines to use before your yoga practice to warm-up your body. I find a Power Vinyasa Yoga practice with all the Sun Salutations (Surya Namaskar) and Downward Facing Dog (Adho Mukha Svanasana) to be particularly strong for the shoulders, wrists and hands so it is beneficial to gently warm them up before a class. These warm-ups will open up your front, back and side body and twists help ease you into your yoga practice.

Chapter Two - Sun Salutations (Surya Namaskar). Learn how to do the Sun Salutations (Surya Namaskar), there are a few different variations to choose from, starting with the Mini Sun Salute (an easy option if you are new to yoga), then building in strength to the Modified Sun A and finally hitching it up a notch with the full Sun Salutations A, Low Lunge Variation and Sun B. If you happen to be pregnant there is also a safe Pregnancy Mini Sun Salute just for you! There is also written information on the benefits of Surya Namaskar.

Chapter Three - Yoga for the Seasons Series. This features mini clips with traditional yoga poses and yoga therapy poses chosen to benefit you at different seasons throughout the year. These don't have to just be practiced in the corresponding season, these short videos are designed to activate different meridian lines in the body and therefore corresponding organs. As you work on organs that are imbalanced you impact your body, mind and spirit in uniquely different ways... so feel free to practice a class out of season to change your mood and well-being by the end of your practice. Why wait until the season of summer to feel endless expressions of power, strength, acceptance, joy, love & compassion, when you can transform your mood at the press of the play button? Yoga for the Seasons is also available as e-Books on Amazon/Kindle, with lots more poses and information.

Chapter Four - Spirit Yoga Health Series. This covers a range of health concerns, with videos to help with Asthma, Lower Back issues, Pregnancy, Weight-loss and Stress and Anxiety. The Spirit Yoga Health Series are also available as e-Books on Amazon/Kindle, with lots more poses and information.

Chapter Five - Yoga Ab-toning Series. Featured are some yoga abdominal toning mini clips, which can be practiced to target in on this particular area. Remember core strength doesn't just involve the abdominal muscles however, a strong core involves abdominal muscles as well as muscles of the back and around the hips. So balance is key, make sure you also tone the back muscles as well so that one side of the body doesn't become stronger than the other causing lower back issues. After toning the abdominals, practice some back-bends as well.

Chapter Six - Complementary Lessons. This chapter features other complementary material that can also assist in bringing you to a state of calm.
Lessons
The Coach
Martine's love for movement began at four, when she enrolled in her first ballet class in the coastal town of Port Macquarie. She continued with that passion, studying and performing various styles of dance, before fulfilling her next love, producing two beautiful and busy boys (now young men).

After searching for something to fulfill her desire again for movement and passion a friend suggested Power Yoga classes. Martine began practicing Power Vinyasa Yoga in 2006 and loved the transformative effect the classes had on her physically, and more surprisingly, mentally and emotionally. "I loved the way Power Yoga could transform my whole mood by the end of the class, and I could walk away feeling joyful, retrospective, courageous or just relaxed depending on what happened on the mat that day! With continued practice I realised that this style of yoga was a moving meditation and with time I was enjoying staying present during class, not having to fidget or be constantly distracted by a busy mind."

It was this love for yoga and it's many physical and spiritual benefits that inspired Martine to start her own business, Spirit Yoga in 2010. With a thirst for more yoga knowledge she has also become qualified in teaching Yin Yoga, yoga to children of all ages as well as pre/post-natal yoga students. Martine teaches varied students, in various location. She teaches kids, teens, and adults of all ages. She teaches in gyms, yoga studios, the Crossfit Box, school halls (for sport elective), people's loungerooms, in the Great Outdoors and Entertainment Centres. Her Power Yoga (yang) classes are a playful fusion of Power Vinyasa Yoga (flowing), Core Vinyasa Yoga (CSV) and Yoga Therapy (Chinese Meridian Activation). The Still Yoga (yin) classes are mostly seated poses (asana) with the addition of pranayama, mindfulness and a guided relaxation.

Many courses and workshops have been facilitated by Martine including Active Nation Day 2014 for Lorna Jane Port Macquarie, presenting at Ekam Yoga Festival (Port Macquarie), Kids Yoga Workshops in the 'Glasshouse' (the local Arts, Conference and Entertainment Centre), Kids Yoga Classes for Primary and High School Sport Elective and also Adult courses for the Community College.

Eager to spread the benefits of yoga afar, she is now playing author and is onto her second series of yoga e-Books self published by Spirit Yoga on Amazon. The first series was, Yoga for the Seasons which consists of five e-Books for Spring, Summer, Late Summer, Autumn and Winter. The next is The Spirit Yoga Health Series which is a collection of five yoga e-Books designed to benefit a particular health concern and made into and easy to follow class.

Martine is enjoying being able to share her love of yoga in Port Macquarie and afar, and encourages her students of all ages to live from a place of peace, strength and clarity.

Credentials

Yin Yoga - Jo Phee @ P.L.A.Y (Power Living Australia Yoga) 2015.
Advanced Assisting Course - P.L.A.Y (Power Living Australia Yoga) 2015.
Sadie Nardini Online Rockstar Teacher Training - 2013.
Advanced/Level 3 Teacher Training - P.L.A.Y. - Byron Bay 2011.
Advanced Kids Yoga Teacher Training - Zenergy 4 Kids - Sydney 2011.
Kids Yoga Teacher Training - Zenergy 4 Kids - Sydney 2010.
Pre & Post Natal Yoga Training - Yoga Institute - Syd 2010.
Advanced Vinyasa Training - Power Living Australia Yoga - Sydney 2009.
Assisting Program - Power Living Australia Yoga - Sydney 2009.
Teacher Training Level 2 - Power Living Australia Yoga - Sydney 2008.
Teacher Training Level 1 - Power Living Australia Yoga - Sydney 2008.
Diploma in Dance - Queenland Dance School of Excellence (QDSE) - Brisbane 1986.

Testimonial by Happy Students

Spirit Yoga e-Books by Martine Ford on Amazon.


This Course Includes
---
24 hours on-demand video
Streaming from mobile and TV
Full lifetime access
Certificate of completion
100% money back guarantee
Course Info
---
| | |
| --- | --- |
| Rating: | (1) |
| Caterory: | Yoga/Fundamentals |
| Bookings: | 60 |
| Duration: | |
| Videos: | 10 |