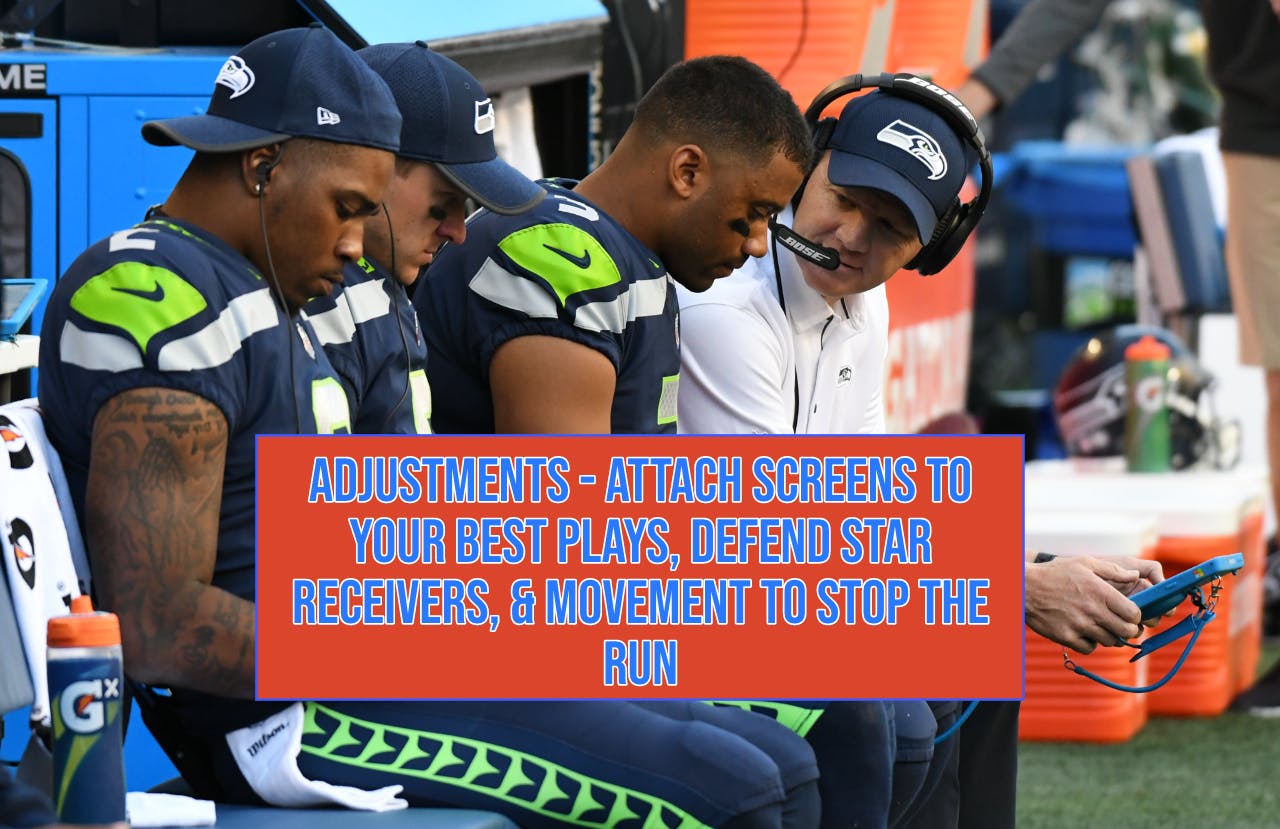 ---
It's another week of looking at some possible adjustments, tweaks, and wrinkles to keep your offense and defense rolling.
Offense
We are hitting mid-season and teams have gotten a chance to see what you do. They are studying you on film and trying to hone in on your tendencies. The last thing you want is your offense to bog down. 
Finding a way to pick up a chunk of yardage or even a touchdown at a critical time can help propel your team towards its goals.
Adding a screen to what you already do can be a great way to get an explosive play and break a tendency. If you already run screens, you can make your screen game more multiple or add a screen to some of your best runs, passes, or even add to a wrinkle that you have already added.
In all of football, I believe that the Cleveland Browns are the best executing their screen game, and also the most creative. What makes their screen game so good beyond the execution is that they run their screens off of runs, passes, play actions, and even gadget plays that they have run before.
The purpose of any screen is to get the defense focused on one thing, chasing that down, and then getting your blockers on to level 2 and level 3.
We will share some ideas for exactly how to do that.
Joe Davis, the offensive coordinator at the University of Albany, has a solution that can make the screen game an explosive part of any offense. 
Davis has Albany's offense rolling as they have seen significant improvement in just about every offensive statistical category.  For Davis, designing an offense for player success is a priority.  He's applied that to the screen game.
Davis likes the screen game for several reasons:
 It creates an extension of the running game
It provides the quarterback confidence with easy completions
It creates momentum and rhythm for the offense while getting the ball to playmakers quickly and without downfield reads for the QB
Touches!  Any player can get a touch in the screen game with Davis's concept
Consistency for the offensive line - multiple screens with the same rules for OL 
Davis talks about what he looks to accomplish in the screen game in this video (click on image fo video):
Davis incorporates screens to every skill position on the field.  They utilize some of their best offensive plays to create a defensive reaction to stop that play while allowing space to be created for the screen runner.  
An example of that is the tight end throwback screen off of their sprint-out look shown in this video (click on image for video):
Finding a way to get the most out of every concept you install into your offense this year can create a distinct advantage for your team.  The creativity is on you as the coach.  Think about how you can tag this into your best plays whether they are run or pass. 
But I don't have a screen installed
Don't have a screen concept in?  Not a problem.  The shallow screen can provide huge benefits without having to involve your offensive line.
Josh Herring, the offensive coordinator at Jones County High School in Georgia (2019 state semifinalist), utilizes is the shallow screen which they call "Police."  It's a concept that was popularized by Oklahoma State about a decade ago and is based on a basic shallow utilized in the air raid offense.  
The Benefits of Shallow Screen
It's a throw that is short and requires no read.  That means it's good for the experienced quarterback as well as the backup who might have to come into a game unexpectedly
To a defense everything initially shows that it is a drop-back pass. There are no linemen releasing to get downfield, so there isn't a key to defeat a block to beat the screen so it doesn't even matter that the defense is yelling "watch the screen.". 
For the quarterback, the thinking is out of his hands. He needs to get eyes downfield first and then throw underneath. The complicated reads are removed, allowing for a dynamic player to have the ball in space with blockers.
This is an effective strategy when facing teams who get into their drops well, even teams that play drop eight.
Key Coaching Points
The wide receiver should aim at the feet of the defensive line and come straight down the line.  He will "flush" at the center going behind the line of scrimmage.  The key to any variation of this is that the blocks are legal because the ball is thrown to a shallow runner behind the line of scrimmage.
The quarterback is looking at routes downfield to be sure defenders are moving, then he can come down to the shallow runner for the throw.
Three of the receivers have specific blocking points and assignments which springs the shallow runner into space where he can make plays. The assignments are explained by Herring in the video.
Defense
On the defensive side of the ball, let's look at two simple concepts that can help you neutralize an offense.  Let's start with the secondary.
Steve Specht is one of America's top high school coaches and his ability as a teacher of the game shines through.  He utilizes a strategy that can be applied in every defense to take away a star receiver regardless of where he may be aligned.
The first step in the process is to identify the key receiver.  In this video, Coach Specht explains how it is done with them using two types of ID, "snake" and "mouse." (Click on image for Video):
From there Coach Specht has different rules for how they will defend a single receiver, a #1, #2, or #3.  He notes that this concept can be utilized with any type of defense.  Here he explains how they will defend the single receiver (Click on image for Video):
For more on how to defend #1, #2, and  #3 go here.
The next aspect of causing havoc for an offense, especially the line is to move.  
Dave Cohen at Wake Forest has to face some very tough offensive linemen on his schedule. His years of experience have taught him how to beat those bigger, more physical offensive lines. He teaches two simple movements and techniques that allow his defensive linemen to win the line of scrimmage.
The other effective way he likes to cancel gaps is with a stunt which he calls Tex.  It allows them to solve issues with corner force and allows for a cut-back player. 
The problem is that with a normal stunt you will lose the corner force vs. a Gap Scheme.  This provides an answer.  He explains the concept here (Click on Image for Video):
Maybe these weren't the exact answer you needed right now, but hopefully, it provides some food for thought on how you can make some adjustments to keep your units performing at a high level. 
In addition, you can be thinking ahead about what your answers would be to these adjustments if you ended up facing them.
Good luck with your preparations this week.
---