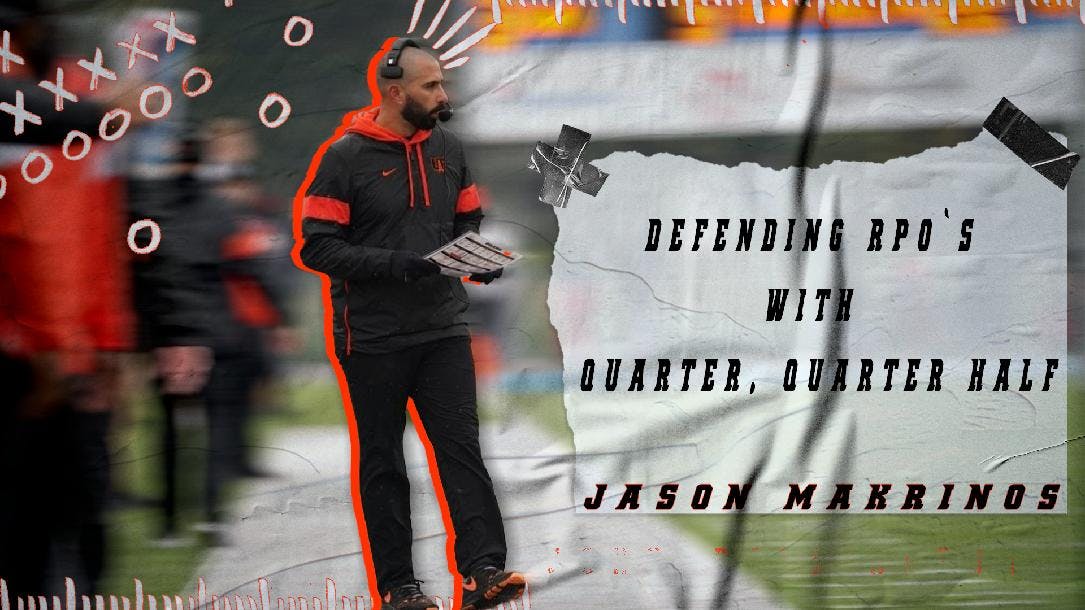 ---
Good defenses and defensive coaches evolve, and that's exactly what has happened for Jason Makrinos and the University of Findlay defense. Having lived in a quarters world for a long time, Coach Makrinos felt that his defense was constantly in conflict. That's not a good thing in an RPO era where placing players in conflict is a key for offensive success. 
That led him on a search for something better and allowed him to evolve his defense. He found it with quarter-quarter-half coverage. It gave him a run fit of a Cover 3, which allows a plus one in the box, but still allows him to be in a split safety coverage that allows him to play the field and the boundary how he would like it.
In 2019, it helped the Oiler defense to a #5 ranking nationally in turnovers. Everyone knows the importance of turnover margin as a key factor in winning.  
Prior to coming to Findlay, Makrinos  was the co-defensive coordinator at FCS Duquesne University. Makrinos coached a defense that statistically improved in multiple important measurables including: points allowed, pass defense, interceptions, and third down defense. In that season, the Dukes' red zone defense was seventh in the country in the FCS. He has the Oilers on that trajectory as well.
For Makrinos, quarter-quarter-half, or Cover 9, was an answer that helped take his defenders out of conflict.  Playing coverages that allow for multiple forms of run support from a two-high look can allow for numbers advantages over offensive alignments.
A key to stopping RPO is determining where you want the ball to go. It's something that you want to be able to dictate differently from week to week. The offense is always trying to manipulate the defense, but Makrinos takes that same approach to his game plan and what he is going to allow the offense to do, and what he will absolutely have the defense take away. 
Why is this important? Maybe one week you face a top talent receiver who is dangerous with the ball in space. You probably want to take that option away and put it in the hands of someone different. Maybe the next week the running back is a difference maker that can pick up big chunks when there's not an extra hat to stop him, but the receivers are average.  Committing your numbers to stop the run would be the move that week. Considering what your defenders do best is also a factor. Strategic flexibility is a key to defensive success.
Consideration also becomes where on the field you want the ball.  Do you want it on the field or the boundary?  Where do you want your extra run support? These are all important considerations in game planning, and in designing your defenses for multiple answers.
This is an approach that is effective for the Oilers and Makrinos shares their Evolution, Communication and Structure, as well as their base Cover 9 Trick in free these videos:
The idea of having strategic flexibility on defense really allows you to put your players in the best situations. That's alway been a number one priority for every staff I have coached on, and I am sure it is true for you. The way Coach Makrinos explains and illustrates this in his course gives you a powerful weapon in taking away the offense does best as well as highlighting your own strengths.
Get his course "Defending RPO's with Quarter-Quarter-Half" and have better answers for your defense!
He shares his Cover 6 & Cover 9 as well as the various techniques and adjustments he uses, and illustrates all of it with game film. This offseason is a chance to evolve your defense, and like it was for Coach Makrinos, quarter-quarter half may be the answer.
Want to hear more Makrinos strategy and philosophy? Listen to him take a Deep Dive on Defense "Creating Turnovers" on Coach and Coordinator.
---