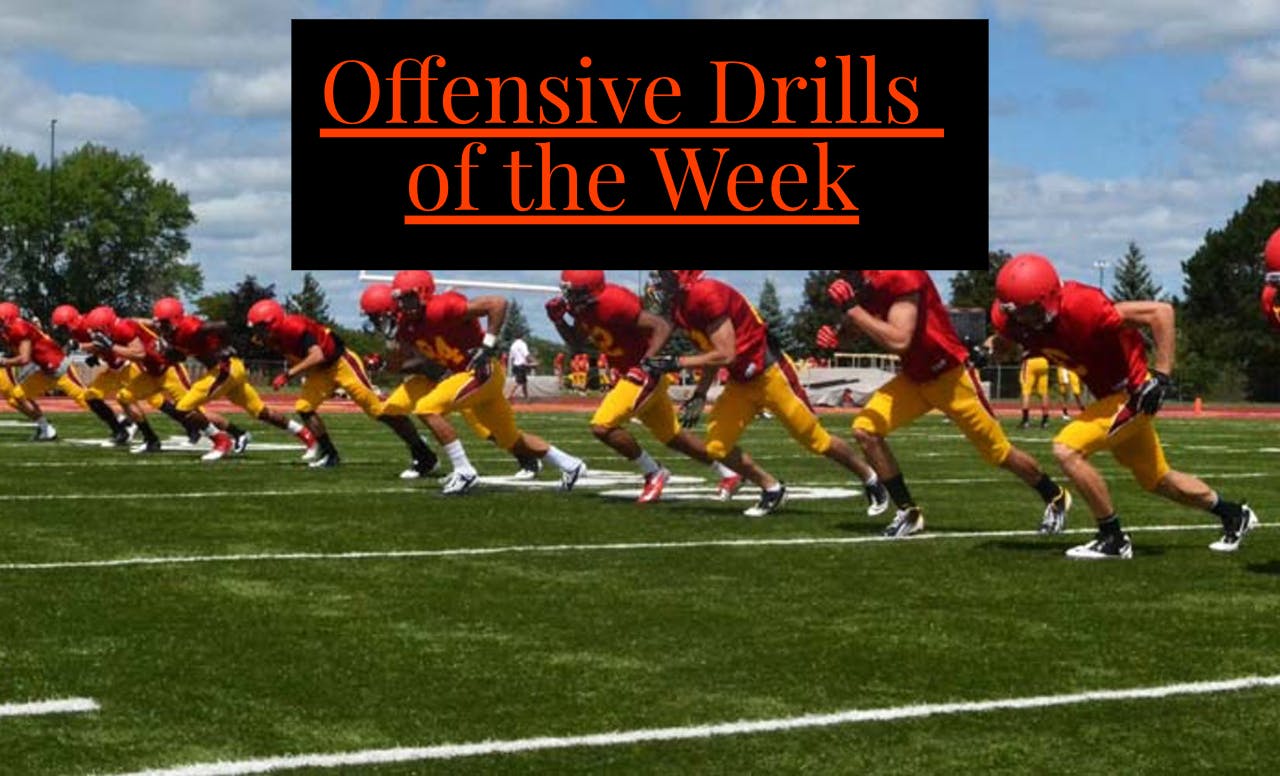 ---
It's heading into the last quarter of the regular season, but the development of your players never stops.  
This week we provide some unique drills for each position to work on different aspects of their fundamentals.  As much as possible we found drills that allow you to get maximum reps in a short period of time because usually teams start to cut back on practice time.
Offensive Line Run Game
Defensive line movement is one of the more difficult aspects of playing the line. OL Coach at Dixie StatJohn Hughes likes to use a drill for defensive line stunts in the run game.  He feels that this drill is one of the best that they do. They work on tight feet, great hand placement, and the eyes.
John Hughes - Run Game fundamentals/Gap Schemes/Handling DL Movement
Offensive Line Pass Protection
OL Coach at Maryland Brian Braswell also puts an emphasis on working against movement.  In the shuck drill, he works on footwork and punches in these drills that work the offensive line in tandem.
Running Backs
Ohio University OC/RB Coach Tim Albin is respected throughout college football for how he has been able to develop great running backs throughout his career.  In this drill he calls "make em miss" he teaches his backs how to be elusive and keep those defenders in space grasping air.
Tight Ends
Offensive coordinator and TE Coach at North Dakota State Tyler Roehl likes to train his tight end to hit moving targets.  In this drill, he works his TE's on multiple types of blocks with two going at a time in order to get a lot of reps in a short amount of time.
Quarterback
When escaping the pocket, a quarterback needs to be efficient with his footwork, and that is exactly the purpose of QB Coach at Syracuse Sterlin Gilbert's "right foot-left foot angle drill."  He shows how they work this in a simple drill.
Receivers
At some point as the season rolls, on you will face a great corner who will get up in your receiver's face and press.  A great release is critical to keeping the timing of your pass plays.  Kansas assistant coach Rob Ianello developed this drill for his receivers to understand exactly how to attack a press corner.  The boards he puts on the side help to teach exactly what he wants from the release.
Keep drills fresh and challenge your players with learning and refining their skills.
---